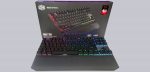 Result and general impression …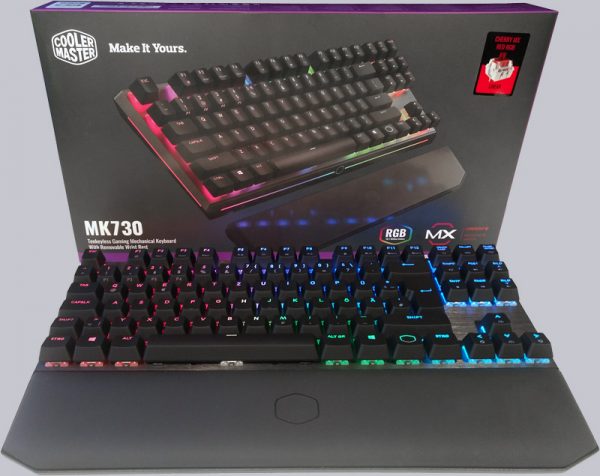 We really like the Cooler Master MK730 Tenkeyless Gaming Keyboard in Practical testing. However, you have to cope with the lack of the numeric keypad – if you are used to working with it often, you might have a hard time getting used to it. Alternatively there is the recently tested Cooler Master MK750 Keyboard.
The RGB illumination of the keys is very even and bright. As with almost all RGB keyboards, the additional symbols (e.g. on the number keys) are illuminated a little weaker, but this is hardly noticeable. All keys are individually addressable and programmable. The additional LED strips on the front and side sections set the stage for the keyboard perfectly.
All functions are directly accessible via keyboard commands, the installation of additional software is possible, but not necessary.
The Cherry MX Red Switches are ideal for both gamers and frequent writers. Processing and comfort are top.
The hybrid key rollover works very reliably. We didn't manage to provoke ghosting, i.e. swallowing a keystroke.
A small drawback is the not too strong magnetic fastening of the wrist-rest. Especially during hectic hand movements it slips easily.
The Cooler Master MK730 is not exactly the cheapest RGB keyboard, but shines with high quality workmanship, top RGB lighting, precise Cherry MX Red Switches, removable USB cable, reliable hybrid key rollover and the extremely compact format.
Discuss in our forum and share experiences about the Cooler Master MK730 …
Here you can buy the Cooler Master MK730 at a reasonable price.
Read on in the hardware test area with several hardware reviews …