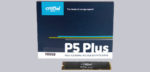 Here are the technical data according to Manufacturer …
Manufacturer
Crucial
Article number
CT1000P5PSSD8
Capacity
1000GB (NAND)
Interface
PCIe 4.0 x4 NVMe1.4
backward compatible with PCIe 3.0
Cache
1GB LPDDR4 DRAM
Controller
Micron DM02A1
Flash Type
Micron 176 Layer 3D TLC NAND – Triple-Level-Cell
Size
M.2 2280 (80 x 22 x 3.5mm)
Weight
ca. 10 grams
Speed
Read up to 6600MB/s / write up to 5000MB/s
Warranty
5 Years
MTBF
2 million hours, 600 TB total bytes written (TBW), equal to approx. 328 GB per day for 5 years.
Miscellaneous
SMART Support – Self-Monitoring and Reporting Technology, TRIM Support, RAIN (Redundant Array of Independent NAND), Dynamic Write Acceleration, APST (NVMe Autonomous Power State Transition), Adaptive Thermal Protection, Active Garbage Collection, Integrated Power Loss Immunity, Multistep Data Integrity Algorithms and Error Correction Code, Hardware-based Encryption.
Here is a screenshot of the CrystalDiskInfo SSD and hard disk information software. This can be used to view the most important features and operating data of SSDs. PCIe 4.0 x4 fits already 😀

Crucial P5 Plus 1TB M.2 NVMe SSD Layout, design and features …