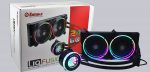 Test setup and results …
For the practical test, we have installed the Enermax LiqFusion 240 water cooling system on our new AM4 test system, which consists of the following components:
ASRock Fatal1ty AB350 Gaming K4
AMD A8-9600 @ 3.8 GHz with 1.4 Volt
4GB DDR4-2400
Cooler Master Testbench v1.0
For measurement, the following tools were used: Prime95 and SpeedFan.
The ambient temperature during the test was about 21°C.
The Enermax LiqFusion 240, as always, competes against the AMD Boxed cooler, but you may also want to check out our recently released test of the Antec K240 AIO water cooling that was tested under the same conditions and compared the results.
As the AMD Boxed cooler is not really a serious opponent for a 240 AIO watercooling, we have sent the Noctua NH-D15 into the race like during the Antec K240 review.
We then used the CPU for 30 minutes with Prime95 and recorded the temperatures.
Of course, the Enermax LiqFusion 240 watercooling beats the AMD Boxed cooler in both temperature and noise levels. However, it has to give up the Noctua cooler.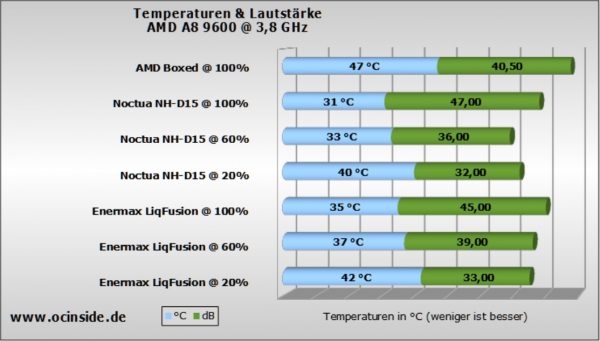 The fan volume is measured with a dB meter from 100cm distance. In addition, we determine the respective rotational speed. In the case of the Enermax LiqFusion 240 water cooling, however, the pump was also included, so that the values remain practical.
Enermax LiqFusion 240
20%
33dB
659rpm
40%
35dB
1064rpm
60%
39dB
1495rpm
80%
43dB
1849rpm
100%
45dB
2007rpm
The fans make a very good impression. Even at full speed, we find the fan noise is not annoying, but pleasant.
The volume is up to 40% well suited for silent settings, 60% is in the middle range and 80% is a bit louder but still OK. The jump to 100% this time is only marginally louder. The fan noise is free of disorders. Overall, we recommend 40/60/80 percent as a rough characteristic for low / medium / high settings of the fan curve. 100% can then be kept in reserve as a reserve for the next summer, the next LAN party or the next OC bench session 😉
To be able to assess the fans better, we have a video as usual, by letting the speed range run completely up and down again.

It is not uncommon for AIO water coolers to encounter a slight pump hum or whirring, which we unfortunately also found in the Enermax LiqFusion 240. Here we have checked with a simple potentiometer fan control, if the pump can still be fine-tuned and were successful. Since the pump is normally connected to a 3-pin fan connection, you can still adjust individually via the mainboard. Again, we have a short video.

Overall, however, the whirring is so low that it quickly goes down in the fan noise as soon as you switch them on.
Last but not least, we will look at the optics of the Enermax LiqFusion 240. In the course of the test we might have let it slip through once or twice … we were thrilled what Enermax burns off here for a visual fireworks! Have fun with the video on our OCinside YouTube Channel.
Note: Please allow our cookies first to see this content!
Enermax LiqFusion 240 conclusion and overall impression …