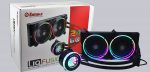 Conclusion and overall impression …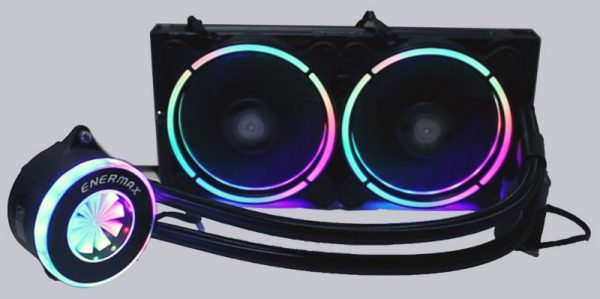 The Enermax LiqFusion 240 water cooling convinces us in all respects. Both cooling capacity and appearance are combined to form a successful package. Even with the accessories, nothing is missing and also the workmanship is impeccable.
We also like that Enermax has been thinking about fluid loss and has made the LiqFusion refillable. So the water cooling should run for many years.
Our only point of criticism is the pump: The arrangement on the hose is optically in our opinion not quite optimal. Here we would rather have a pump in the radiator, like the Antec K240.
The price we feel for the offered package very appropriate.
For this good overall result, the Enermax LiqFusion 240 AIO water cooler receives our OCinside.de Purchase Tip Award 11/2018.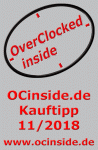 Tip: In the interactive Fit for Fan guide you can virtually fit coolers onto different motherboards and listen to many – the Enermax LiqFusion 240 will be included in the next update.
For a comparison with other coolers, take a look at our CPU cooler chart 2018 on the Intel Core i5 PC and the CPU cooler chart 2018, tested on an AMD AM4 PC system. Here is also the previous CPU cooler chart 2016 on the Intel Core i5 PC and the CPU-cooler comparison 2016, tested on an Intel Core i7 PC. And here is the older CPU cooler chart with CPU coolers before 2016. A direct comparison to our previously tested coolers is however not possible here, since the test system has changed fundamentally in the meantime.
Discuss in our forum and share experiences about the Enermax LiqFusion 240…
Here you can buy the Enermax LiqFusion 240 AIO water cooling.
Read on in the hardware test area with several hardware reviews …