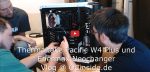 After the Thermaltake Pacific W4 Plus and the Enermax NEOChanger review we publish today the Vlog for the installation of water cooler components, which we had recently streamed in full length on a partner twitch channel.
Thanks for the support …
Many thanks for the support to Henro, RichCastle, Nico as well as to the manufacturers Enermax and Thermaltake.
Enjoy the water cooler video cut on our OCinside YouTube Channel.
Note: Please allow our cookies first to see this content!
The Video also contains a lifehack on how to filter out Mayhems Aurora additive from cooling liquid fluid and we are investigating the exciting question of whether UV reactive cooling liquid can already be improved with another UV additive. If you want to have a look at the complete worklog you can do so on Twitch, the campaign ran on 22 September 2018.
For a comparison with other coolers, take a look at our CPU cooler chart 2018 on the Intel Core i5 PC and the CPU cooler comparison 2018, tested on an AMD AM4 PC system. Here is also the previous CPU cooler chart 2016 on the Intel Core i5 PC and the CPU-cooler comparison 2016, tested on an Intel Core i7 PC. And here is the older CPU cooler chart with CPU coolers before 2016. A direct comparison to our previously tested coolers is however not possible here, since the test system has changed fundamentally in the meantime.
Discuss in our forum and share experiences about the Watercooling Vlog Video …
Here you can buy the Thermaltake Pacific W4 Plus.
Here you can buy the Enermax NEOChanger.