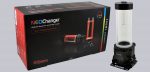 Test setup …
For the test we chose the following components this time:
AMD Ryzen 1800X @ 3.965 GHz with 1.45V
ASUS ROG Strix X370-F Gaming Motherboard
Gigabyte GTX 1080Ti graphics card
Corsair Vengeance RGB black DDR4-3000 16GB DIMM Kit
This time we have also prepared an extensive craft video in the form of a VLOG, in which we document the installation of both the Enermax NEOChanger 300ml and the recently tested Thermaltake Pacific W4 Plus. Since this took place again in an "OCinside.de at friends" action, the test system is different than usual in our cooler tests.
Optics…
In this review, we limit to the optical criteria, such as RGB lighting. To do this, we connected the inlet and outlet of the NEOChanger directly to each other and check, filled with distilled water, what can be done with the help of the remote control. At the end of the video we also have a few impressions of PCs in which we have already successfully installed the NEOChanger.
Have fun with the video on our OCinside YouTube Channel.
Note: Please allow our cookies first to see this content!
In order to get an impression of the volume of the integrated pump, we also created a video of the installed NEOChanger with the system running, where we go through all the control stages of the remote control one after the other. The fans installed in the PC ran with the fan setting "Silent".

How the cooling results in the water cooled PC look like, we have shown in the Thermaltake Pacific W4 Plus review.
Enermax NEOChanger result and general impression …