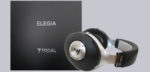 Result and general impression …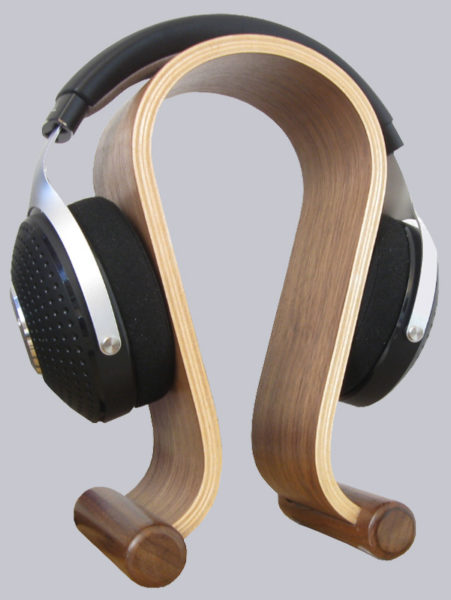 Overall, the Focal Elegia is an outstandingly crafted pair of headphones with crisp, controlled bass and sometimes a bit too bright tuning.
Unfortunately, the thin cable turns out a bit too stiff, which makes handling difficult. However, the cable is basically replaceable and once plugged in, the user will probably rarely replace or unplug it at home anyway. The respective headphone sides could be marked a bit more clearly to prevent incorrect placement. The manufacturer opted for an externally restrained design here.
A fairly high transparency in the sound signature is evident, especially in comparison to other closed bolides. Even though "the end of the room" is certainly audible compared to open headphones, the Focal Elegia almost doesn't seem like a closed model. The balancing act between solid spatial separation and bass punch therefore assign the Frenchman to a previously unique market sector. Together with the unusual golf ball pattern, the massive headband and the practical carrying bag, the Focal Elegia absolutely matches the manufacturer's statement of being a "high-end headphone". In general, the manufacturer's tonal descriptions match the listening impressions experienced here quite closely, although we would deny the model a bit of "silkiness" in the slightly too concise highs. It plays with dynamics here, as we would expect from the eponymous driver type.
We recommend the Focal Elegia to all potential buyers who primarily want to pair a crisp, controlled bass with a detailed treble and also prefer a very sturdily built headphone. We like to quote the employee of a local hifi store in Aachen here, who recently described the Elegia as a "closed Grado". Complementing the higher structural quality, there can hardly be a more fitting formulation for the sonic qualities and underline the obligatory recommendation.
With this exceptionally good overall result, the Focal Elegia secures our OCinside.de Purchase Tip Award 06/2022!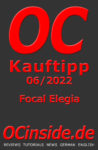 Discuss in our forum and share experiences about the Focal Elegia …
Here you can order the Focal Elegia.
Read on in the hardware test area with several hardware reviews …