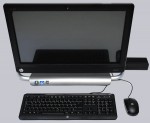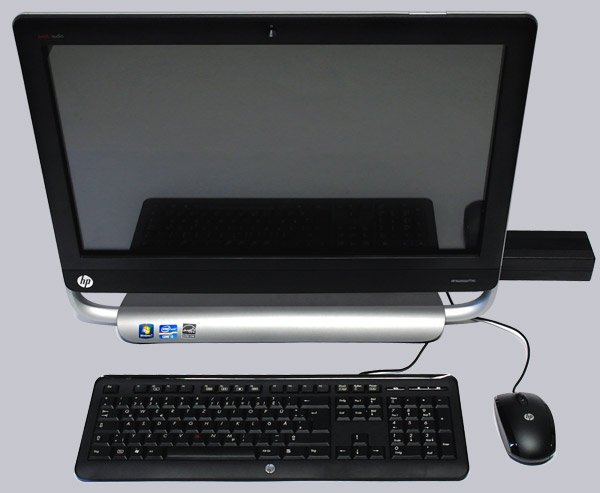 Here you can see the good layout of the HP TouchSmart 520 PC rear panel connectors.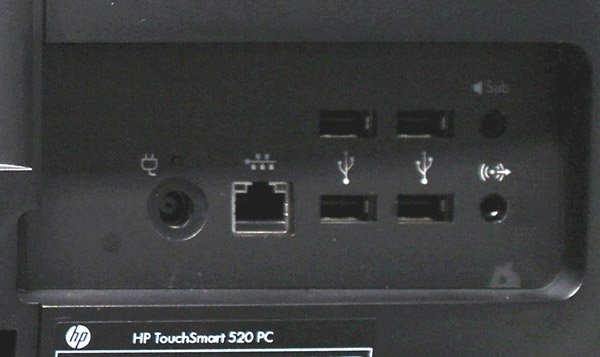 From left to right, you can see the 19 volt AC adapter connector, the LAN port, 4x USB 2.0 ports and 2x 3.5 mm jack for an analog subwoofer and audio output.
The HP TouchSmart 520 offers a fast 1 Gigabit network connection and the AIO PC has also an internal 802.11b/g/n Wi-Fi module integrated.
15-pin D-Sub VGA or HDMI to connect to an external monitor or TV does not exist, but this is OK at an All-In-one PC. But a digital audio output and an E-SATA port would be desirable.
So connect the external power adapter to the 19V connector, connect the keyboard and mouse to the back USB2.0 ports and let's boot it.
Operation and first start of the HP TouchSmart 520 Touchscreen PC …
Hewlett-Packard TouchSmart 520 Review