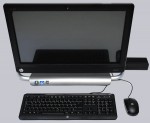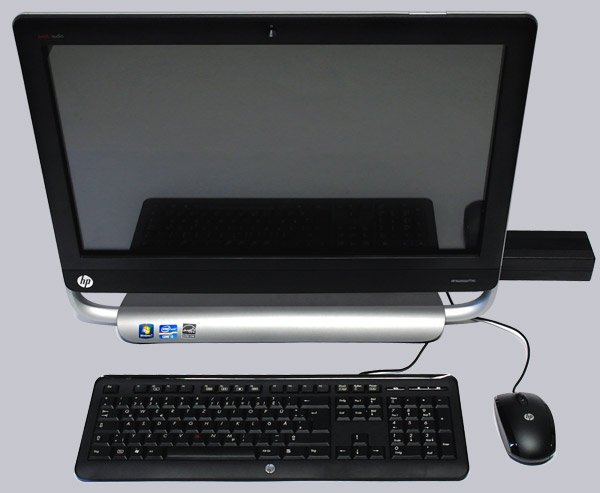 Of course not only the equipment and the operability of the PC is important, but also the performance and power consumption. Our PC power consumption calculator was build for our PSU reviews and shows how relevant the consumption is especially in daily use.
To determine the performance of the HP TouchSmart 520-1001de PC, the pre-installed Microsoft Windows 7 has been used and Futuremark 3DMark Vantage and 3DMark06 benchmark programs has been installed. 3DMark11 benchmarks are not possible due to lack of DX11 support.
The total boot time to the Windows 7 login screen took by the way approx. 38 seconds.
3DMark Vantage …
The entry test of 3D Mark Vantage reached a result of E5804 3DMarks at 5083 GPU and 10105 CPU score.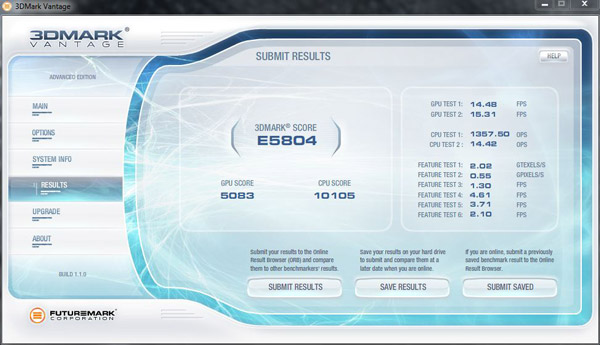 The 3DMark Vantage benchmark value is currently very high for a system without a dedicated graphics card and considerably exceed the values of a Sapphire IPC-E350M1 Board with integrated AMD E-350 processor (E3316 – GPU: 4212 / CPU: 2028) and an ASRock ION330HT-BD HTPC with Intel Atom 330 dual core processor and nVidia ION GPU (E2443 – GPU: 2898 / CPU: 1661).
3DMark06 …
In 3DMark06 the HP TouchSmart 520-1001de system achieved a score of 2652 points.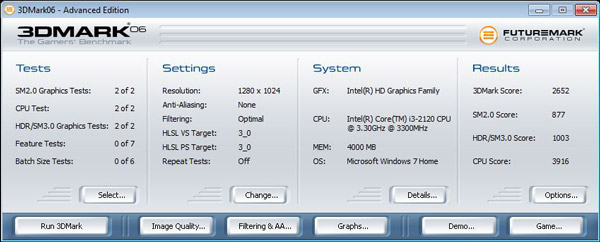 Windows 7 performance index …
Here you can see the Windows 7 Home Premium performance index of the HP TouchSmart 520-1001de system.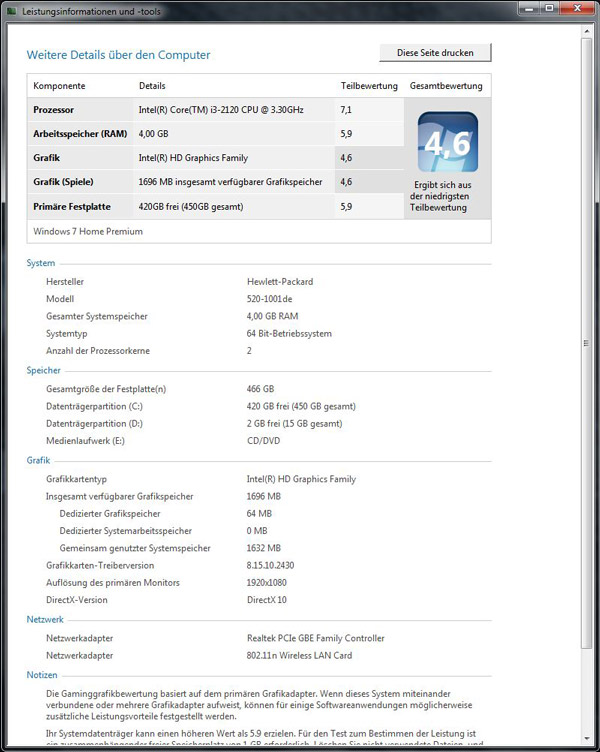 The Windows 7 performance index reached an overall score of 4.6 points. The lowest result was 4.6 points for the game graphics and video card / iGPU of the Intel Core i3-2120 processor, followed by the hard disk with 5.9 points and the RAM score with 5.9 points. The processor achieved significantly higher 7.1 points. Overall, the performance of the Intel Core i3-2120 system is definitely good enough for a Windows 7 PC and also the Aero surface is not a problem with the graphics performance of the iGPU. For games a dedicated graphics card is recommended, but it would also increase the energy consumption.
HP TouchSmart 520 PC power consumption …
The system has in spite of its good performance a low energy consumption. In the off state, approx. 0-1 Watt was necessary, because the system has no 220V power switch. In idle, the system consumed about 22 Watts. At full capacity, up to 90 Watts were needed in our test.
Result and general impression of the Hewlett-Packard TouchSmart 520 Computer …
Hewlett-Packard TouchSmart 520 Result