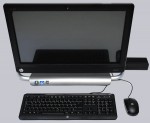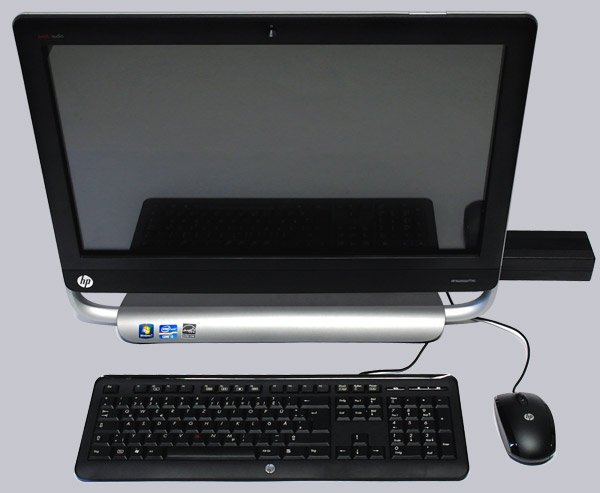 After connecting the power supply, keyboard and mouse, the system can be switched on with the power button. Then you can already do some adjustments by pressing Escape at the BIOS Post.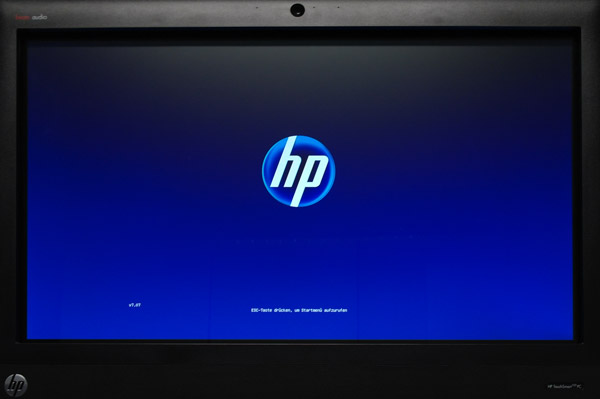 Pressing the escape key will offer a special boot menu with important information and options for the basic settings and the BIOS access.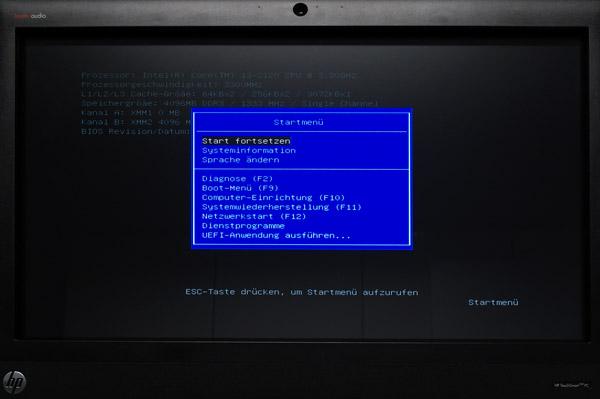 The BIOS Setup provides a few basic settings without tuning features. Our test system had a couple of minor bugs in the BIOS, for example did not show special characters and had difficulties in the Powermanagment area. On this occasion we have tested the HP customer service which has referred only to BIOS updates and could not understand detailed issues regarding Power on and off times and restore power after power loss error and was so far unable to solve it. The HP Premium email customer care service has requested Windows protocols, although an own test system in their customer service could save a lot of time of the end customer for trial and error. The Hewlett Packard customer service was at least effort and has promised, to solve the task … we are excited if we hear again from them …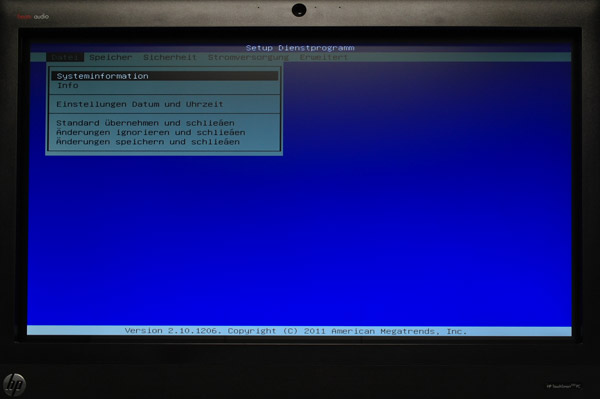 We now leave the BIOS and reboot the system.
The operating system is preinstalled in our case with Microsoft Windows 7 Home Premium 64, but as mentioned on the first page, one can purchase an upgrade to Windows 8, which would be of course ideal thanks to the Metro surface for touch systems. Speaking of touch, we start with the operation of the touch panel, to complete the preinstallation. The touch screen can be adjusted with the operating system, but responds already from the first start optimally to every slight pressure with the finger.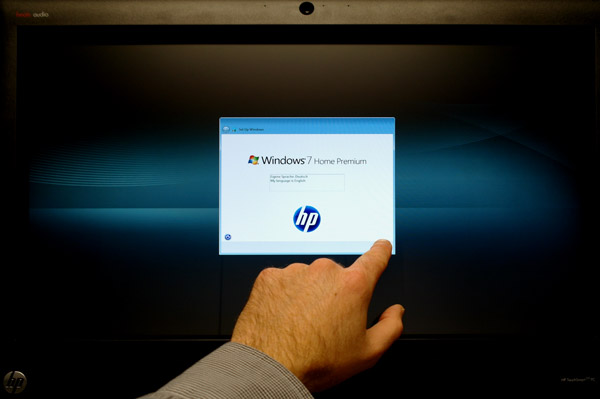 If the personal data in the pre-installed Windows 7 are entered and the set up is completed after a reboot, you should create the HP recovery disk immediately. Because HP does not deliver any DVD to install the system and thus one would have no backup for the installation of the system at a possible system crash. So the best you can do, is to start the HP support assistant and create the HP recovery DVDs. Officially, you can create the HP recovery DVDs only once, so keep them safe. With a few small tricks you can create the recovery disk several times, but we do not want to give any instructions to this hack at this point because it not really legally, or at least would be in a grey area.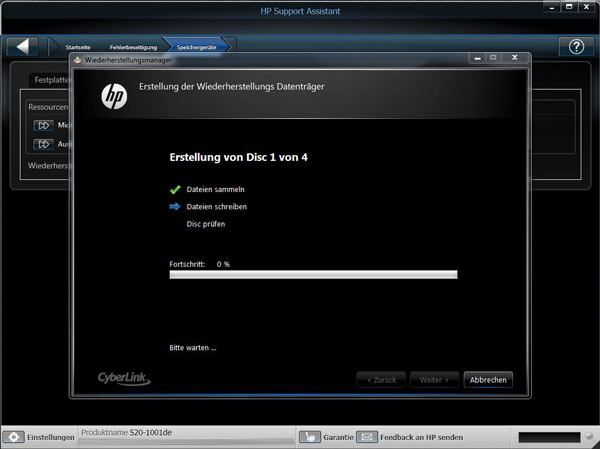 HP has a lot of software already preinstalled, which is especially interesting for younger and older PC beginners to learn PC operation very fast and easy. The system is not only suitable as allround-PC for the Office, but also provides for children and seniors a few interesting applications. Here you can see the magic desktop from HP, which offers a playful surface for Windows 7, which you can even protect with separate passwords.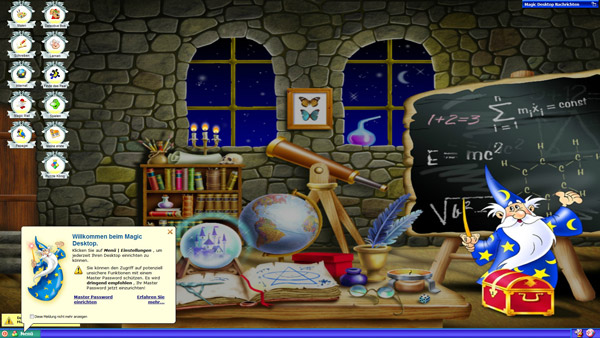 The HP TouchSmart Magic Canvas surface looks a little bit like a combination of the Microsoft Windows 8 surface and the Apple Mac OS X surface.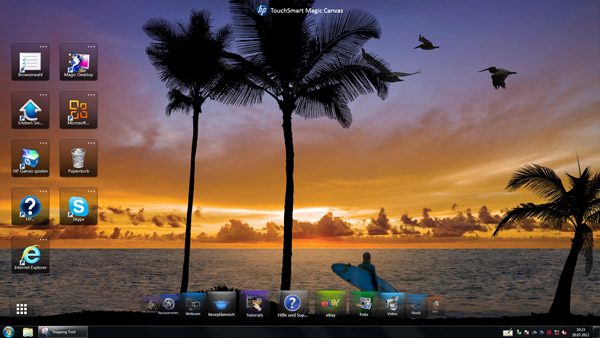 But there is a lot more to discover. All these programs, games and tools was found in the start menu of our system (varies according to model): Agatha Christie – Peril at End House, Airport Mania, All Casual Games, All Enthusiast Games, All Family Games, All Kids Games, All MMO Games, Azteca, Backup and Restore Center, Bejeweled 3, Betriebsdaten, Bounce Symphony, Browser, Build-a-lot, Cake Mania, Calculator, Calendar, Character Map, Chess, Chuzzle Deluxe, Clock, Club Penguin, Component Services, Computer Management, Create Recovery Disc, CyberLink LabelPrint, CyberLink Power2Go, Data Sources (ODBC), Default Programs, dfrgui, Disk Cleanup, displayswitch, eBay, Erste Schritte, Event Viewer, Farm Frenzy, FATE, FreeCell, GameExplorer, Garantie, Governor of Poker 2 Premium Edition, Handbuch für sicheres und angenehmes Arbeiten, Hearts, HP Beats Audio, HP LinkUp Viewer, HP Music, HP My Display TouchSmart Edition, HP Photo, HP SimplePass PE 2011, HP Support Assistant, HP support information, HP TouchSmart Magic Canvas, HP Update, HP Video, HP Vision Diagnostics Disc Creation, HP Webcam, Intel Control Center, Internet Backgammon, Internet Checkers, Internet Spades, iSCSI Initiator, Jewel Quest The Sleepless Star – Collector's Edition, Magic Desktop, Mah Jong Medley, Mahjong, Math Input Panel, Media Center, Memory Diagnostics Tool, Microsoft Blackboard, Microsoft Blackboard, Microsoft Garden Pond, Microsoft Garden Pond, Microsoft Office 2010, Microsoft Rebound, Microsoft Rebound, Microsoft Silverlight, Microsoft Surface Globe, Microsoft Surface Lagoon, Minesweeper, Mobility Center, More Games from HP Games, Mystery of Mortlake Mansion, Namco All-Stars PAC-MAN, Notes, Paint, PDF Complete, Penguins!, Performance Monitor, Photo Canvas, Plants vs. Zombies – Game of the Year, Polar Bowler, Polar Golfer, Purble Place, Recipe Box, Recovery Disc Creation, Recovery Manager, Remote Assistance, Remote Desktop Connection, Resource Monitor, Rss, Seafight, services, ShapeCollector, Sicherheits- und Zulassungshinweise, Sidebar, Slingo Deluxe, Snapfish Fotos, Snipping Tool, Solitaire, Sound Recorder, Speech Recognition, Spider Solitaire, Sticky Notes, Sync Center, System Configuration, System Information, System Restore, TabTip, Task Scheduler, Task Scheduler, Twitter, Updates, Vacation Quest – The Hawaiian Islands, Virtual Villagers 5 – New Believers, Welcome Center, WildTangent Games App – hp, Windows Anytime Upgrade, Windows DVD Maker, Windows Easy Transfer Reports, Windows Easy Transfer, Windows Fax and Scan, Windows Firewall with Advanced Security, Windows Journal, Windows Live Mail, Windows Live Messenger, Windows Live Movie Maker, Windows Live Photo Gallery, Windows Live Writer, Windows Media Player, Windows PowerShell (x86), Windows PowerShell ISE (x86), Windows PowerShell ISE, Windows PowerShell Modules, Windows PowerShell, Windows Update, Wordpad, XPS Viewer, Zinio Reader 4 and Zuma Deluxe.
Getting started to the PC is easy with the HP TouchSmart 520 and many pre-installed applications provides a first exciting time with the PC.
Benchmark result and power consumption of the HP TouchSmart 520 PC …
Hewlett-Packard TouchSmart 520 Review