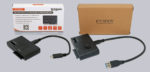 Result and general impression …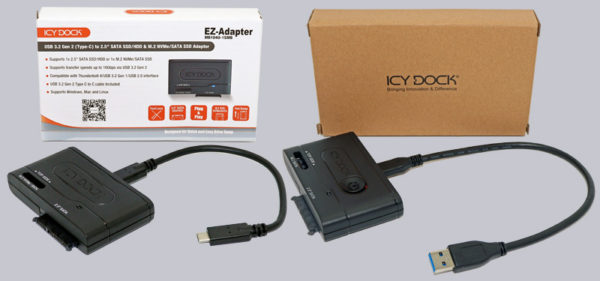 The two Icy Dock EZ-Adapter MB104U-1SMB and MB031U-1SMB are extremely easy to handle and achieve excellent results in our tests, whereby the MB104U-1SMB with a Crucial P3 M.2 NVMe SSD even fully utilizes the limit of the USB port!
Overall, both EZ adapters do provide great speed, although we are a bit mixed on which EZ adapter is better, as both have their right to exist.
If you only want to work with SATA SSDs, you can easily go for the much cheaper Icy Dock MB031U-1SMB, especially since it can even be switched on/off comfortably and the JMicron controller even achieved a slightly better 4K-64thread performance in our tests, even if the sequential data rate can't quite keep up with the Realtek USB 3.2 Gen2 controller. However, if you want to work with a PCIe NVMe SSD, there's no getting around the brand new Icy Dock MB104U-1SMB adapter.
All in all, though, we like the Icy Dock with the slide switch at the low price just a touch better, as you can simply turn off the Icy Dock MB031U-1SMB when it's not in use, and then it won't consume power or assign a drive letter. Thus, the Icy Dock MB031U-1SMB receives our OCinside.de Price Tip Award 01/2023!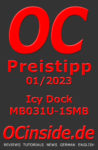 Discuss in our forum and share experiences about both EZ adapters …
Here you can order the Icy Dock EZ-Adapter at a reasonable price.
Read on in the hardware test area with several hardware reviews …