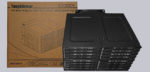 The technical data …
Manufacturer
Icy Dock
Description
ToughArmor MB516SP-B
Dimensions
157.5 x 146 x 84mm (LxWxH)
Color
Black
Weight
1550 g
Host Interface
4 x miniSAS HD (SFF-8643)
Number of media
16x S-ATA/SAS
Power supply
4x S-ATA
Übertragungsrate
SATA up to 6GBit/s (depending on drive speed)
SAS up to 12GBit/s (single channel)
Compatible drives
2.5″ drives up to max. 7mm height
Suitable for
2x 5.25″ Drive bays
Status-LED
Ready for operation: Green lit
Access: Green flashing
Material
Metal
Cooling
Active cooling via rear 80 mm fan (regulated), but also passive cooling via heat dissipation via metal.
Manufacturer warranty
3 years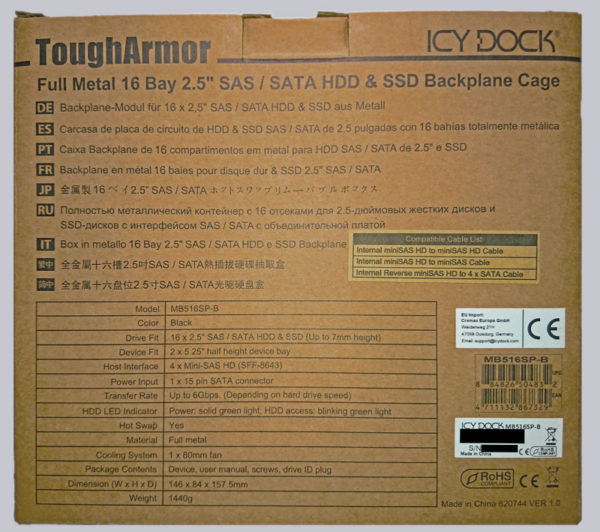 The specifications on the box are interestingly different from those on the website. The box specifies only 1x S-ATA as the power connector, but the 4x S-ATA specified on the website is correct. The box certifies a maximum data rate of 6 Gbit/s, while the website states 12 Gbit/s. Mini-SAS HD has a capacity of 4x 12 Gbit/s and since the MB516SP-B has four Mini-SAS HD connections with four lanes each, each drive should be connected with 12 Gbit/s as stated on the website, if it is a SAS drive. Thus, the MB516SP-B supports a total data rate of 4x (4x 12 Gbit/s) = 192 Gbit/s when fully equipped with SAS SSDs. Thus, the limiting factor is rather the HBA or its PCI-E slot, but more about that later.
Furthermore, compatibility information has been added on the box via stickers. Thus, the removable frame can alternatively be connected via:
– Internal miniSAS HD to miniSAS HD Cable
– Internal miniSAS HD to miniSAS Cable
– Internal Reverse miniSAS HD to 4x SATA Cable


Consequently, you can connect the removable frame in different ways, even directly with SATA connections. Of course, a reduction to a maximum of 6 Gbit/s per drive has to be accepted.
Another possibility to connect the MB516SP-B, which also works, was not listed here. But more about that later.
Icy Dock ToughArmor MB516SP-B Layout, design and features …