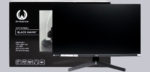 Practical testing …
We've already published a few monitor reviews and today we're testing this iiyama G2740QSU Black Hawk monitor on the following Intel Core i9 platform:
| | |
| --- | --- |
| Intel Mainboard | ASRock X299 Creator |
| CPU | Intel Core i9-7900X Skylake-X CPU |
| Cooler | Arctic Freezer 34 eSports |
| Thermal compound | ARCTIC MX4 |
| Graphics card | ASRock Radeon RX 5700 Challenger D 8G OC |
| SSD | Crucial MX500 SSD |
| PSU | Cooler Master Silent Pro Hybrid 1050W PSU |
| Chassis | Cooler Master CM 690 III enclosure |
| Operating system | Windows 10 Pro 64 Bit (Version 10.0.19043.1415) |
iiyama G2740QSU logo deactivation …
After a light press on the rear power button, we are greeted by a white display with the words: G-MASTER #MONITORS4GAMERS by iiyama, where you can even disable the startup logo via the OSD menu under Menu Setup to save the 3 seconds and thus make the screen start faster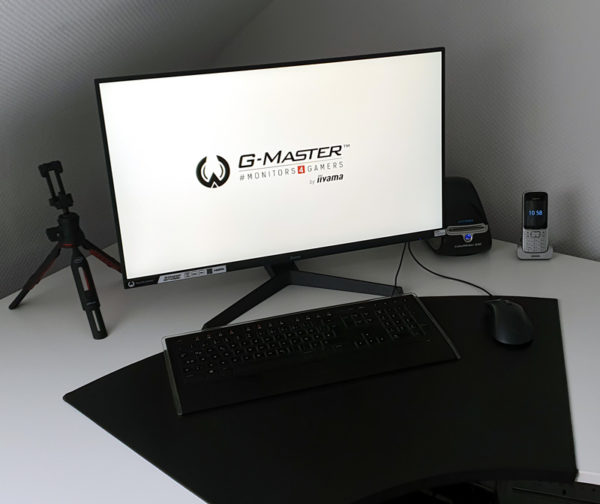 Thus, the monitor is ready to go in about a second after pressing the power button. The iiyama automatically detects the active signal source and selects the correct input. If desired, the signal source can be selected manually via the OSD menu.
iiyama G2740QSU mount on a monitor arm …
As mentioned earlier, we are not happy with the lack of height adjustment and have a simple solution on how to improve that. If you don't feel like looking down at your monitor all the time, you can simply purchase a monitor arm. For this, you could either use a single-arm monitor arm, like the Arctic X1-3D or Arctic Z1-3D Gen 3 or Arctic Z1 Pro Gen 3 monitor arm used in the AOC 16T2 touchscreen review, or the dual-arm Arctic Z2-3D Gen3 that we're using this time. We'll also show why we chose this model shortly. iiyama also offers different monitor arms with a table mount or wall mount, but we haven't tried them yet. Here you can see the Arctic Z2-3D Gen3 monitor arm.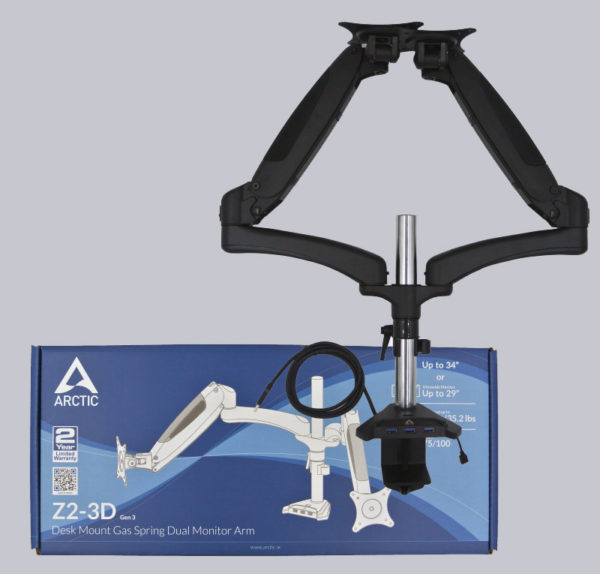 Up to two monitors are held in the desired position by means of a gas pressure spring and an additional USB hub offers up to four possible USB 3.0 connections, so it is ideally suited for the iiyama G2740QSU.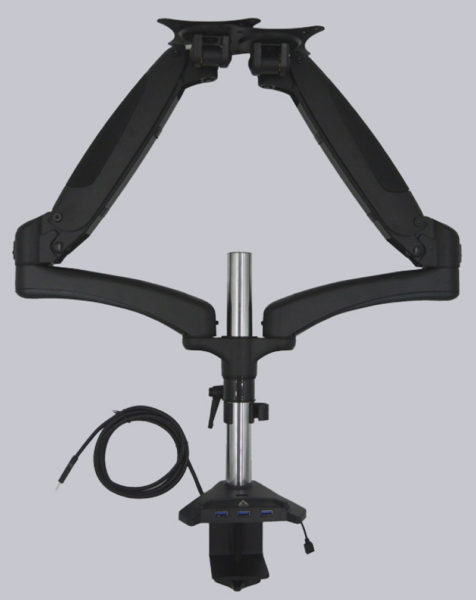 To do this, simply remove the cover on the back of the monitor and mount the monitor arm on the VESA 100×100 mount using the short screws provided.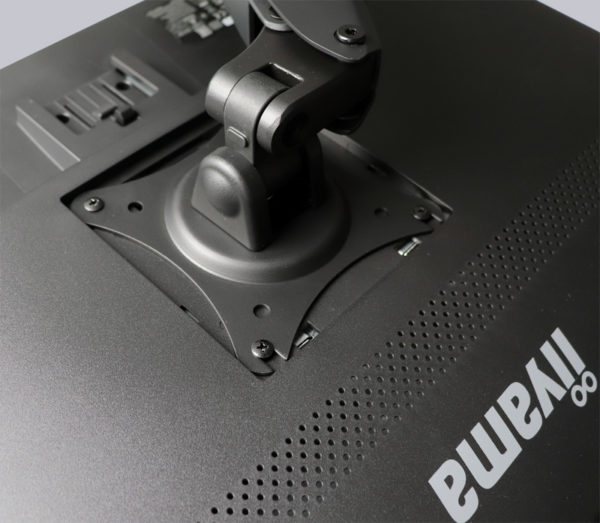 And we already have an ergonomically height-adjustable monitor with pivot function including optional expandability to a second monitor. In addition, we now have room under the monitor for other peripherals or microphone or smartphone holder and the like. Even without changing any settings, the picture from our desktop looks very good. The color gradient is excellent and there is also nothing to complain about in terms of contrast. There were also no pixel errors or similar flaws to discover.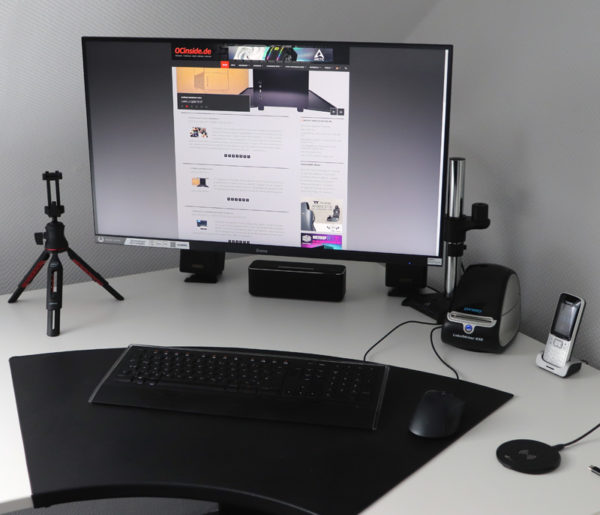 iiyama G2740QSU OSD menu …
The OSD menu is intuitive and can be accessed by pressing the joystick button on the back a bit harder, where you can either directly select the right submenu.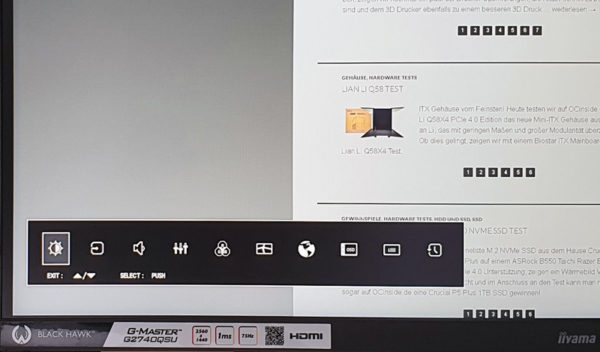 Or navigate to the desired submenu in the OSD menu overview. It offers all important settings from contrast to brightness, three ECO modes, blue tone reduction, black level, color saturation, gamma setting, …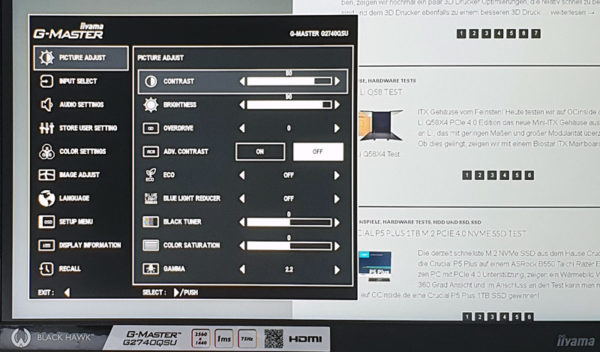 Color temperature as well as manual color setting adjustment.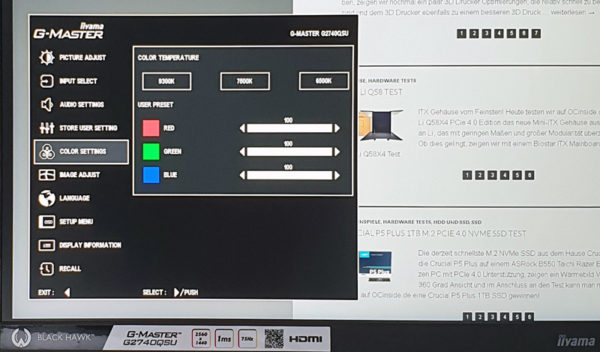 And of course, changing the OSD menu language is also available.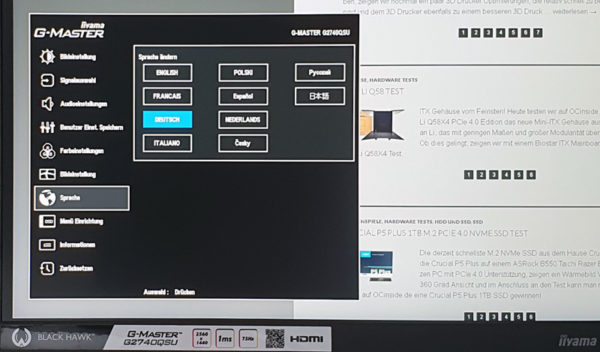 There are many other items available in the OSD menu, starting with manual or automatic input source selection, volume adjustment, HDMI RGB range, OSD fade-in time, V and H position, 3 different user modes, information about the resolution used and AMD FreeSync activation. It is best to activate FreeSync directly before you get annoyed by stutters or tearing later in the game. By the way, iiyama does not offer a software for settings under Windows.
Speaking of FreeSync, iiyama specifies Adaptive Sync or AMD FreeSync support from 48 to 75Hz. This means that no tearing or micro-stutters occur in the FPS range (frames per second) when FreeSync is configured correctly. By the way, you also notice that our monitor is an entry-level model, since you can expect FreeSync support of 35 to 144 Hz in higher price ranges.
By the way, you can even find a corresponding nVidia G-Sync with FreeSync monitor guide here at OCinside.de on how to make your Nvidia G-Sync graphics card FreeSync capable
While we are on the subject of gaming – the WQHD display offers a W-QHD resolution of 2560×1440 at up to 75Hz via the HDMI and DisplayPort connection. This is a good compromise as a gaming resolution, because the pictures look much sharper than with conventional FullHD resolution, but can usually still be displayed smoothly with mid-range graphics cards. Thus, WQHD is still a reasonable resolution for 27-inch monitors. Because the even finer 4K UHD resolution with 3840×2160 or 4096×2160 pixels would force most users to zoom in Windows with this monitor size, since fonts, symbols, etc. are displayed too small on a 27″ monitor. Thus, WQHD offers a good middle ground between UHD and the much smaller FHD (Full HD 1920×1080 pixels).
Here are again all the important resolutions with 16:9 format in a small table, so that you can quickly compare the different resolutions for monitors and TVs:
16:9 HD Monitor Resolutions
Name
Short form
Description
Resolution
High Definition
HD
720p
1280×720 Pixel
Full High Definition
FullHD
2K / 1080p
1920×1080 Pixel
Wide Quad High Definition
WQHD
1440p
2560×1440 Pixel
Ultra High Definition
UHD / UHD-1
4K / 2160p
3840×2160 (4096×2160 4K2K)
Full Ultra High Definition
FUHD / UHD-2
8K / 4320p
7680×4320 Pixel
Quad Ultra High Definition
QUHD
16K / 8640p
15360×8640 Pixel
Hint:
If the monitor image looks muddy, you should select the correct native 2560×1440 resolution for the graphics card (if necessary, install the monitor driver from the iiyama website), deactivate the zoom in Windows, adjust the fonts in the display settings and adjust or deactivate the ClearType text settings. If you use the font size zoom, you might want to apply a tip from our forum, which allows you to get a clear font image by right clicking on the program -> Properties -> Compatibility -> Disable scaling at high DPI. Only when you get a really clear image displayed, everything is really optimized properly and the image is really very clear on this iiyama Black Hawk monitor.
If picture errors or even a black screen occur, it is often due to the length and/or the quality of the HDMI or DisplayPort cable. Inexpensive monitor cables with a length of 1.5 meters can quickly lead to problems with high resolutions, because they can no longer process or transmit the extremely high frequency cleanly. Fortunately, suitable cables are already included with this monitor, and longer Displayport or HDMI cables can be found here at a reasonable price
.
iiyama G2740QSU Measurement Results …
Using the datacolor SpyderXElite colorimeter, we measured various measurements such as the monitor's color gamut, gamma values, color homogeneity, luminance homogeneity, and color fidelity, and used them to create an overall result. We measured via HDMI with the included HDMI cable.
First, we calibrated the monitor without Eco Mode to a brightness of 180.0 cd/m2 (contrast setting to 80 and brightness setting to 46) and were able to achieve 100% sRGB color spectrum.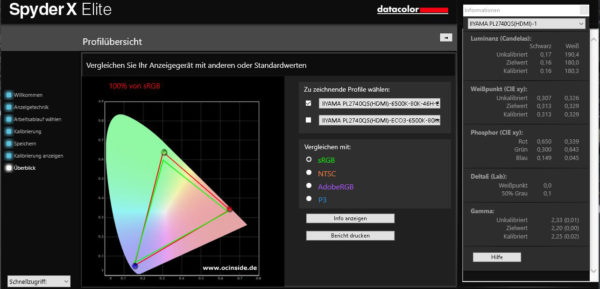 Here, for example, you can see the homogeneity of the color representation measured over 9 measuring points distributed on the monitor.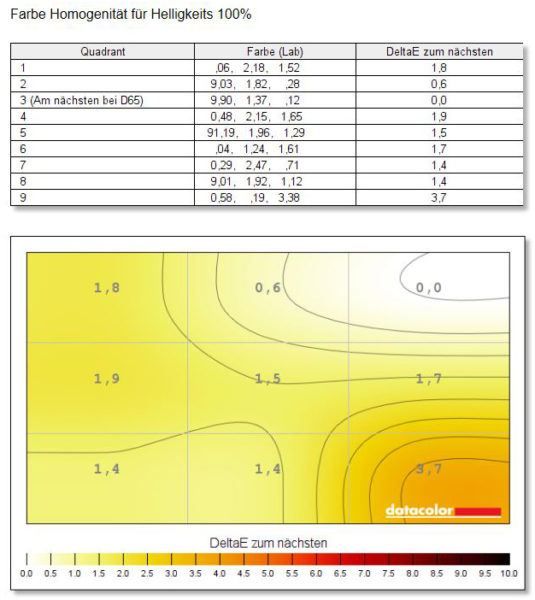 And here you can see the overall result of the monitor evaluation.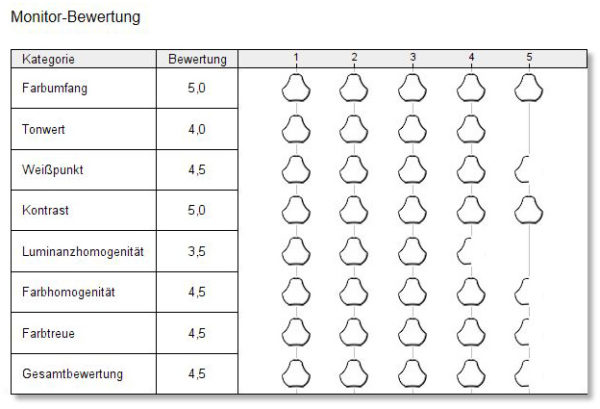 iiyama G2740QSU Sound …
This monitor has integrated speakers, but the two 2x 2 watt speakers cannot be called suitable for gaming. However, the speakers are sufficient for system sounds or similar.
iiyama G2740QSU power consumption …
Officially, the iiyama G2740QSU requires 0.5 watts in standby as well as switched off and about 23 watts when switched on.
We measured it and come to very good values in the range of about 11 watts to approx. 20 watts depending on brightness and ECO setting. At high brightness without ECO, the power consumption is about 20.2 watts. At good brightness with ECO1 the power consumption is about 16.6 watts, at moderate brightness with ECO2 the Black Hawk consumes about 14.2 watts and at low brightness with ECO3 we measured just about 11 watts and that is already pleasingly low!
Now we come to the conclusion of the iiyama G-Master G2740QSU Black Hawk tests.
iiyama G-Master G2740QSU Black Hawk Monitor Result and general impression …