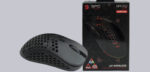 Today we are testing a mouse that is clearly targeted at gamers with an adjustable sensitivity of maximum 16000 DPI. This mouse is called Endorfy SPC Gear Lix Wireless and can be operated via USB or charged for wireless operation. A corresponding RGB lighting and programmable buttons underline the orientation towards the mentioned target group. After the review, you can win an SPC Gear LIX Wireless RGB mouse on OCinside.de with a bit of luck!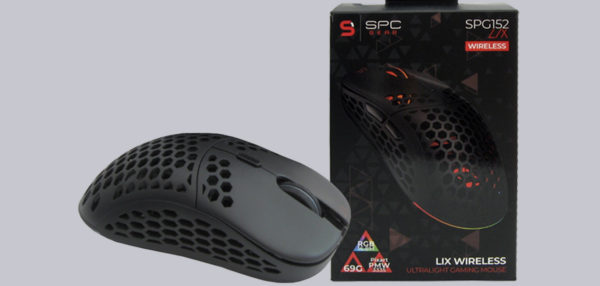 The following pages will show whether this can win a round in game titles with a high demand for reaction speed.
Thanks for the support …
Thanks for the support to MartinK and the manufacturer SilentiumPC.
The SilentiumPC SPG152 gaming mouse currently has a price of approx. 65 Euro (09/2022).
Here you can order the SilentiumPC SPC Gear LIX Wireless.
The scope of delivery of the LIX Wireless …
The mouse comes in a very compact package with a small handle and, apart from the outer appearance, reveals a technical detail: The openly advertised Pixart "PMW 3335" is a factory-produced sensor that should logically be suitable for wireless operation. However, we suspect a mistake since the manufacturer's website states a "PAW 3335". This in turn can be found at Pixart and comes with a "low-power architecture", which predestines it for wireless use. This is obviously an energy-saving version of the usual sensors, which matches the other descriptions from SPC Gear. The feature of being able to set the same sensitivity as the Razer PMW 3389 or PMW 3390 with 16000 DPI is exciting. In terms of IPS (Inches Per Second), which quantifies the possible distance of a mouse movement without information loss, 400 IPS is on par or barely less than the competition. With 450 IPS, the PMW 3390 sensor is only one quality level higher. However, there are affordable models with a Focus+ sensor that go one better in terms of DPI, IPS and acceleration. To be fair, we also have to add that we can find models in the price comparison that look very similar to the SPC Gear review sample and also show strong parallels on paper. But enough of the bare theory.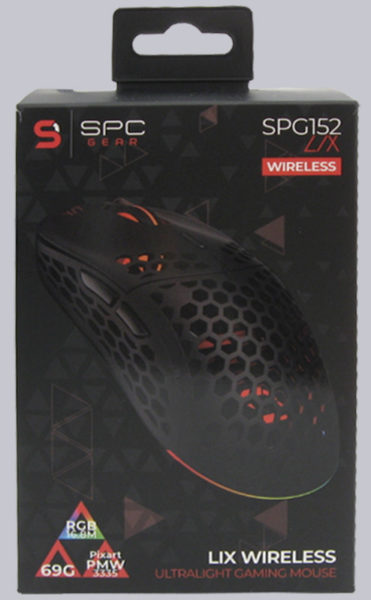 The small package comes with a large scope of delivery. Besides the mouse itself and the 1.80 meter long USB charging cable, small stick-on elements are included. The latter are a sticker and various skates. Skates are attached to the underside of the mouse to improve the gliding properties of the underside on the surface. Additionally, a leaflet provides the user with information about the setting options of the many buttons and status indicators, which we will discuss separately.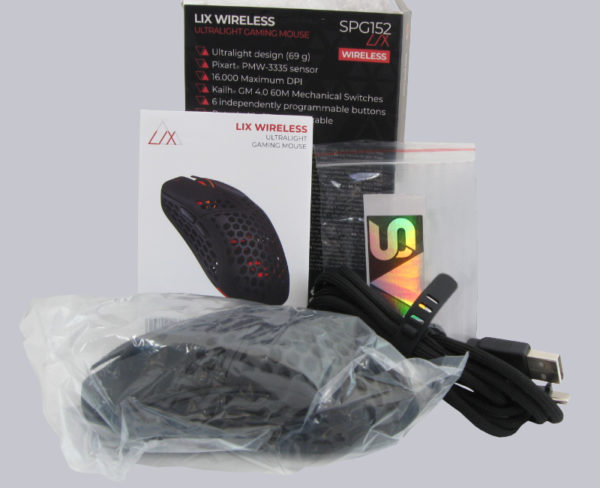 SilentiumPC SPC Gear SPG152 LIX Wireless technical specifications …