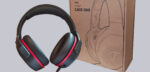 Solid gaming headset! Looking at Teufel's website and the accompanying product video, the new Cage One headset is advertised with a strong kick bass and otherwise balanced sound. In addition to gaming, fun and music listening, the device may well find its home in various video conferencing during home work, though we focused on the former aspects. We tested the headset on OCinside.de and reveal whether the Cage One is a devilishly good offer on the following pages.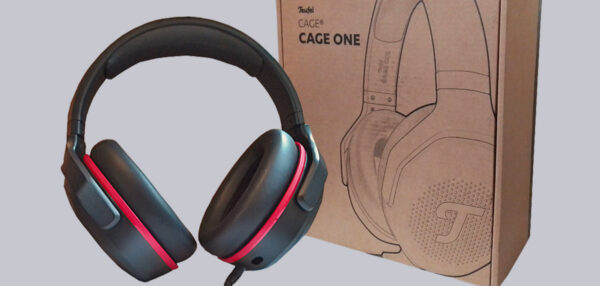 Thanks for the support …
Thanks for the support to MartinK and the manufacturer Teufel (devil).
The Teufel Cage One Headset currently has a price of approx. 79 Euro and can also be obtained directly from the manufacturer (02/2023).
Here you can order the Teufel Cage One Headset.
Apart from the red-black variant "Night Black", which is discussed here, interested users can purchase a grayish-black version of the same headset with "Light Gray". For us, however, the red color scheme suited the infernal brand name a bit better. Therefore, we certainly don't want to paint the devil on the wall, but we refer to possible puns in this review as a precaution. We warned in time … 😉
Der Lieferumfang des Cage One …
First of all, the headset comes in a relatively inconspicuous brown box, which already shows some design elements on the headband and earphones. Apart from that, there is no further product information on the box – except for the color variant on the back.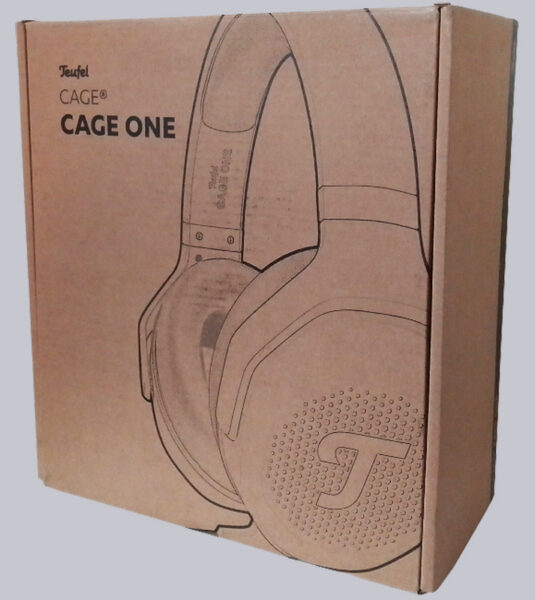 When we looked at the contents, we found a headset wrapped in plastic, which was well protected in the box's designated recess. After opening countless plastic bags, which we would have liked to find in smaller numbers for environmental reasons, the complete scope of delivery was revealed to us.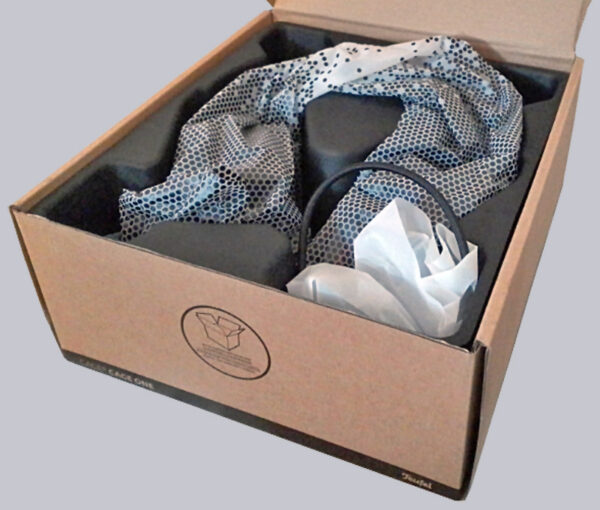 The manufacturer provides the buyer with two foam protectors for the detachable microphone. The latter can be flexibly adjusted via a flexible arm to take up its position at the desired distance from the mouth. Furthermore, there are safety instructions and a leaflet as user manual in the box. There, we find information on how to operate the headset, namely how to control the volume and mute the microphone. A splitter cable is also part of the product. This can be used to separate the microphone and line inputs if necessary. New earpads and additional cables can be ordered from the manufacturer's store if necessary, which can potentially keep the headset operational for many years.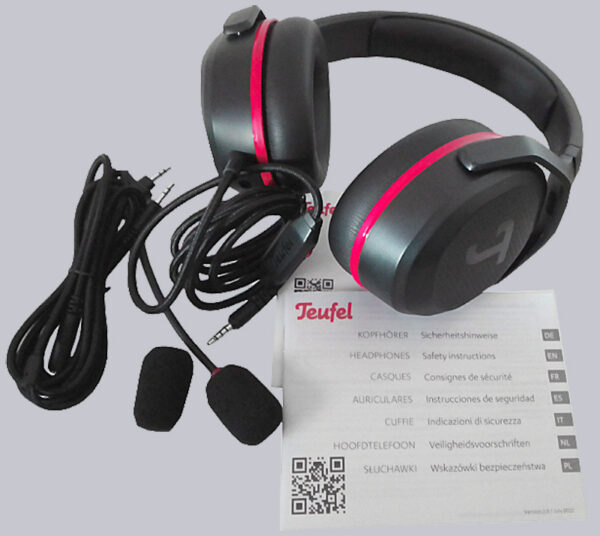 Teufel Cage One technical specifications …