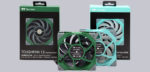 Layout, design and features …
In order not to miss any detail, we have created a 360° view of the Thermaltake ToughFan 12 fans.

Here you can see again all three packages of the Thermaltake ToughFan 12 fans in green, in black and in turquoise.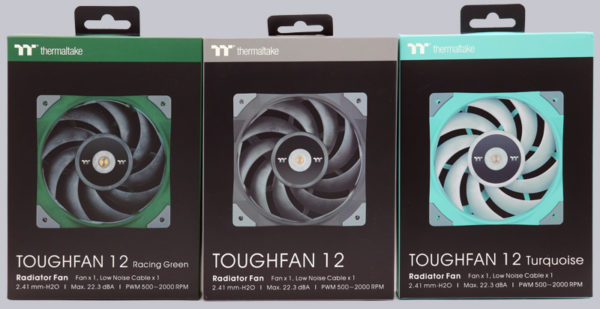 Above all, Thermaltake naturally wants to offer matching fans for their in-house cases, like the Thermaltake Tower 100 case, which we already reviewed in black and is now also available in green and in turquoise (Thermaltake Tower 100 Racing Green and Thermaltake Tower 100 Turquoise source Thermaltake).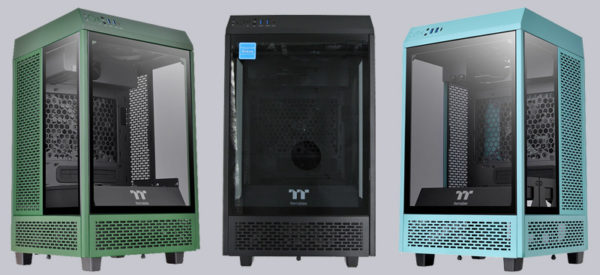 The Thermaltake ToughFan series looks very elegant and is extremely well made. Here you can see the 120mm Thermaltake ToughFan 12 fans in racing green and turquoise. Only the vibration pads are still gray and have not been adjusted in color. As usual, the stickers are placed on the fixed side. They contain all important data for the system assembler like the short form TT-1225, the part number A1225S12S, the voltage DC 12V, a maximum possible power consumption of 0.70 amps as well as some test seals like CE and TUV.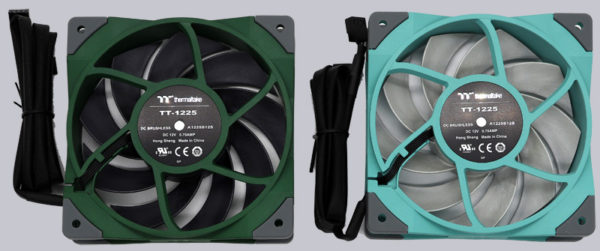 On the rotating side, the air is sucked in via a whole 9 rotor blades. According to Thermaltake, the fan blades are made of special high quality, static resistant and thermal expansion coefficient materials with special crystal polymer (LCP).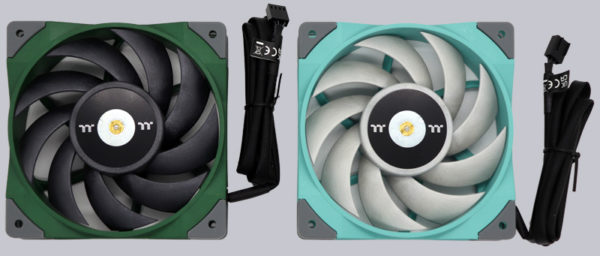 Even the four sides have been elaborately designed by Thermaltake.


Here you can see the rubberized corners of the fan frame, which are supposed to absorb the last bit of vibration.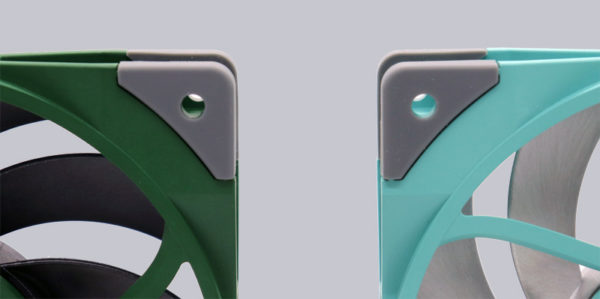 Tip: Who needs to save about 2mm, can easily remove the rubber buffers! Since the ToughFan fan is anyway extremely quiet running, you could well do without the anti-vibration pads, but the rubber pads provide a little security and the fan thus does not rattle later even with strong load changes on the case or on the radiator.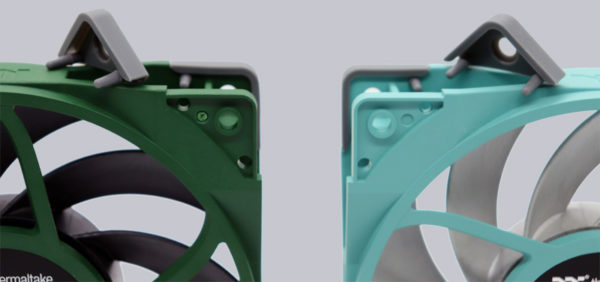 By the way, you can simply push the rotor out from the inside to be able to clean it better, for example.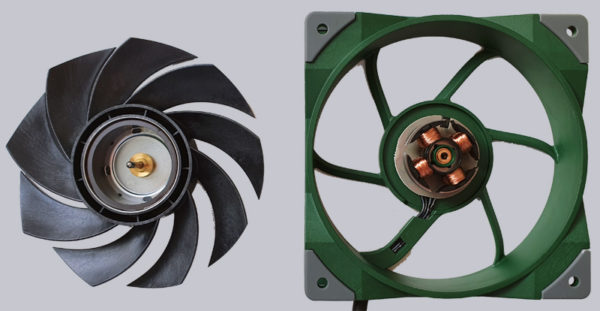 Tip: If the Thermaltake fan does not work and only twitches a little instead of rotating, it could be that the axle with the fan blades is not fully snapped. In that case, simply press a little pressure on the fan scar until you hear a slight click.
Thermaltake ToughFan 12 Racing Green and Turquoise Installation …