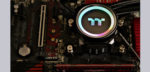 Test setup and results …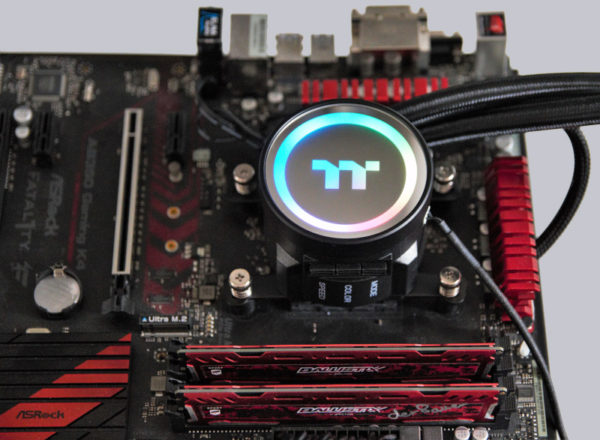 Cooler Test Setup …
For Practical testing, we mounted the Thermaltake Toughliquid 360 ARGB watercooler on our AM4 test system, which consists of the following components:
ASRock Fatal1ty AB350 Gaming K4
AMD Ryzen 7 1800X
Crucial 2x4GB DDR4-2400
Cooler Master Testbench v1.0
The following OC programs were used for the measurement: Prime95 and SpeedFan
The room temperature during the test was around 21°C.
As always, the Thermaltake Toughliquid 360 ARGB competes against our reference, the Noctua NH-D15. If you want, you can also take a look at our review of the PCCooler GI-CX240 ARGB AIO, for example, which were tested under the same conditions and compare the results.
We first preheated the water cooling for 30 minutes so that the results would not be distorted by initially cooler water in the circuit, then loaded the CPU with Prime95 for 30 minutes each and noted the temperatures.
Surprisingly, the Thermaltake Toughliquid 360 delivers a mixed result against the Noctua NH-D15. The values are very good, no question, and the Toughliquid 360 can also win the race in the lower speed range, but we would have expected a better peak value from a 360mm AIO water cooling system. What we can say without a doubt is that the Thermaltake Toughliquid 360 delivers very good temperature values with superb noise levels at all times.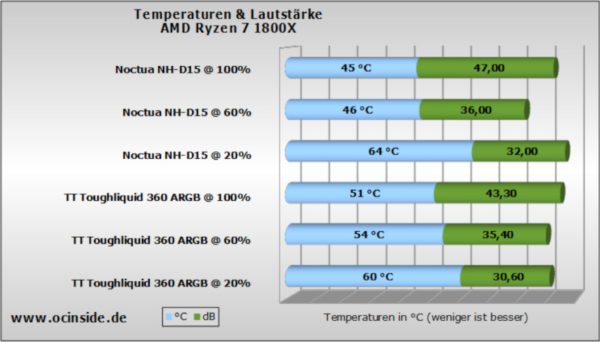 The pump runs so quietly at 12V that you can hear a whirring sound with your ear in the immediate vicinity, but we could not capture it on video with our equipment. What we did test, however, is that you can still regulate the pump to 60% for the last dB without worrying. It only costs a 2°C higher CPU temperature. However, pump throttling is not necessary from our point of view!
The fans are also tuned quite quietly and aren't particularly loud even at 100%, and the sound is also very pleasant over the entire speed range. Thus, a cool and quiet system can be built overall.
In order to better assess the fans, we have, as always, created a video in which we regulate the speed range once completely up and down again.

Now we come to the optical criteria of the AIO water cooling.
Thermaltake Toughliquid 360 ARGB Optics …