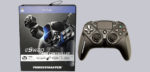 Today we test at OCinside.de the top controller from the extensive gamepad collection of Thrustmaster. In comparison we are testing the original controllers from Microsoft Xbox One, Xbox 360, Sony PlayStation 4 and PlayStation 3. What makes this Thrustmaster eSwap Pro game controller different from thousands of other products on the market and where its strengths can be found is explained in the following review including YouTube video and 360 degree view.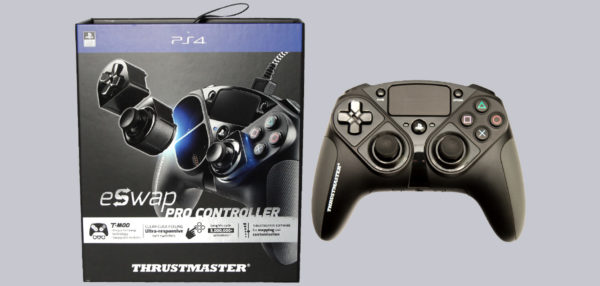 Thanks for the support …
Many thanks for the support to Daniel and the Manufacturer Thrustmaster.
The Thrustmaster eSwap Pro Controller has at review date a price of approx. 139 Euro.
Here you can order the Thrustmaster eSwap Pro Controller.
The delivery of the Thrustmaster eSwap Pro Controller …
To ensure that even the product packaging reaches the customer on the transport route without being damaged, it is placed in another box, which is then finally shipped in a transport carton. This way, the controller and its noble cover should arrive undamaged at every customer.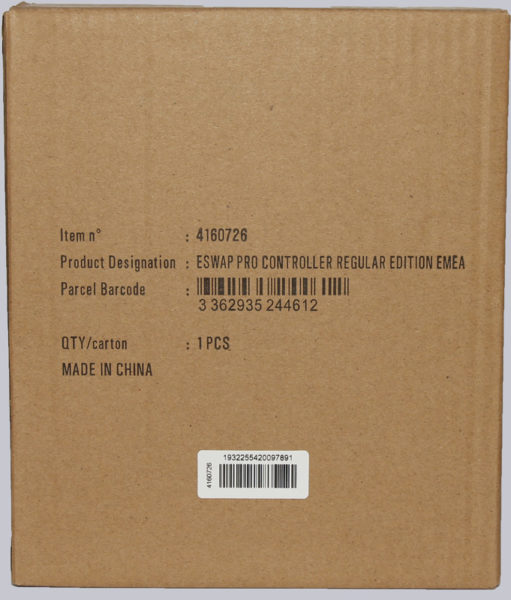 And from the very first contact with the packaging you will notice that Thrustmaster wants to convince with high quality.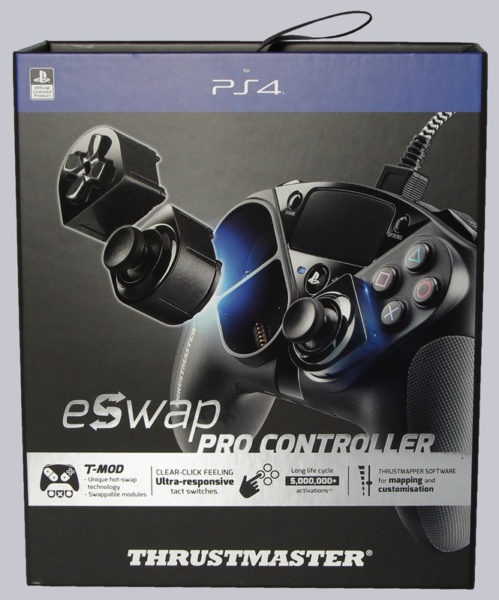 All around are elaborately designed pictures on the packaging. The PS4 (R) logo is also emblazoned on the front, confirming that the game pad is an officially licensed product for the PS4. On the side there are screenshots of the PC software, which should clarify the customization possibilities.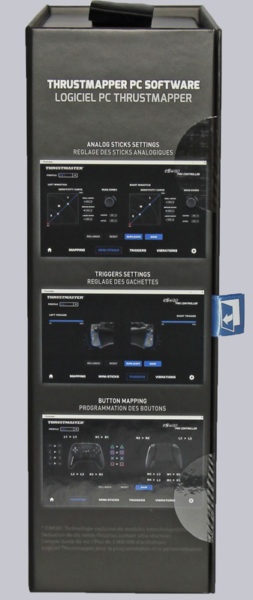 The back shows optionally available accessories and data on the durability of the switching elements.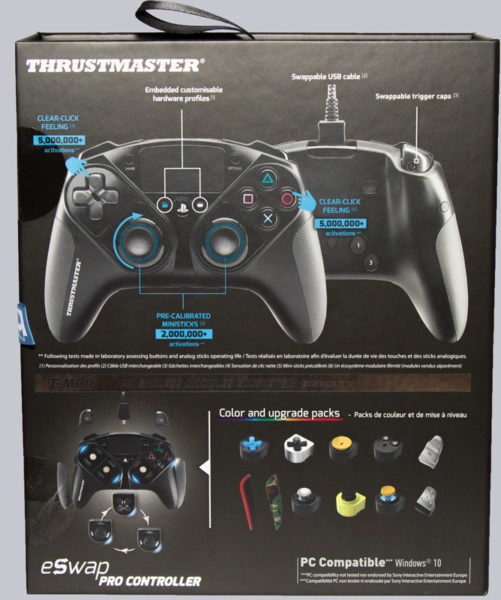 With the small blue flap you open the box like a book, which is held closed by 2 magnets. Inside, you can immediately see the controller, which is embedded in a velvet-like softly coated cardboard box. Even Apple could learn a lot from this. To protect the analog sticks, they are still enclosed by a foam element.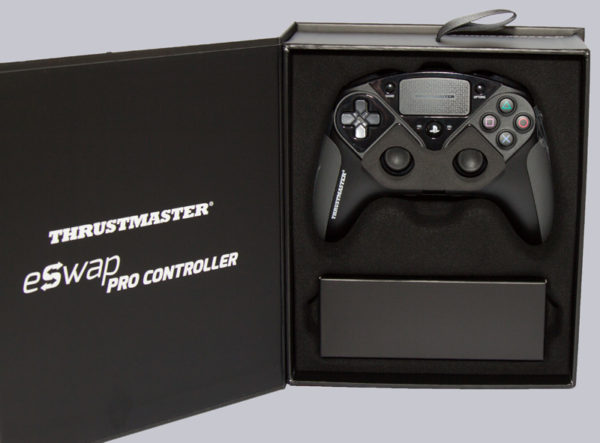 The small, cuboid, black box contains a USB cable with high-quality fabric sheathing and a special micro-USB plug, which should ensure a secure hold in the socket even in hot weather …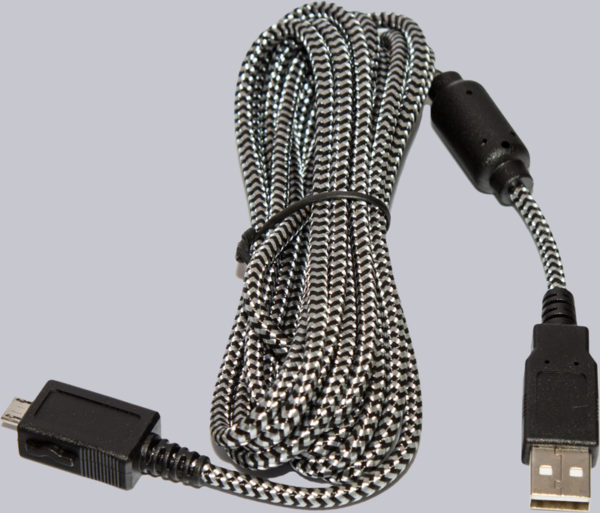 … as well as a combination tool for dismantling/assembling the exchangeable elements …


… and a soft bag.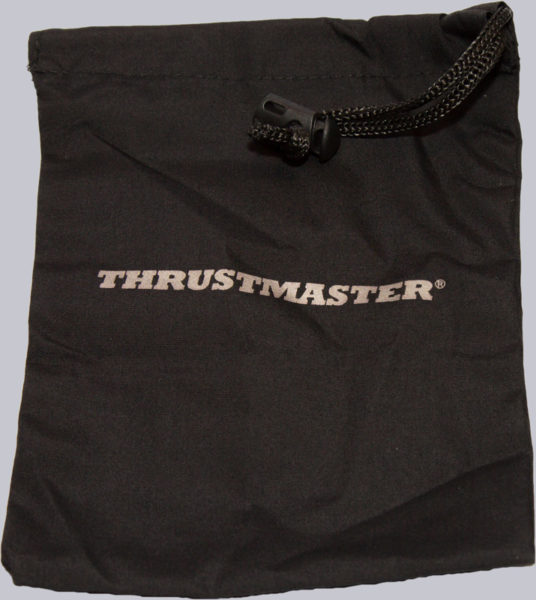 Behind the velvety inlay of the packaging there is also a printed manual …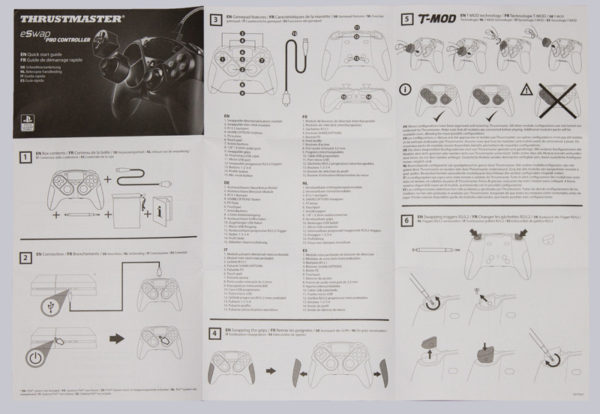 … with the most important hints for using the gamepad.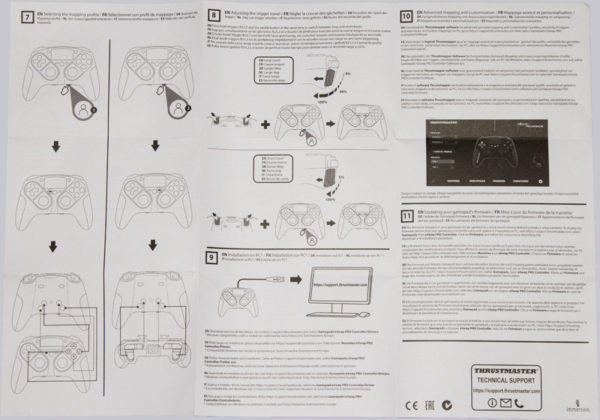 A CD with the Windows driver or other software is unfortunately not included.
Thrustmaster eSwap Pro Controller technical specifications …