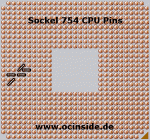 After the recently published AMD Socket 939 CPU Pinmod guide, here's the often requested interactive Pinmod guidance for AMD Socket 754 processors.
The interactive guide offers in the version 1.0 the possibility to increase the Vcore (CPU voltage) and can be used both with AMD Athlon 64 and AMD Sempron CPUs.
Overclocking of the inexpensive AMD Sempron processors is now possible even if the Motherboard comes without or with small options for the voltage adjustment.
Note: Please allow our cookies first to see this external content!
Here's the handling of the new interactive AMD Athlon 64 Socket AM2 Pin-Mod guide …