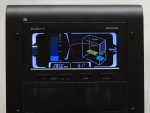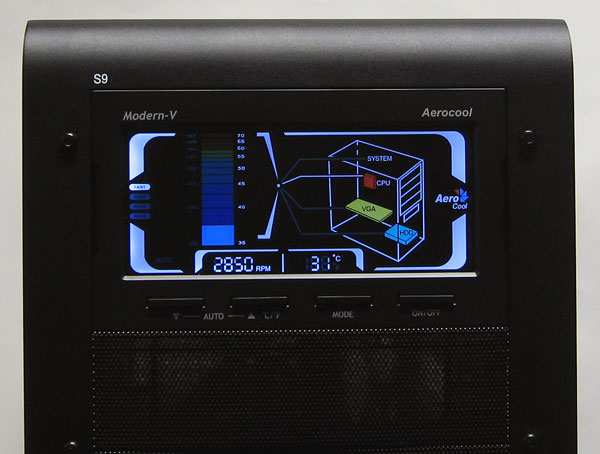 More than 7 years ago, the first fan controller review was published on the ocinside.de hardware portal. When you compare the older Digital Doc 5 fan controller with the current Aerocool Modern-V, it's easy to see one big difference, because especially the design of the new LCD panel is much more beautiful. Let us see if the operation, technology and price of the Aerocool Modern-V fan controller is also recommendable.
Thanks for the support …
Many thanks for the support with the Aerocool Modern-V Double Bay Panel by Caseking.de
The Aerocool Modern-V black Fancontroller has a current price of 39 Euro (09/2008) and is of course also available at our sponsors.
The packaging of the Aerocool Modern-V Fan Controller …
The Aerocool Modern-V fan controller is delivered in this cardboard box.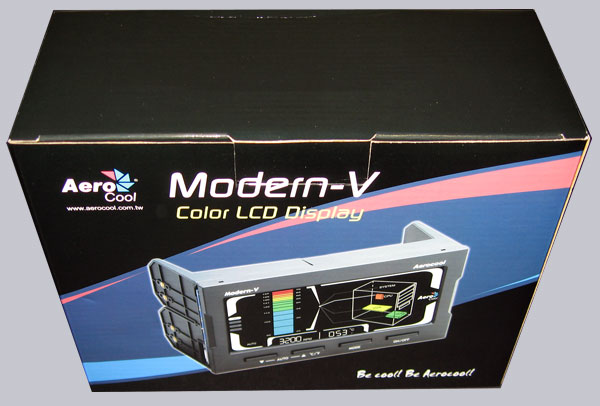 That is contained in the scope of delivery …
The scope of delivery contains a multilingual manual which explains the most important basic operation on 6 pages for each language. When the basic operation becomes clear, it's not more necessary to have a manual, because the labeling of all buttons and the display is self-explanatory, except a few things.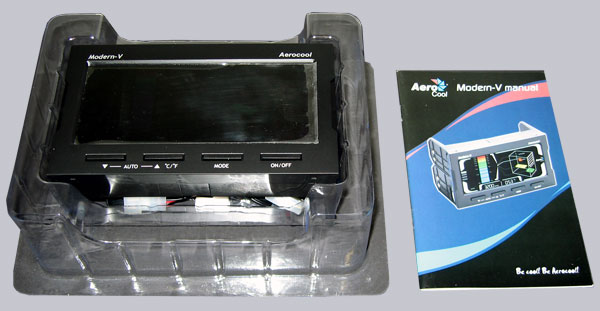 Here is a first look at the black Aerocool Modern-V Double Bay Panel for two 5.25 inch bays. It is often necessary to spend two bays for the fan controller and it was also necessary for the Carbonic Blue Ice fan controller which was tested a few years ago. For most chassis, the fan controller is the spotlight of the case – not only to get the fans more silent but also for a nice optical characteristic.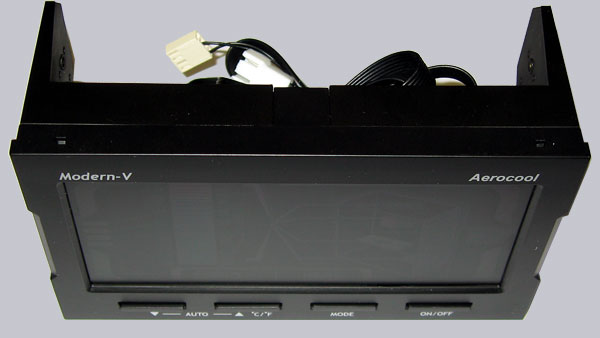 Furthermore the package contains two replacement temperature sensors with approx. 70cm cable, a few adhesive tapes for the attachment of the sensors and screws for the assembly of the fan controller into the chassis.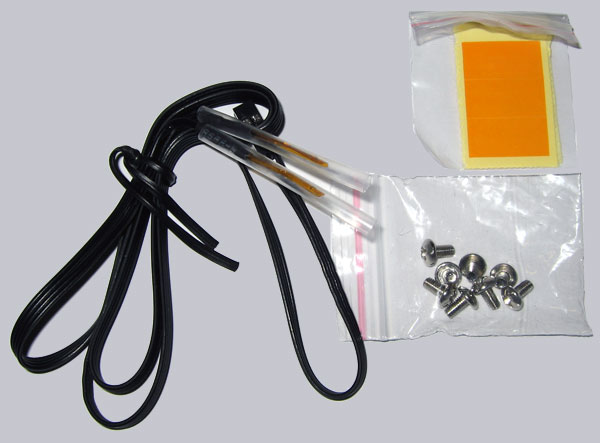 The technical data of the Aerocool Modern-V Fan Controller …