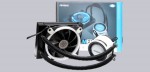 Test setup and results …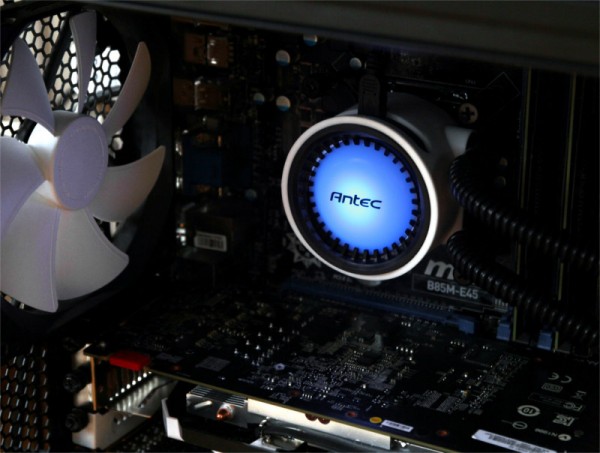 Test setup …
We used the following configuration for testing:
Intel Core i5 4460 @ 3200 MHz with 0.99 Volt
MSI B85M-E45 Rev. 2.0
2x 4GB DDR3-1600
MSI GeForce GTX960 4GB OC
Antec 500W Silent Pro power supply
Fractal Design Define R5 case
Windows 10 Pro 64 Bit
We used the following programs: Prime95 V28.7 And SpeedFan V4.51
Thermal Compounds: Antec – unspecified (supplied)
The ambient temperature during the test was about 20°C.
Since the pump is connected directly to the power supply and the 3-pin connection only outputs the speed to the motherboard, we could not vary the speed here. The good news is that the pump was not heard in our system.
For Silent mode, the Antec fan was set to 500 rpm (despite the manufacturer's specification of a minimum of 800 rpm, this is possible). For maximum cooling, the fans were then set to 2000 rpm. In idle we started only Windows and SpeedFan. It was then debited with the small-FFTs test from Prime95. No power-saving features were disabled in the BIOS / UEFI.
Antec Mercury 120 test results …
Here is the Antec Mercury 120 compared to the boxed cooler of the Intel Core i5-4460. The Intel Boxed cooler could not be tested under load in Silent mode, as the temperatures ran too fast out of control.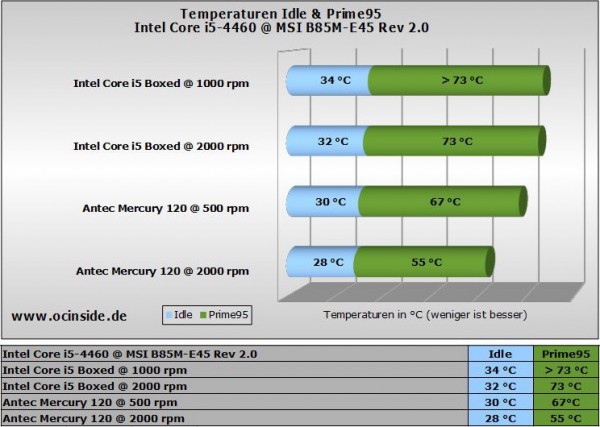 The fan is audible from 900 rpm with the case closed. At 2000 rpm you hear a loud noise, but no clacking or grinding.
The cooling performance is similar to that of similar AIO 120mm coolers. Thanks to the powerful fan, the maximum cooling performance is quite impressive. In addition, with a higher thermal compound, you can reach about 2°C better temperatures.
Interestingly, the lighting of the pump (not the fan) adapts to the coolant temperature.
From 36°C the logo pulsates green.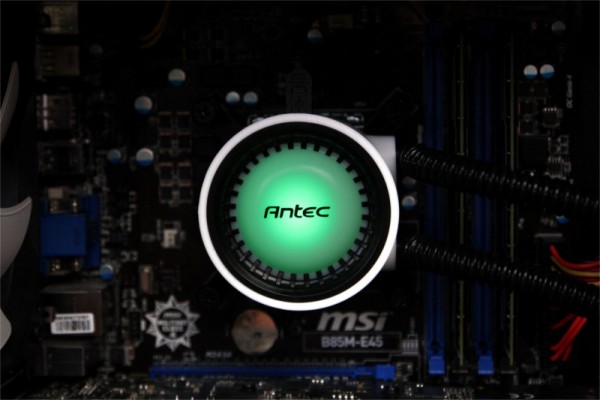 Above 41°C, the color changes to red.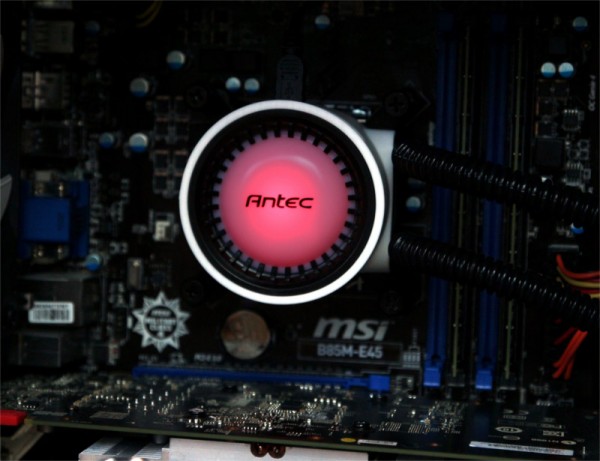 We explained the differences in measuring CPU temperatures and how to overclock in detail in our Intel Core i3, Core i5 and Core i7 OC guide.
Antec Mercury 120 conclusion and overall impression …