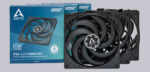 Layout, design and features …
Externally, the new P14 Slim PWM PST fan look confusingly similar to the smaller 12cm fan. They also have 7 fan blades and we do not notice any other changes. Rubber buffers are still looked for in vain, but thanks to the particularly low-vibration motor and the smooth-running hydrodynamic plain bearing, they are also not necessary. Initially, the P14 Slim PWM PST fan will only be available in black. What is really remarkable is the extremely thin thickness of only 16mm. A normal P14 PWM PST fan has a thickness of 27mm and weighs 194 grams. The Slim variant is 11mm thinner and 85 grams lighter.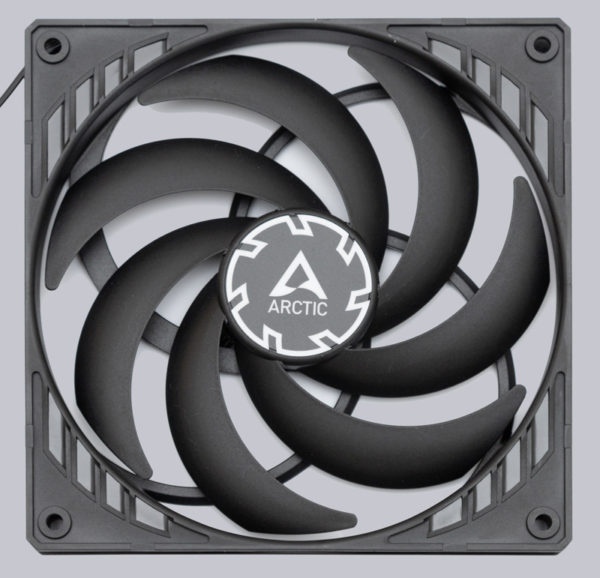 The strongly curved struts between the frame and motor hub, in conjunction with the curved fan blades, minimize audible fluctuations in the airflow that would occur with straight struts and fan blades. The maximum speed has been increased by a moderate 100 rpm from 1700 rpm to 1800 rpm compared to the standard P14 Fan. From this, one could already cautiously deduce that no too big performance differences are to be expected.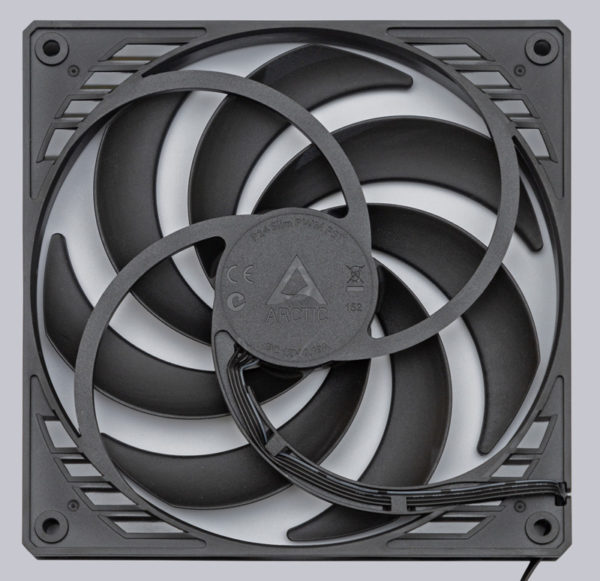 Arctic PST …
PST is the name of Arctic's technology to synchronize multiple fans without an additional distributor. Due to the maximum power consumption of 0.19A, you should not connect more than 5 P14 Slim PWM PST fans to a single mainboard socket. Mainboards usually manage 1A, but to be on the safe side, you should check the specification of the mainboard beforehand. 40cm cable length from the fan to the 4-pin connector should be sufficient even in larger cases. The socket for connecting another fan is an additional 8cm long, which allows you to bridge 48cm between two P14 Slim PWM PST Fan.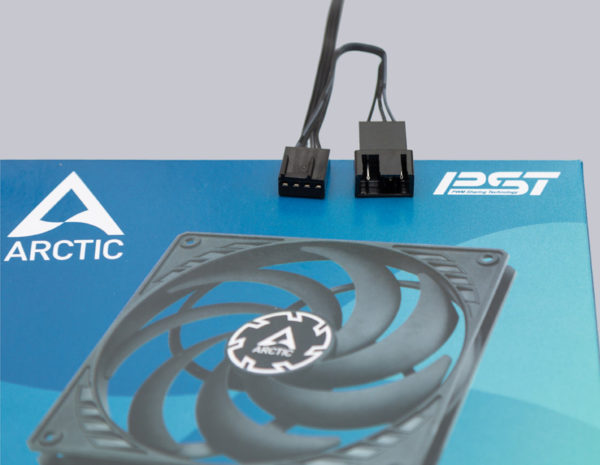 Arctic now even includes suitable screws for mounting on radiators. They are designed so that they cannot be screwed in too far. This prevents possible damage to the fan by screwing too tightly. The shorter screw in the following picture is from the P14 Slim PWM PST fan, the longer one from the standard P14 fan.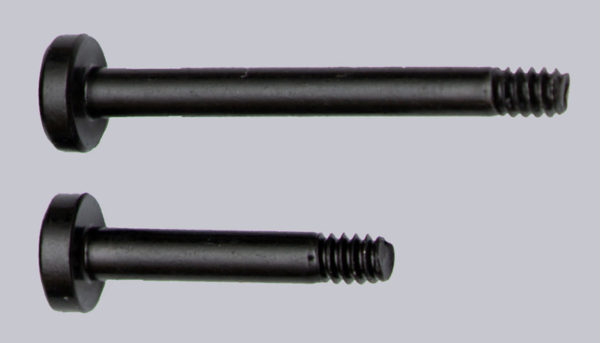 Arctic P14 Slim PWM PST Installation …