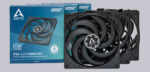 Flat 140mm fans from Arctic! After the slim 12cm fans, Arctic now releases the larger P14 Slim PWM PST fans. The new super-thin, pressure-optimized 14cm fans have a thickness of just 16mm, making them only 1mm thicker than the thin 12cm Arctic P12 Slim PWM PST fans. When space is ever limited in the SFF PC case, these fans can be the solution. Our following test reveals whether they are also good besides being thin.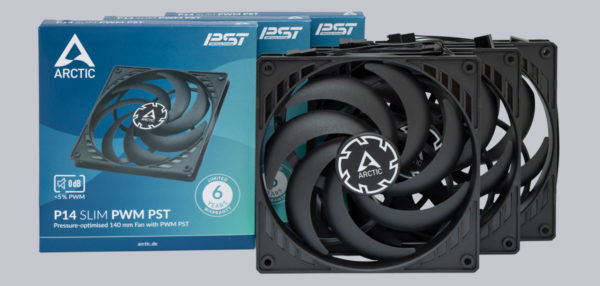 Thanks for the support …
Thanks for the support to Daniel and the manufacturer Arctic.
The Arctic P14 Slim PWM PST fan currently has a price of approx. 12 Euro (06/2022).
Here you can order the Arctic P14 Slim PWM PST 140mm fan.
The delivery of the Arctic P14 Slim PWM PST Fan …
We received our test samples individually packaged, but probably also the new P14 Slim PWM PST Fan will soon be offered for sale in a particularly attractive price 3-pack or 5-pack. In addition to the product image, there is some more detailed information about the fan on the front of the packaging.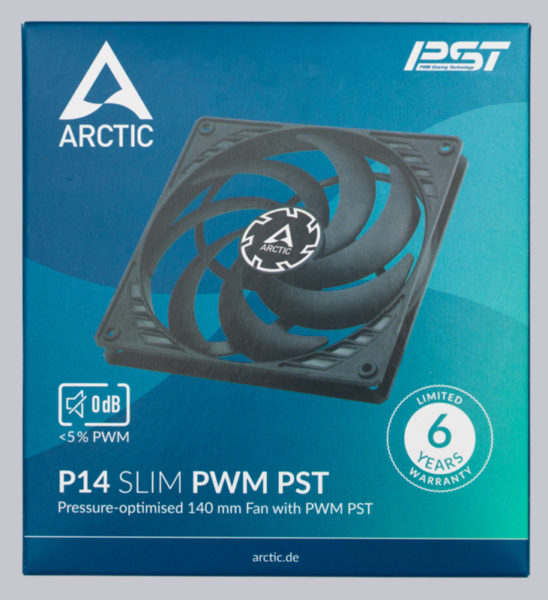 The technical data and links to the user manual and Arctic's support page are printed on the back.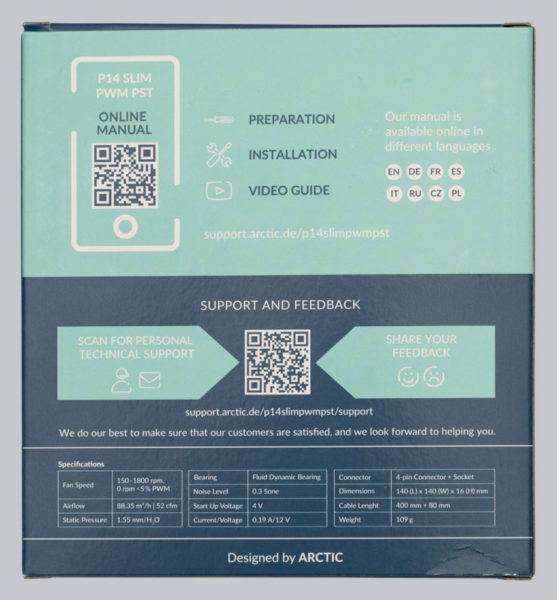 The part number and contact information are listed on the side.


This is included in the delivery package …
Fortunately, the fan is not wrapped in extra plastic again. In combination with the smallest possible outer packaging made of cardboard, the environment is protected in an exemplary manner. If you want to learn more about Arctic's commitment to protecting the environment, you can find more information at green.arctic.de. If one has opened the scarcely measured packing, 2 components come to the revelation. On the one hand, of course, the fan …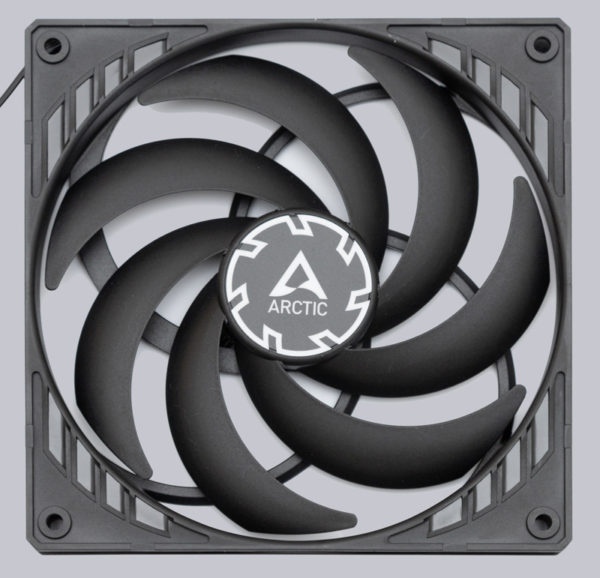 … and a small pressure seal bag in which there are 8 screws. Four screws for mounting the fan in the PC case and since our demand at Arctic (see Arctic P12 Slim PWM PST Installation) even four screws for mounting on a radiator, optimal of course for mounting on a Liquid Freezer II 280 or 420 water cooling from Arctic. So there is no need for cable tie tinkering that we showed in the previous Arctic BioniX P120 ARGB video.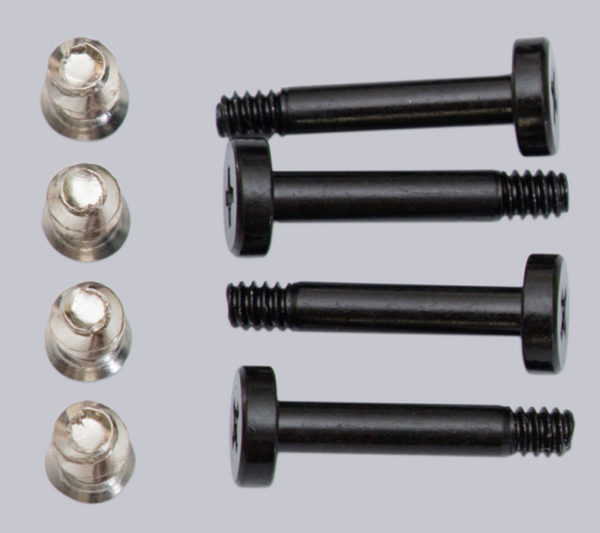 Arctic P14 Slim PWM PST technical specifications …