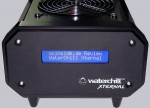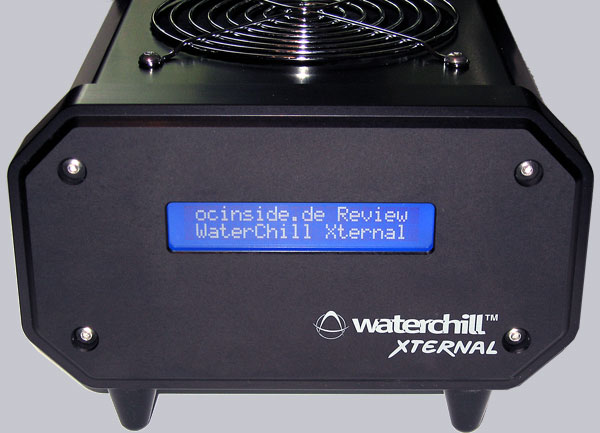 The technical data …
Supports: The WaterChill Xternal 03-L-7004 water cooler supports according to the manufacturer Socket 754, 939, 940, 478 and LGA775 processors, whereby the system can be used in addition with several other processors. The chipset cooler and video card cooler is variable applicable.
Dimensions: The overall height is 102 mm, the width is 182 mm and the depth is 480 mm.
Weight and material: The weight of the black aluminum cooling unit is without water approx. 4,5 kg.
Radiator: The Radiator is the Black Ice Pro 120mm Dual Radiator (277x133x25 mm).
Fans: The cooling unit is equipped with altogether 4x 120 mm fans, which can be controlled with a special WaterChill software fixed or temperature controlled. The rotation speed and sound level is thus variable (Adda manufacturer data: 12 V, 80.5 CFM, 2050 U/min, 38 dB).
Pump unit: The WaterChill Xtreme pump has according to Asetek a maximum throughput (Qmax) of 1020 l/hm and a maximum pressure head (Hmax) of 240 cm. The power consumption is depending to the variable voltage approx. 7-12 Watt.
Reservoir: The water reservoir can be filled with approx. 160cm³ water.
Miscellaneous: The main cooling unit has a 20×2 Text LCD to see the current water and radiator temperature, the rotation speed and the pump speed. The fans, pump and the display is controlled with the provided Asetek WaterChill USB software.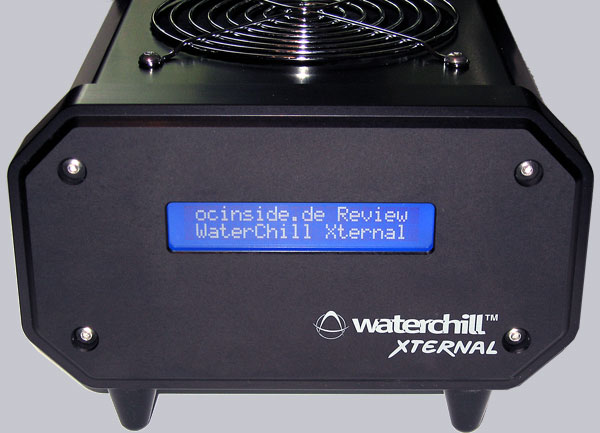 Layout, Design and Features of the Asetek Waterchill Xternal Water Cooler …