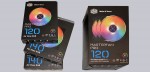 Construction, design and features …
Let's look at the fans in detail first. With their transparent, milky fan blades, they ensure good refraction; besides, you can see the copper coils inside. Depending on the model, the fan blades are differently shaped, here again Air Flow (left) and Air Balance (right) in comparison: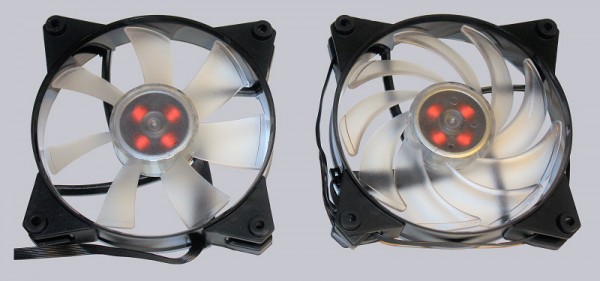 On the back, the fans have a small switch. In addition to "RGB" for operation with the RGB controller, "R" and "B" can be selected. The fans can also glow red or blue without RGB controller.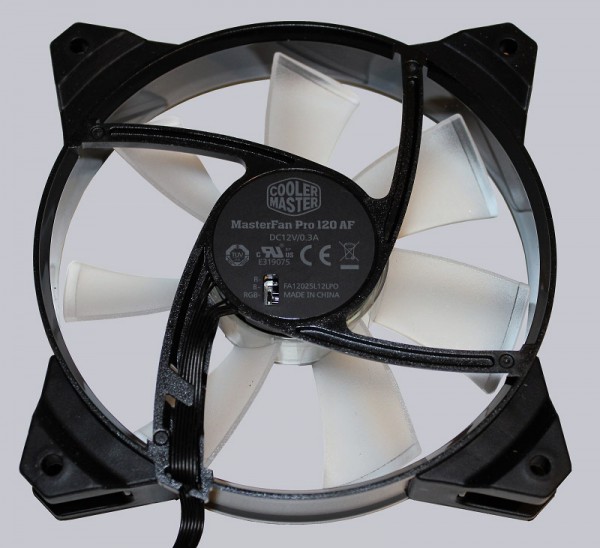 The connection cable has more lines than "normal" fans, since the fans have a 4-pin RGB connection in addition to a 4-pin PWM connection.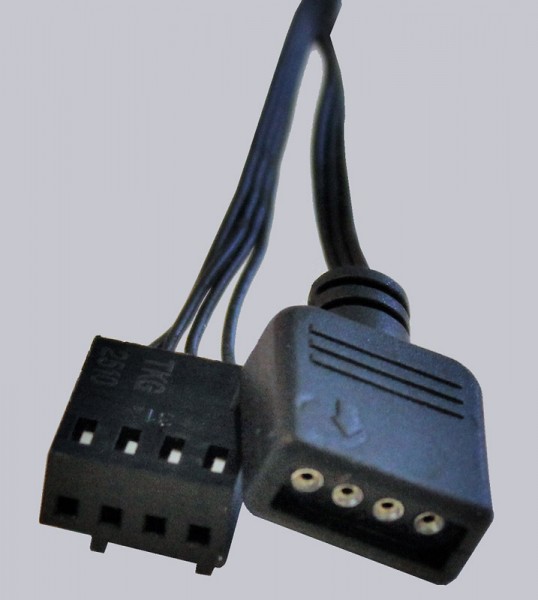 The corners of the fans are made of rubber which is to be used for vibration damping. They are each fastened with two Allen screws, which looks very high quality.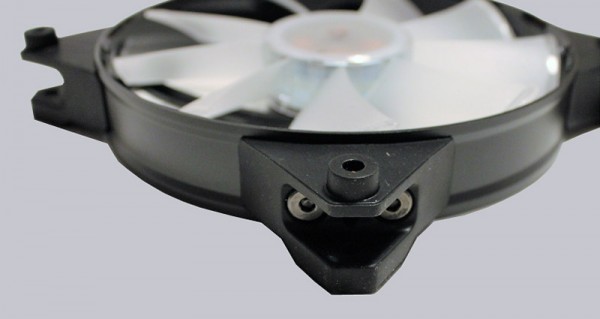 They also have a kind of spacer on one side.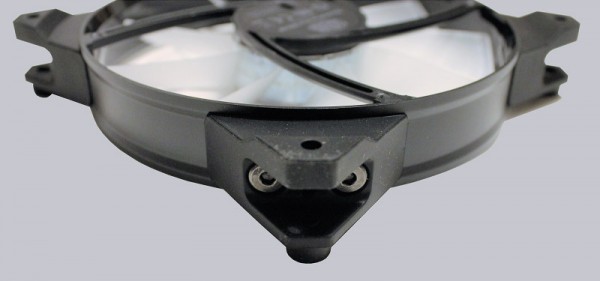 If we were still wondering why "only" fan screws are included in the scope of delivery, as many other manufacturers still supply rubber coupler, we now recognize that the Cooler Master RGB fans always have their decoupling.
This design, however, leads to the fact that the specified depth of 25mm is no longer quite right: we measure 28mm. In the side view you can see it even more clearly.


The 4-pin RGB connection makes it possible to operate the fans on "external" RGB controllers. Cooler Master also advertises compatibility with Asus Aura Sync, ASRock RGB LED, Gigabyte RGB Fusion and MSI Mystic Light Sync. Very practical, but of course you are then limited to the functional range of the respective manufacturer.
Cooler Master currently recommends the following mainboards for the RGB fans:
ASRock: Z270 SuperCarrier, Z270 Taichi, Z270 Extreme4, Z270M Extreme4, Z270 Killer SLI/ac, Z270 Killer SLI, Fatal1ty Z270 Professional Gaming i7, Fatal1ty Z270 Gaming K6, Fatal1ty Z270 Gaming K4, Fatal1ty H270 Performance, Fatal1ty H270M Performance, Fatal1ty B250 Gaming K4, Fatal1ty B250M Performance.
ASUS: Prime X370-Pro, Prime Z270-A, Prime Z270-AR, ROG Crosshair VI Hero, ROG Maximus IX Extreme, ROG Maximus IX Formula, ROG Maximus IX Code, ROG Maximus IX Apex, ROG Maximus IX Hero, ROG Maximus VIII Formula, ROG Maximus VIII Hero Alpha, ROG Rampage V Edition 10, ROG Strix B250F Gaming, ROG Strix H270F Gaming, ROG Strix X99 Gaming, ROG Strix Z270E Gaming, ROG Strix Z270F Gaming, ROG Strix Z270G Gaming, ROG Strix Z270I Gaming, X99-Deluxe II, X99-A II, X99-E-10G WS, Z270-WS.
Gigabyte: Z270X-Gaming 9, Z270X-Gaming 8, Z270X-Gaming 7, Z270X-Gaming K7, Z270X-Gaming SOC, Z270X-Gaming 5, Z270X-Gaming K5, Z270X-DESIGNARE, Z270X-Ultra Gaming, Z270-Phoenix Gaming, Z270MX-Gaming 5, Z270N-Gaming 5, H270-Gaming 3, B250M-Gaming 5 Gaming B8.
MSI: Z270 XPOWER GAMING TITANIUM, Z270 GAMING M7, Z270 GAMING M6 AC, Z270 GAMING M5, Z270 GAMING M3, Z270 GAMING PRO CARBON, Z270 GAMING PRO, Z270 SLI PLUS, Z270I GAMING PRO CARBON AC, Z070 KRAIT GAMING, Z270 TOMAHAWK, Z270 TOMAHAWK ARCTIC, Z270 CAMO SQUAD, B250 GAMING PRO CARBON, B250 GAMING M3, B250 KRAIT GAMING, B250M GAMING PRO, B250M MORTAR, B250M MORTAR ARCTIC, B250M BAZOOKA, H270 GAMING M3, H270 GAMING PRO CARBON, H270 TOMAHAWK ARCTIC, H270M MORTAR, H270M MORTAR ARCTIC, H270M BAZOOKA, X99A TOMAHAWK, X99A SLI, X99A WORKSTATION, Z170A MPOWER GAMING TITANIUM, Z170A GAMING PRO CARBON, H170A GAMING PRO, B250A GAMING PRO, X370 XPOWER GAMING TITANIUM, X370 GAMING PRO CARBON, B350M GAMING PRO, B350M MORTAR, B350 TOMAHAWK, 970A GAMING PRO CARBON.
The Cooler Master RGB controller, on the other hand, provides connections for 4 individually controllable channels, is internally connected via USB to the mainboard …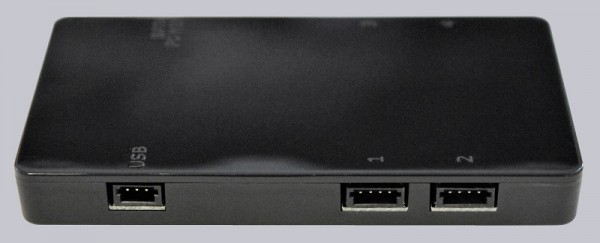 … and powered by SATA.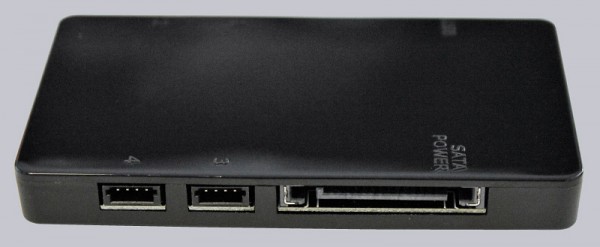 The back shows 2 press-fit nuts for mounting.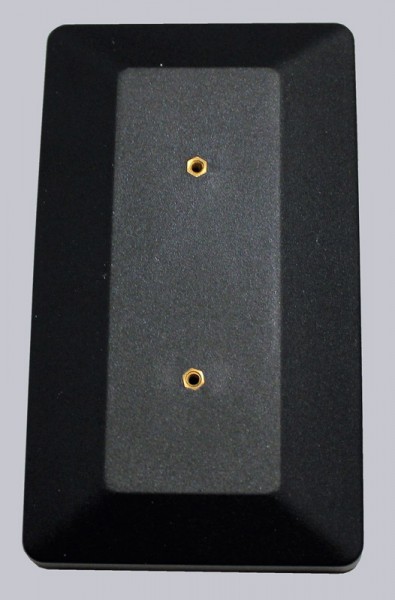 What you can not see is that the housing is magnetic so that the floor is easily adhered to the sheet of the PC case. The magnet is sufficiently strong. The press-in nuts are nevertheless a useful alternative, e.g. for aluminum housings.
Both the fan and the controller make a high-quality impression.
Cooler Master MasterFan Pro RGB fan with RGB controller installation …