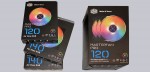 Conclusion and overall impression …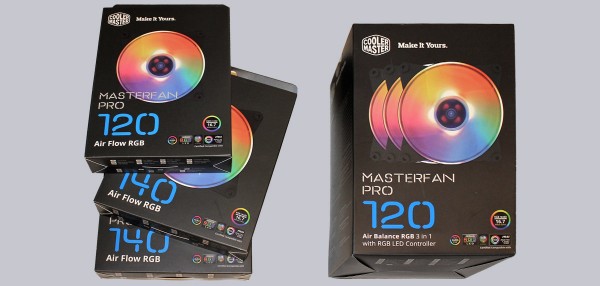 Cooler Master offers usable case fans with the RGB fan series, whereby the performance of the Air Balance variant has been better than the Air Flow variant. The design with the rubber corners is carefully thought out and they are well suited for standard requirements, where it is not about excessive overclocking. There are already some other fans on the market, which can move much more air if necessary. For this task we would like to test the 3rd variant "Air Pressure" with max. 1550rpm and 1.59mmH2O, but we have not (yet?). We only heard slight running noises, as soon as the fans are mounted upwards. Such an assembly is nowadays no longer unusual, for example as a fan in the housing top or on a housing mounted radiator of a water cooling. Some cases also offer the possibility to mount fans on the bottom of the case. We could not determine whether the noises disappear completely after an extended period of time.
We find the RGB lighting, on the other hand, very good and above all the "Mirage" mode has pleased us enormously. However, we also see some potential for improvement by changing the brightness in RGB mode, regardless of the fan speed. We would also like to set the fan without the controller in blue and red, but also in green.
In addition, compatibility with existing RGB systems is great! Since many motherboards now have their own RGB controls anyway (we have been reporting since the first ASRock Z270 Killer SLI mainboard test about it), you can easily control the fan colors via these motherboards without the Cooler Master RGB controller.
All in all, the Cooler Master MasterFan Pro RGB fans with the Cooler Master MasterFan Pro RGB controller is offering a good combination of lighting and ventilation, which can be recommended especially with vertical mounting.
With these cool RGB effects, the Cooler Master MasterFan Pro RGB fans with the Cooler Master RGB controller get the OCinside.de Innovation Award 09/2017.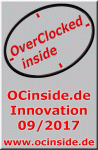 Discuss about the Cooler Master MasterFan Pro RGB fans in the forum and share experiences …
Here you can order the Cooler Master RGB fans with RGB controller cheap.
Read on in the hardware test area with several hardware reviews …