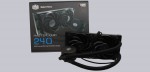 Result and general impression …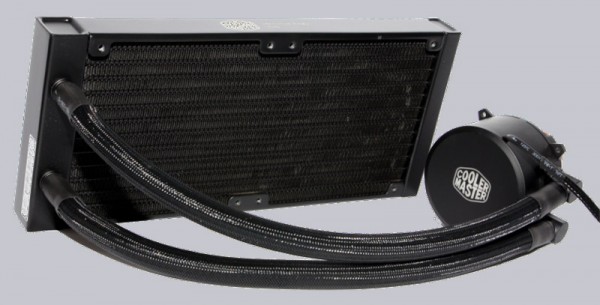 The Cooler Master MasterLiquid 240 AIO cooling offers not many differences to distinguish themselves from the competition. Positive highlight we can definitely the fan and the pump, which have to give no nakedness in variability and volume.
The sleeved tubes are a good choice in terms of design in contrast to the naked plastic.
In principle the installation runs smoothly, however we again would advise to note the surrounding components close to the socket during assembly as a damage would arise at least with our test setup motherboard, when we had mounted the pump crossed (with the connectors up or down).
Hint:
With our interactive Fit for Fan guide you can virtually fit the cooler onto different motherboards.
Cooler Master try to incite the MasterLiquid 240 "Pro" variant, because they made some savings in the non-Pro variant: It starts with the screws packaged loosely in bags and extends to the lower thermal compound.
Ultimately the market price decides if this cooling will be successful.
Here you can find our CPU Cooler Comparison 2016 Part 2 tested on the Intel i5 PC. You can find even more coolers in our CPU cooler comparison 2016 tested with an Intel Core i7 PC system. And here is again our CPU cooler roundup from before 2016. A direct comparison between older reviews is not possible because the test system has changed significantly.
Discuss in our forum and share experiences about the Cooler Master MasterLiquid 240 …
Here you can buy the Cooler Master Masterliquid 240.
Read on in the hardware test area with several hardware reviews …