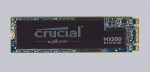 Result and general impression …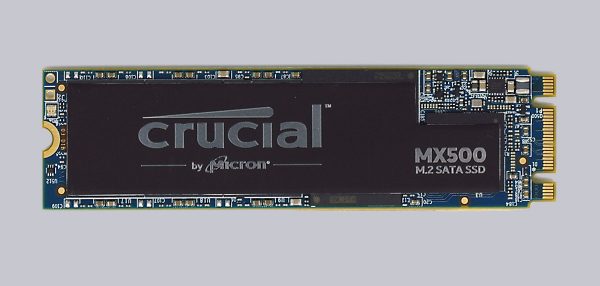 The Crucial MX500 1TB M.2 SATA3 SSD CT1000MX500SSD4 has a similar design as the previously tested Crucial MX500 1TB 2.5-inch SSD and, with a few exceptions, even achieves slightly faster benchmark values than its 2.5″ pendant.
As we could clearly show in the test, the MX500 1TB M.2 can't beat its predecessors in all benchmarks, but thanks to the newer Micron 64 Layer 3D TLC NAND it's quite competitive and achieves significantly better results than the previous Crucial BX300 with the same controller but simple Micron 3D MLC NAND.
In addition, the Crucial MX500 offers both in the 2.5″ version and in the M.2 version hardware 256-bit AES encryption as well as power failure protection and offers thus more security.
The Crucial MX500 1TB M.2 SSD is like the MX500 1TB SSD in 2.5″ format with 360 TBW (total/tera bytes written), this corresponds to approx. 197 GB per day over a period of 5 years. These data are not only important for the warranty (Crucial now gives a limited 5-year warranty), but also speak for a high durability of the NAND cells. Those who want to know more about TBW will find numerous data and formulas at Micron and in the JEDEC SSD specifications.
All in all, we are convinced of the new technology and are happy – as with the MX500 2.5″ version – about the higher security, but we would have liked a little more performance.
If you are faced with the choice between the M.2 and the 2.5″ SSD, you can basically go for both versions, because as we have seen from the numerous benchmarks, the M.2 SSD is a bit ahead, but has to live with higher temperatures, which, depending on the M.2 SSD, may even throttle a bit during long file transfers. So we don't see any significant advantage with the M.2 SATA3 SSDs compared to the 2.5″ SATA3 SSDs except for the difference in dimensions and the omission of the cabling. However, if you already have a motherboard with M.2 cooler, like the recently tested ASRock Z390 Extreme4 motherboard, you can use the M.2 variant without hesitation.
But a M.2 PCIe Gen3 x4 SSD is of course completely different from a 2.5″ SATA3 SSD or M.2 SATA3 SSD, because NVMe/PCIe SSDs do not have the 6 Gbit/s bottleneck that conventional SATA3 SSDs have to live with, but achieve significantly higher data transfers, as we have already shown in numerous NVMe PCIe SSD tests. For example, we have shown in Intel 600p 512GB M.2 NVMe SSD field test and Samsung SSD 960 Pro 1TB M.2 NVMe field test what speeds are possible with it.
Discuss in our forum and share experiences about the Crucial MX500 …
Here you can buy the Crucial MX500 SSD for a low price …
Read on in the hardware test area with several hardware reviews …