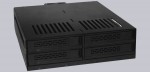 Layout, design and features …
Let us take a look at the the front of the Icy Dock MB324SP-B ExpressCage 4x 2.5-inch SAS/SATA HDD Hot Swap Mobile Rack.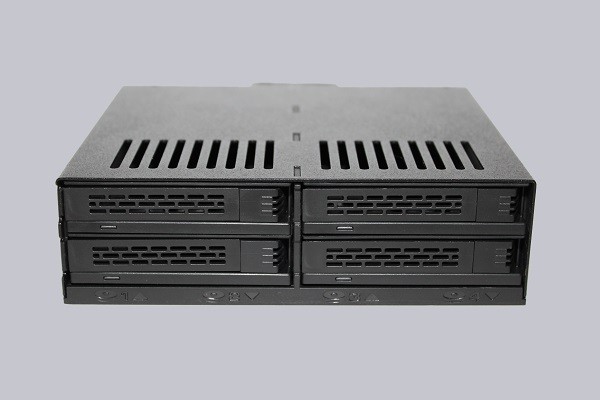 Very good to see the four already installed racks, each has its own locking mechanism. At the bottom small arrows together with numbers can be seen, in order to assign unique numbers of the drives from 1 to 4. On the top large air vents can be seen in order to ensure a good air flow.
The side view presents the mounting holes …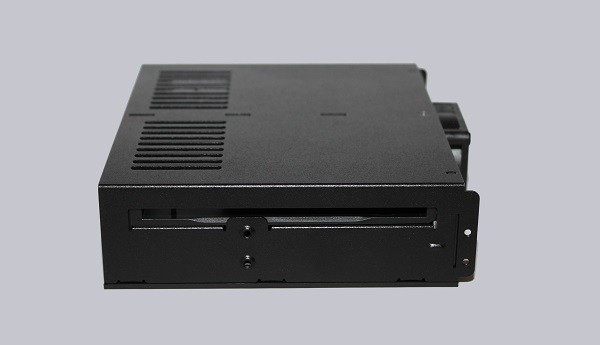 … and another vent, which spreads along almost the entire length. As much more interesting the backside of the Icy Dock ExpressCage turns out to be. Namely, each drive has its own SATA port. This suggests that the use of this hot swap mobile rack can be expected with no loss of speed. But more on that later. Another advantage is that the Icy But ExpressCage has only one SATA power connector. Since modern SSDs or 2 1/2 inch HDDs usually consume very little power, this connection is fully sufficient to supply all four drives. So you have freed three ports to be used for other hardware. Furthermore, there are the two fan connectors and jumper for the fan speed and the center-mounted fan on the back.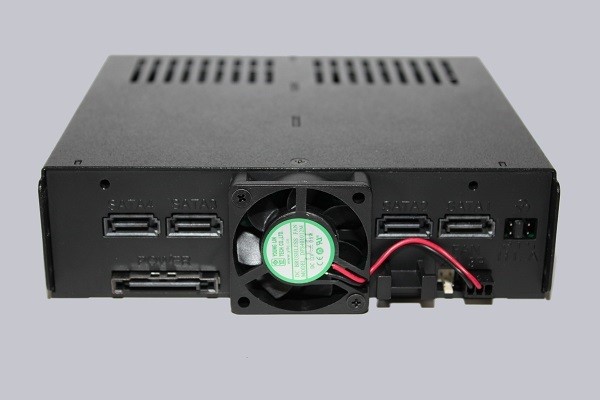 Let us take a look at the bay racks. Pressing the eject button on the right side …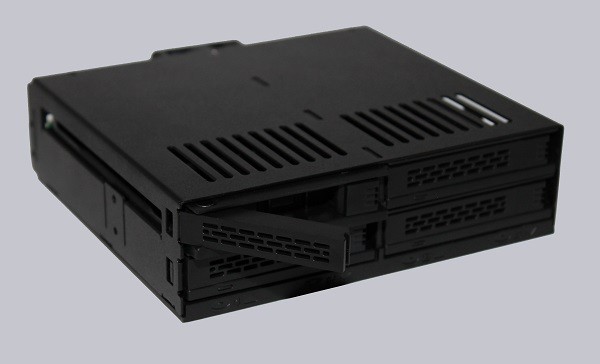 … the lever mechanism is pushed out. When you pull that lever …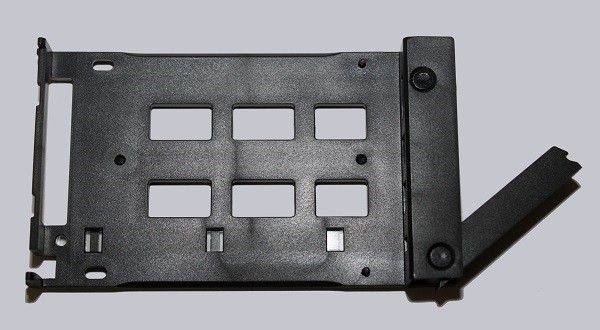 … you can take a closer look at the bay rack. The frame is made entirely out of plastic and offers the user two ways to mount a drive. On the one hand, there is the tool-free method in which the disk is held by two holding bolts in position …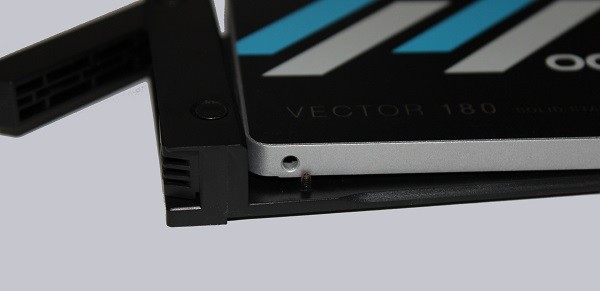 … or you can mount the drive with the two screws on the back side.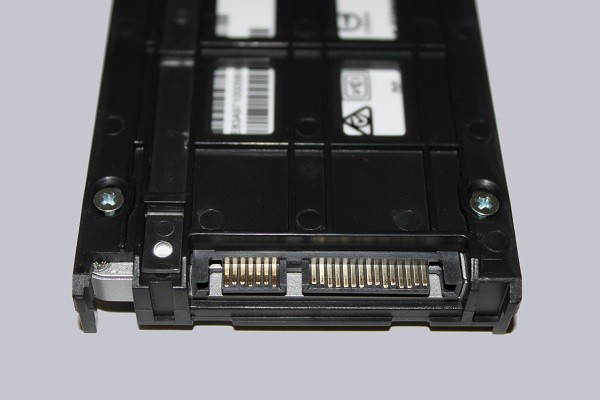 Is, for example the Vector 180 480 GB SSD mounted, you can easily push it in place …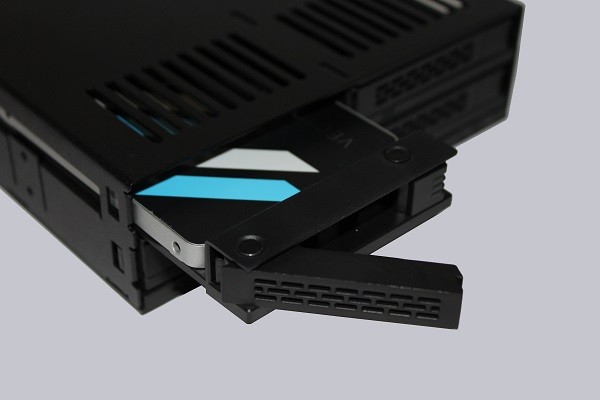 … and lock it with the lever.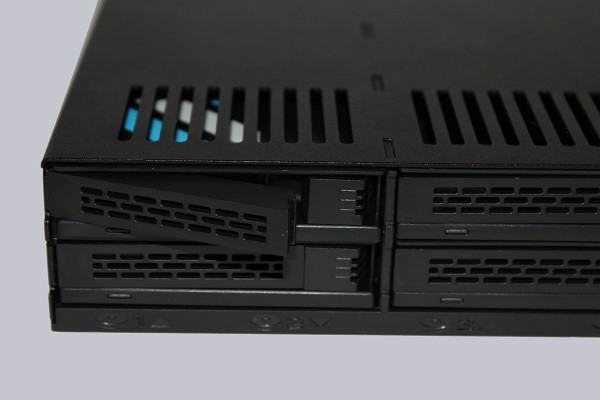 Now we mount the Icy Dock MB324SP-B ExpressCage caddy in our test case, the Cooler Master CM Storm Stryker. The HDD/SSD mobile rack fits very well by its appearance in the overall concept of the case.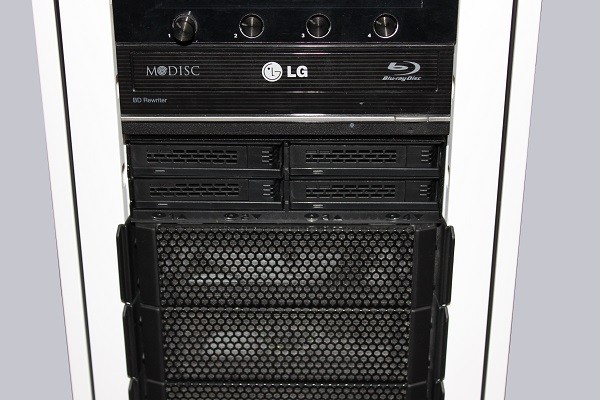 When we have taken the Icy Dock ExpressCage in operation, we could also look at the blue power LED.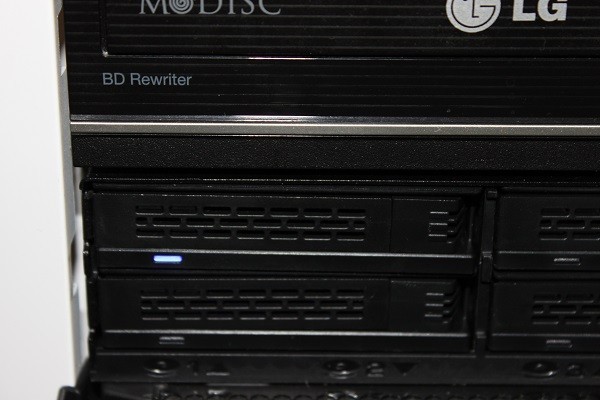 The Icy Dock MB324SP-B ExpressCage hot swap mobile rack makes a good impression so far. Whether this can technically continue, we will identify for you in the practical test.
Icy Dock ExpressCage Installation and operation …