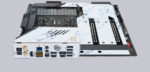 Quickly to the right hardware equipment …
Layout, design and features
ASRock X670E Taichi Carrara Chipset
ASRock X670E Taichi Carrara Voltage Regulator and Heat Sink
ASRock X670E Taichi Carrara Expansion cards
ASRock X670E Taichi Carrara Memory
ASRock X670E Taichi Carrara SATA connectors
ASRock X670E Taichi Carrara USB
ASRock X670E Taichi Carrara Network
ASRock X670E Taichi Carrara Sound
ASRock X670E Taichi Carrara RGB lighting
ASRock X670E Taichi Carrara ATX equipment and other features
ASRock X670E Taichi Carrara PC System
Layout, design and features …
The ASRock X670E Taichi Carrara is based on a high density fiber optic 8-layer PCB board and hosts the new AMD AM5 LGA 1718 socket including the top chipset X670 Extreme. Currently, it supports all AMD Ryzen Zen4 CPUs of the 7000 series. AMD promised to support CPUs released until 2025 with the introduction of the AM5 socket. The predecessor AM4 was compatible with 4 CPU generations (Zen, Zen+, Zen2 and Zen3). Here you can see a close-up of the new CPU socket.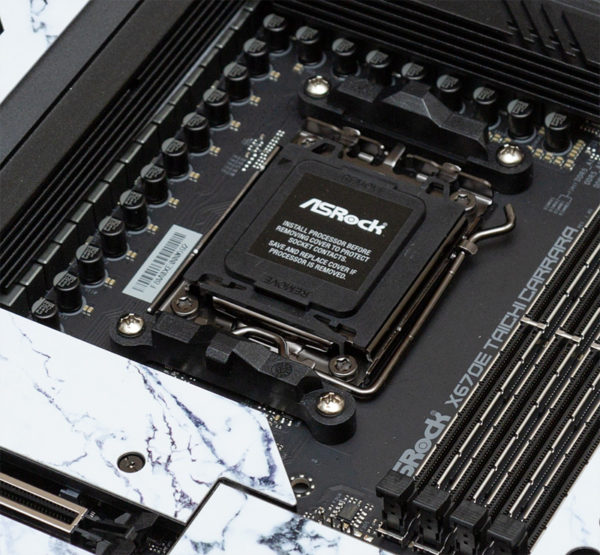 The motherboard features 24+2+1 premium 105A smart power stages and Nichicon 12K Black Caps capacitors. For the ears, there is 5.1 HD audio via Realtek ALC4082 codec and ESS SABRE9218 DAC with Nahimic audio support and WIMA audio caps. It also has a Blazing M.2 slot for PCIe Gen5 x4 modules with up to 128 Gb/s connectivity, located above the top PCIe x16 slot, and another three Hyper M.2 slots for PCIe Gen4 x4 modules with up to 64 Gb/s. One M.2 Gen4 slot is also compatible with the SATA standard. This is good preparation for the future, since PCIe Gen5 NVMe SSDs are not yet widespread on the market. Coolers are already pre-installed for all M.2 slots, and the mounting screws you cannot lose. This saves a lot of trouble during cooler installation.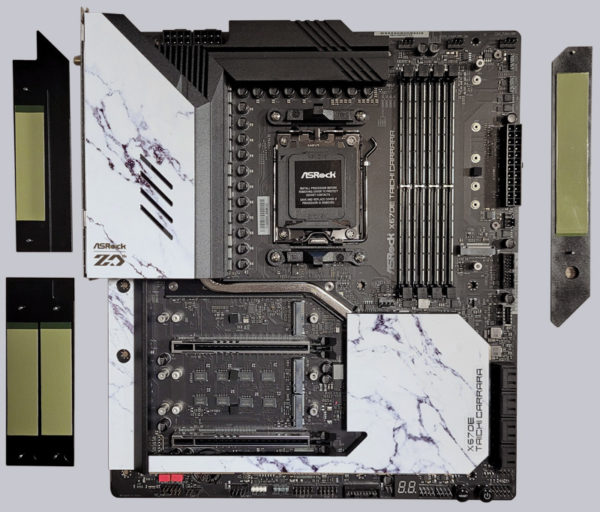 We used a Crucial P5 Plus PCIe Gen4 SSD for our test.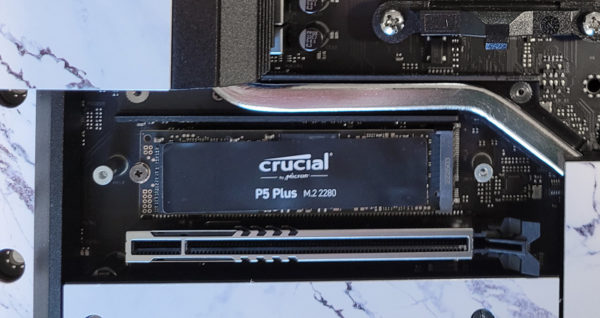 Chipset …
The heart of the ASRock X670E Taichi Carrara motherboard is the new X670 Extreme chipset from AMD. Four new chipsets were introduced with AM5 and Ryzen 7000. The X670, the B650 and an Extreme version of each. All chipsets support overclocking, USB 4 and DDR5. DDR4 is no longer supported. The main differences between the chipsets are the number of PCIe lanes, high-speed USB ports and SATA connection.
AMD AM5 chipset comparison
Chipset
PCIe total
PCIe Gen5
USB 3.2 Gen1
USB 3.2 Gen2
SATA
X670E
44
24
12
2
8
X670
44
8
12
2
8
B650E
36
24
6
1
4
B650
36
0
6
1
4
Some board manufacturers also use a few of the PCIe lanes to implement USB 4.0 ports, whereby it can be assumed that motherboards with the X670 chipset offer more USB4 ports than those with the B650 chipset. The X670E Taichi Carrara has 2 USB4 ports with 40 Gb/s transfer rates each. The supposed weakest chipset, the B650, is by no means a cheap entry-level chipset. It is completely sufficient to run the currently fastest graphics card, the NVidia RTX 4090, as well as M.2 SSDs with transfer rates of 7000 MB/s without restrictions. Likewise, the fastest Ryzen 7000 CPUs can be fully utilized and overclocked with it. A significantly weaker chipset, like the A320 under AM4, has not yet been announced by AMD. Since AM5 requires a new CPU and RAM compared to AM4, the AM5 platform is mainly aimed at enthusiasts who want to assemble new, high-performance PCs. Those who want to make an inexpensive upgrade are still very well served with the last CPU generation for AM4.
Voltage Regulator and Heat Sink …
The two coolers for the total of 27 Smart Power Stages as well as the chipset cooler are made of generously sized aluminum heat sinks and are connected via a heat pipe. The cooler in the I/O panel area is equipped with a hidden fan. In addition, the backplate of the motherboard is also made of aluminum and connected to the board in the area of the VRMs via heat conduction pads. There is hardly a better way to dissipate the heat from the high-performance MOSFETs.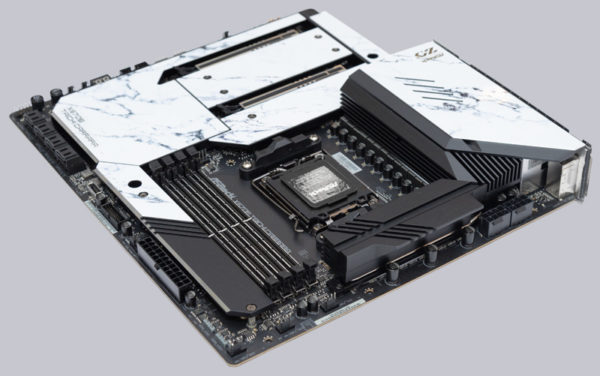 Expansion cards …
Two steel reinforced and shielded PCIe Gen 5 x16 slots in SMT design are available on the X670E Taichi Carrara, which are throttled to x8 connection when both slots are populated. This is currently even ahead of the latest graphics cards, as there are currently no graphics cards with PCIe Gen5 interface available on the market, although both AMD and NVidia have only recently introduced the latest high-end graphics cards.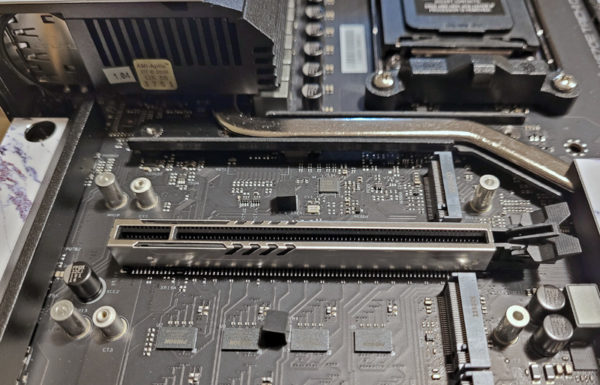 Memory …
AM5 heralds a new RAM era at AMD. DDR4 is history, because AM5 only supports DDR5 RAM, which is not compatible with DDR4. The X670E Taichi Carrara offers four DDR5 memory slots with dual-channel support for memory modules with a total capacity of up to 128GB without external ECC (error correction). On-Die ECC naturally takes place on each DDR5 module itself, regardless of whether the board supports ECC or not.
Ryzen 7000 CPUs are specified up to a speed of DDR5-5200. However, the X670E Taichi Carrara already officially supports speeds up to DDR5-6600. With further BIOS updates, even higher transfer rates might be supported later when correspondingly fast memory modules are available. Like the PCIe slots, the DDR5 slots are also protected from foreign influences with stainless steel sheets.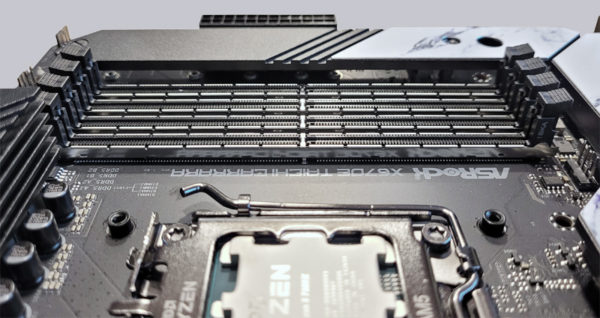 SATA connectors …
The ASRock X670E Taichi Carrara offers a total of eight angled SATA3 ports with 6 Gb/s. When the M.2 slot with the M2_2 identifier is occupied, the SATA3_A1 port is automatically disabled. Raid modes 0, 1 and 10 are supported on both the SATA ports and the M.2 ports. The necessary programs for the RAID configuration and installation are available for download on the ASRock website.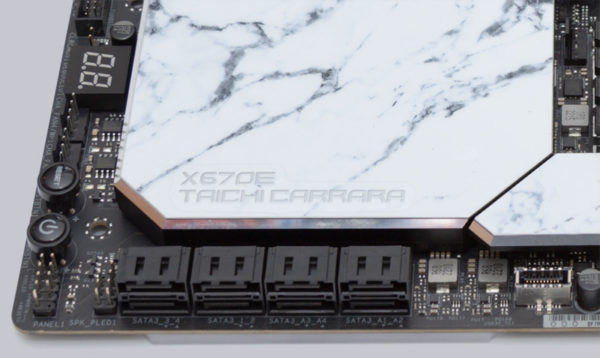 USB …
The ASRock X670E Taichi Carrara offers USB ports in abundance. A total of 10 sockets are available on the rear I/O panel. Two USB-C ports deliver the highest transfer rates of up to 40 Gb/s and a charging power of up to 27W (9V/3A) according to PD 3.0 Quick Charge standard for mobile devices or battery packs. Furthermore, there are five USB-A 3.2 Gen 2 sockets with 10 Gb/s, two of which run via their own controller and have lowest latencies for mouse and keyboard for eSports professionals and ambitious hobby gamers. They have yellow inlays and are labeled "Lightning Gaming". That leaves three USB 3.2 Gen1 sockets with 5 Gb/s.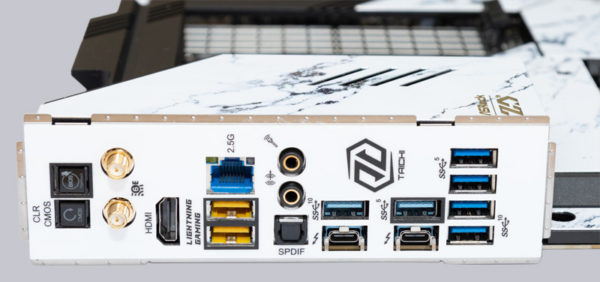 The number of usable USB ports can be significantly expanded via internal headers. There are two headers for a total of four USB 2 ports (480 Mb/s), another two headers for four USB 3.2 Gen 1 ports (5 Gb/s) and one header for a USB 3.2 Gen 2×2 header for front USB-C with 20 Gb/s. The motherboard also comes with a slot bracket with 2 USB-A sockets, which ASRock says is best used for WLAN or Bluetooth dongles.
Here you can see the possible USB transfer rates as a comparison in a table.
USB interfaces comparison
Transfer rates
Interface
theoretical
practical
USB 2.0
480 MBit/s
30 MByte/s
USB 3.0
5 GBit/s
450 MByte/s
USB 3.1 Gen1
5 GBit/s
450 MByte/s
USB 3.1 Gen2
10 GBit/s
800 MByte/s
USB 3.2 Gen1
5 GBit/s
450 MByte/s
USB 3.2 Gen2
10 GBit/s
800 MByte/s
USB 3.2 Gen2x2
2×10 GBit/s
1600 MByte/s
USB 4.0
40 GBit/s
4000 MByte/s
Network …
In terms of network connectivity, the ASRock X670E Taichi Carrara offers an RJ45 LAN port that supports 10, 100, 1000, 2500Mb/s operating modes and is connected via the Killer E3100G chip. Additionally, the motherboard has a Killer AX1675 chip integrated. This allows connections to WiFi 6E (6GHz, 160MHz, dual band 2×2) and Bluetooth 5.2 standard via the included antenna. Of course, older connection modes according to IEEE 802.a/b/g/n/ac are also supported. Network traffic can be optimized with the Killer LAN software and Killer DoubleShot Pro, which results in a theoretical maximum total bandwidth of up to 4.9 Gb/s when using LAN and WLAN simultaneously.
Sound …
The sound of the X670E Taichi Carrara is of course not neglected. The motherboard is equipped with a Realtek ALC4082 5.1 HD audio codec and ESS Sabre9218 DAC. Thanks to WIMA audio caps, separate channel shielding on the PCB and Nahimic audio support, the signal-to-noise ratio is a considerable 130dB. In addition, the audio section features impedance detection, making the use of low impedance as well as high impedance headphones up to 600 ohms no problem. For 5.1 sound via jack, an additional jack socket on the case has to be connected via the internal audio header. An optical S/PDIF output is also available on the rear I/O panel.
RGB lighting …
The X670E Taichi Carrara is an impressive board on its own, but of course a bit of RGB should not be missing. On the right side is an approx. 8cm long addressable RGB LED bar.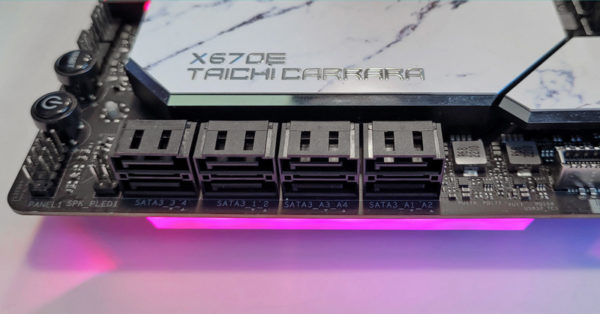 To expand the RGB lighting, three pin headers are available on the mainboard for connecting 5V aRGB elements. These provide up to 3A (15W) each for lighting fans, LED strips or similar. Two of them are located on the right above the 24-pin ATX connector.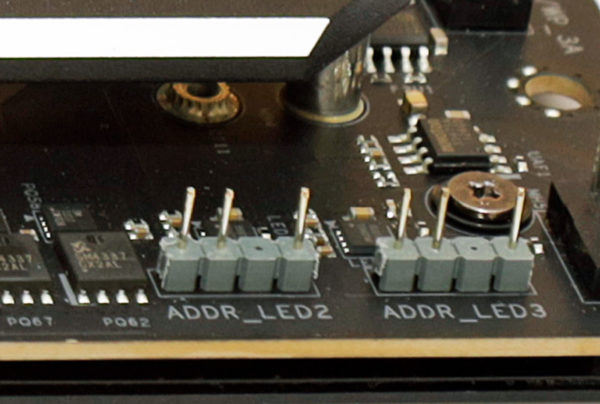 The third aRGB connector is located at the bottom center of the motherboard and right next to it sits the 12V RGB header with 4 pins, which can also supply up to 3A (36W).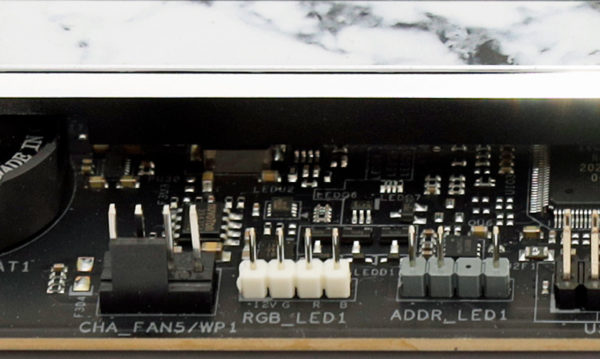 All RGB LEDs connected to the motherboard can be controlled via the UEFI BIOS or the Polychrome Sync RGB software provided by ASRock. For optimal control of the addressable LEDs, the number of connected LEDs for each port can be specified in the program.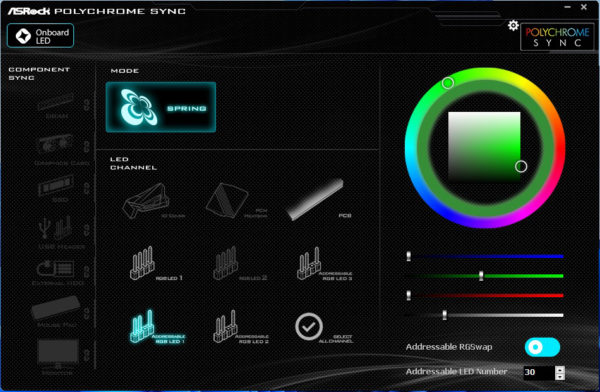 In the ASRock Polychrome RGB Software Video we explain the included ASRock RGB software.
Note: Please allow our cookies first to see this external content!
In the following ASRock X670E Taichi Carrara video on our OCinside YouTube channel, we show off most of the RGB effects that ASRock's Polychrome Sync software has to offer. We also included a small Easteregg with a hint to a black cult car of TV history from the 1980s 🙂
Note: Please allow our cookies first to see this external content!
Here is a short excerpt from it again.

ATX equipment and other features …
The ASRock X670E Taichi Carrara has numerous, useful features, such as ASRock A-Tuning Tool, ASRock Instant Flash, BIOS Flashback, NVMe Sanitization Tool, SSD Secure Erase Tool, Digi Power, ASRock RGB LED, ASRock Polychrome RGB and ASRock FAN-Tastic Tuning, Blazing OC Tuner, Killer Doubleshot Pro, PD 3.0 Quickcharge, Lightning Gaming USB Ports, Auto Driver Installer.
The BIOS Flashback function is particularly worth mentioning here, since the AM5 platform is also designed for future CPU generations, but their specifications cannot yet be stored in the BIOS and will only be added later when the new CPUs are released. The necessary BIOS update can then be performed via USB stick without the presence of a CPU.
Test System …
For our review of the ASRock X670E Taichi Carrara, we put an AMD Ryzen 5 7600X CPU into the AM5 LG1718 socket, which now handles identically to an Intel CPU socket for many years. Thus, the danger of bending pins on the CPU has disappeared. On the other hand, the filigree springs in the LGA socket must now be well protected. Therefore, the plastic cover should always be inserted when there is no CPU in the socket.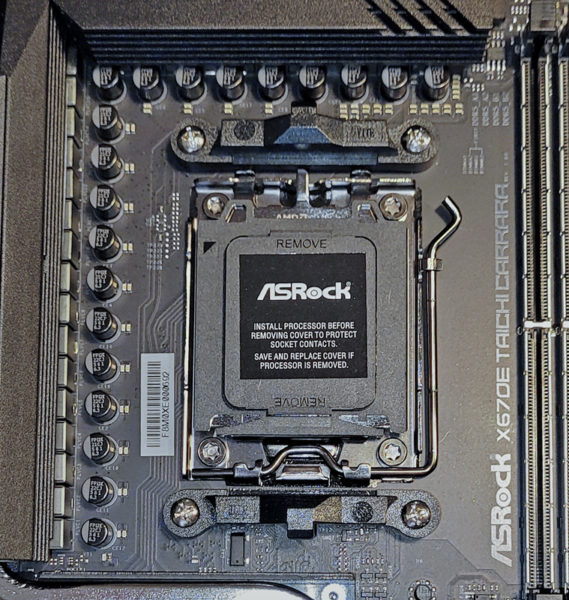 The CPU has notches (so-called keys) on two sides and one corner is marked with a golden triangle. If you pay attention to these details, you cannot insert the CPU into the socket incorrectly.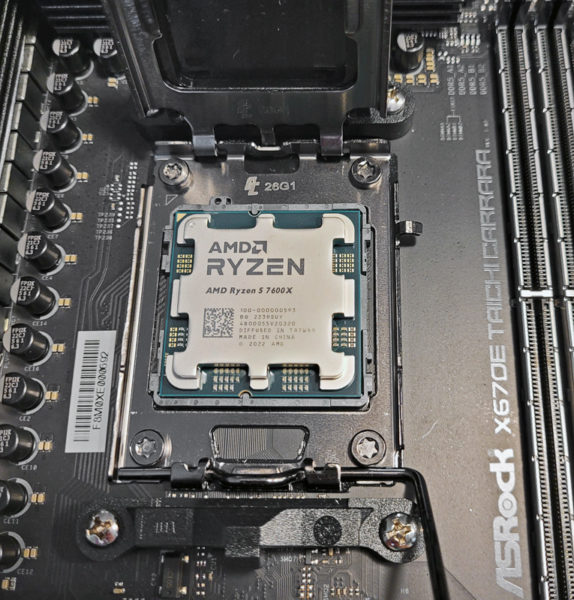 Once the CPU is properly seated, the next step is to clamp it in place with the bracket mechanism, with the protective cover of the socket popping off by itself in the process (see LGA CPU Installation Guide).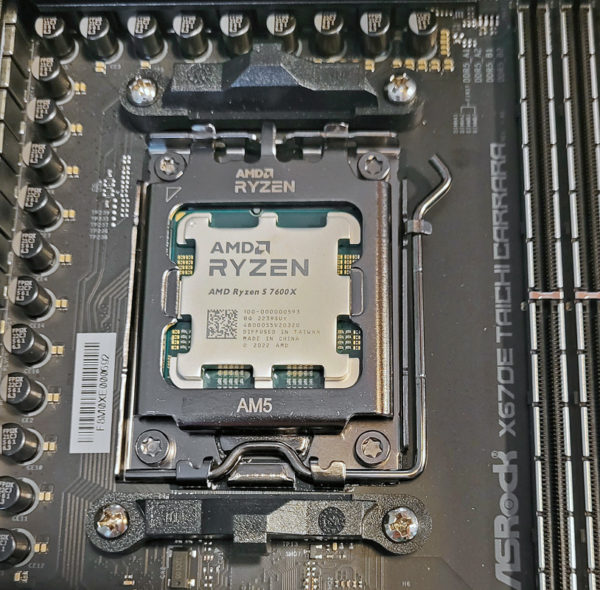 We put a 16 GB RAM module into two of the four DDR5 slots, which Crucial kindly provided us with for the test. We put the two Crucial RAM modules into the slots marked with A2 and B2 on the motherboard to get the best performance. On boards with daisy chain topology, the slots at the end of each channel should always be populated first to keep interference from external sources to a minimum. By the described assembly we get a Dual Channel Single Ranked Setup, which should run particularly stable. Single-sided RAM modules, like those of our Crucial CT2K16G48C40U5 dual channel kit, are practically always single-ranked.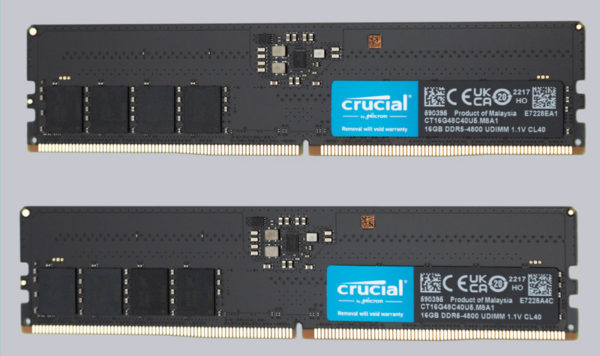 This is how the correct configuration with the two Crucial DDR5-4800 RAM modules looks on the ASRock X670E Taichi Carrara.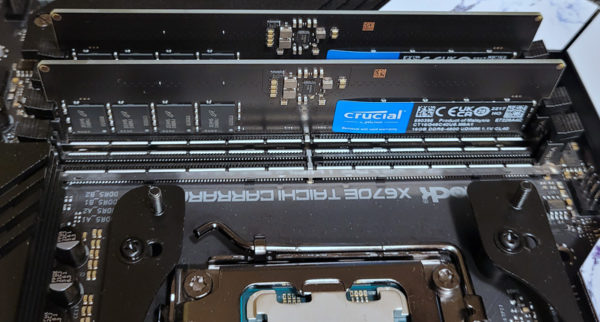 Attentive readers will have already recognized from the previous picture which cooler is used in our test system. It is an all-in-one water cooler from Arctic, namely the Liquid Freezer II 280 A-RGB, which can be used with the previous AM4 bracket on the ASRock X670E Taichi without any adjustments. For the thermal paste, we also rely on a product from Arctic, namely the good old MX-4 thermal paste. Its thermal conductivity is excellent (see Heatpaste Comparison Test), it does not dry out even after long periods of use, and it is electrically non-conductive, which is an advantage with the new AM5 CPUs because it has exposed SMD components on the top.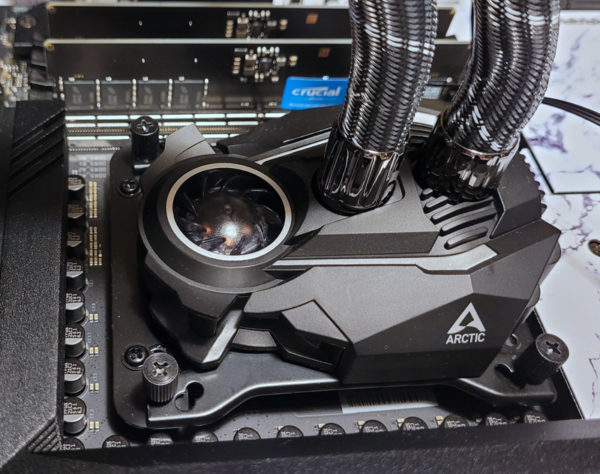 Since PCIe Gen 5 SSDs are not really available at the time of testing, we install an excellent PCIe Gen4 NVMe SSD in our test system with the Crucial P5 Plus 1TB SSD, which achieved transfer rates of almost 7000MB/s in our SSD test.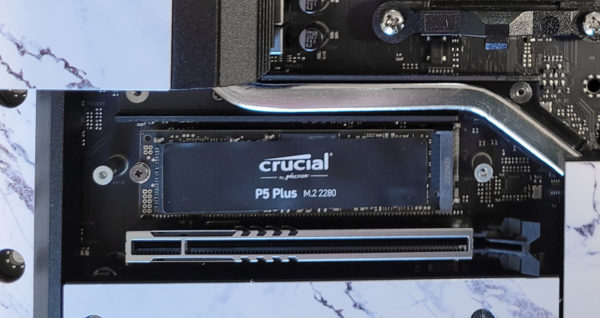 The Lian Li SP850 80+ Gold SFX power supply serves as the power source, providing more than enough power reserves for the 105W CPU with integrated graphics unit.
ASRock X670E Taichi Carrara UEFI and Overclocking …