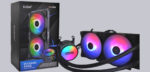 Test setup and results …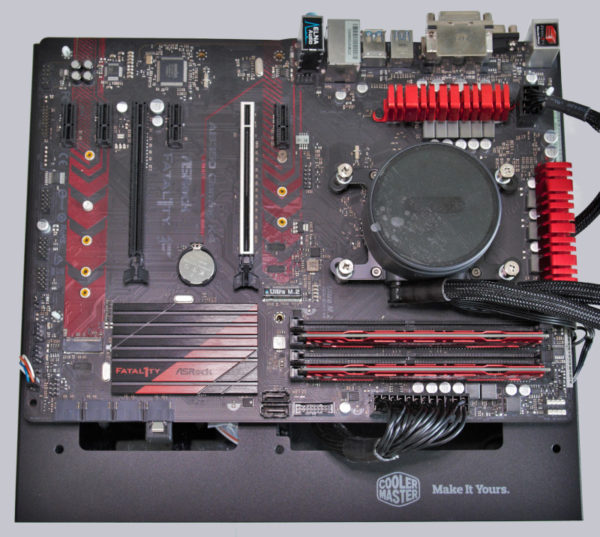 Cooler test setup …
For the field test, we mounted the PCCooler GI-CX240 ARGB watercooler on our AM4 test system, which consists of the following components:
ASRock Fatal1ty AB350 Gaming K4
AMD Ryzen 7 1800X
Crucial 2x4GB DDR4-2400
Cooler Master Testbench v1.0
The following OC programs were used for the measurement: Prime95 and SpeedFan
The room temperature during the test was around 21°C.
As always, the PCCooler GI-CX240 ARGB competes against our reference, the Noctua NH-D15. If you want, you can also check out, for example, our Review of the Deepcool Castle 240EX AIO, which Review of the and compare the results under the same conditions.
We first preheated the water cooling for 30 minutes so that the results would not be skewed by initially cooler water in the circuit, then loaded the CPU with Prime95 for 30 minutes each and noted the temperatures.
Noise-adjusted, the GI-CX 240 AIO really does very well against the Noctua NH-D15, which after all comes with two 140mm fans. Especially in the lowest speed range, the rates are really great!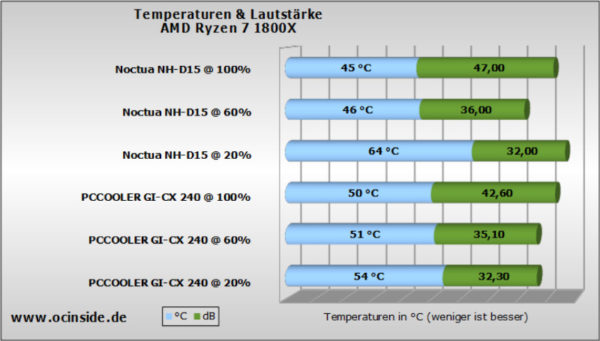 Unfortunately, the pump runs with an audible whirring at 12V, which you could definitely hear from the PC system. However, we could easily remedy this with a common 7V fan adapter. The pump runs almost inaudible and the whole thing cost just 2°C cooling power. We have created a short video including a comparison between 12V and 7V for the PCCooler pump noise here. Alternatively, many motherboards offer a water pump connection (e.g. W_Pump or WP or Water Pump at ASRock) and thus get the possibility for pump control in the UEFI.

The fans are tuned quite quietly and are not particularly loud even at 100%, and the sound is also very pleasant over the entire speed range. Thus, a cool and quiet system can be built overall. In order to better assess the fans, we have, as always, a video in which we regulate the speed range once completely up and down again.

Now we come to the optical criteria of the AIO water cooling.
PCCooler GI-CX240 ARGB Optic …