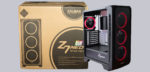 Zalman Z7 Neo Lighting and fan …
The Zalman Z7 Neo Mid-Tower case is already generously equipped with four 120mm RGB fans, three of which are located in the front panel for fresh air and another 120mm RGB fan in the back to transport the warm air out of the case. All fans are equipped with 6-pin connectors that supply both the fan motor and the RGB lighting. The following picture, which we took from the Zalman Z7 Neo's manual, shows us the relevant electrical connections of the RGB/fan controller.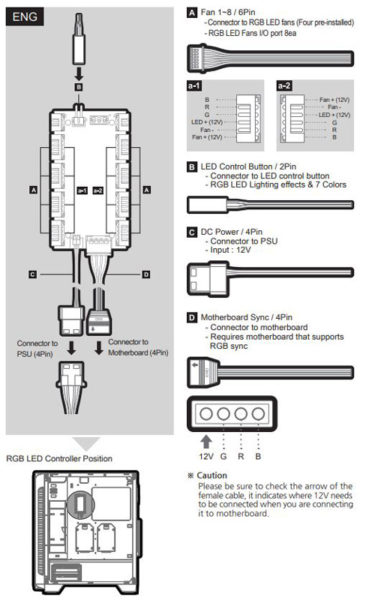 In total, up to eight such fans could be connected to the Zalman RGB/fan controller, whereby the "controlling" actually only refers to the RGB effects. The fans always run with 12V, which isn't disturbing, as they are quite quiet contemporaries in terms of noise level. The labeling on the RGB/fan controller is printed quite small, but complete. Only the description "FAN" on the connector leading to the RGB control button on the front panel is a bit irritating.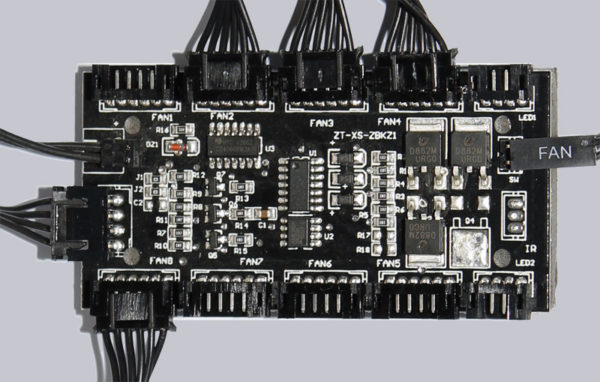 The illumination of the rings surrounding the fan blades can be described as good and balanced, because it is nice to look at even in daylight and not too bright in the dark. Of course we have captured the colorful effects on video and uploaded them to our server.

How does the Zalman Z7 Neo perform in practice?
Zalman Z7 Neo Practical testing …