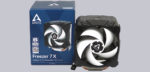 Result and general impression …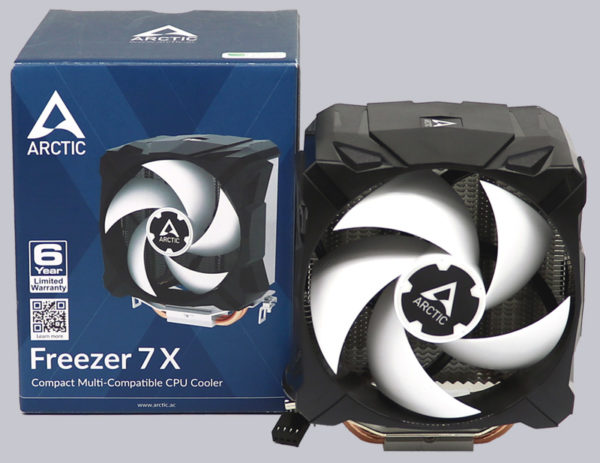 The Arctic Freezer 7 X CPU cooler delivers surprisingly good cooling results for this size at an even more surprising price!
Even if there were some space problems with our ASRock Steel Legend LGA 1200 motherboards, mounting the cooler on AMD retention modules and on Intel motherboards with a different VRM cooler design is absolutely no problem. So before buying the cooler, please have a look at the mainboard compatibility list on the Arctic Support page.
All in all the Arctic Freezer 7 X is very inexpensive, well packed, easy to mount, quiet and achieves a great cooling performance for such a small tower cooler with 92/100mm fan.
For this low price the Arctic Freezer 7 X receives our editorial ocinside.de Price Tip Award.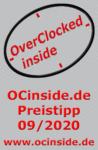 Tip: In the interactive Fit for Fan guide you can virtually fit coolers onto different motherboards and listen to many – the Arctic Freezer 7 X is already included in the last update.
For a comparison with other coolers, take a look at our CPU cooler chart 2018 on the Intel Core i5 PC and the CPU cooler chart 2018, tested on an AMD AM4 PC system. Here is also the CPU cooler chart 2016 on the Intel Core i5 PC and the CPU-cooler comparison 2016, tested on an Intel Core i7 PC. And here is the previous CPU cooler chart with CPU cooler before 2016. A direct comparison to our previously tested coolers is however not possible here, since the test system has changed fundamentally in the meantime.
Discuss in our forum and share experiences about the den Arctic Freezer 7 X …
Here you can buy the Arctic Freezer 7 X at a reasonable price.
Read on in the hardware test area with several hardware reviews …