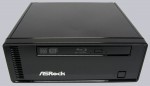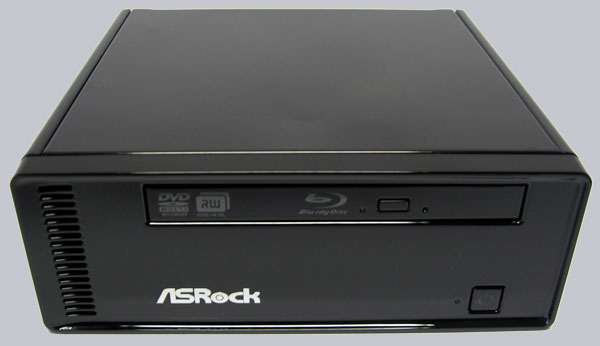 Technical data …
Dimensions: The overall height is 72 mm, the width is 195 mm and the depth is 187 mm.
Weight and material: The weight, including BD drive and hard disk of the polished black painted HTPC amounts approx. 1760 gram.
Motherboard, graphics unit and CPU: ASRock AMCP7AION-HT motherboard with integrated nVidia ION DX10 Full HD 1080p GPU and Intel Atom 330 Dual Core CPU.
Memory: 2x 1GB DDR2-800/PC2-6400 SO-DIMM – altogether two memory slots, maximum assembly entirely 4GB.
Drives: The ASRock ION330HT-BD HTPC is equipped with BD combo drive and can read Blu-ray media, read/write DVD and read/write CD media. In the test system was a Sony SOK BC-550S drive integrated. Additionally a 320GB 2.5″ SATA hard disk with 5400 rpm is integrated and the system offers internal space for a further 2.5″ SATA hard disk drive. The test system contained a Seagate Momentus 5400.6 ST9320325AS hard disk drive.
Connectors: 1x 10/100/1000 Mbit LAN 1x powered eSATA/USB2.0 6x USB 2.0 for external USB disk drives or USB sticks 1x HDMI (picture and sound) and adapter for DVI picture output 1x D-Sub VGA 5x 3.5mm jack for HD Audio 7.1 sound with DTS 1x optical SPDIF output 1x 19 Volt power connector (external 100-240V power supply unit with 19V/3.42A which results in approx. 65 Watt)
Miscellaneous: 802.11b/g/n W-LAN integrated LED illuminated power button at the front of the case. Temperature controlled CPU fan and YS-Tech FD125020ML 50x50x20mm case fan.
Here is a first view to the ASRock ION330HT-BD case rear side connectors: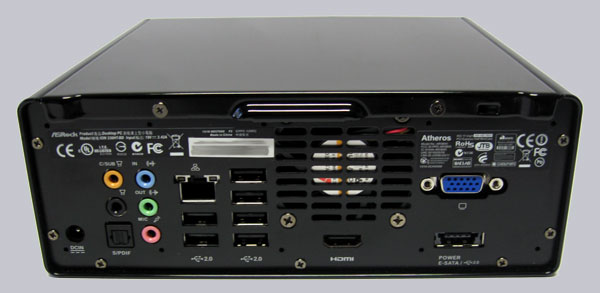 Layout, Design and other features of the ASRock ION330HT Blu Ray HTPC …