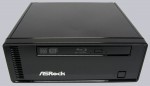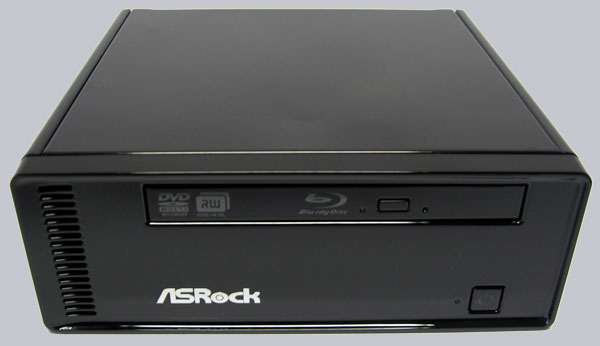 The ASRock ION330HT-BD/B has a black mirror finish metal case with a very stylish front screen and is thereby nearly too nice for a NetTop PC in the office. But it does not matter if you like to use the system as HTPC in the living room, or as NetTop in the office. It is still eye candy, without any doubt, and with such a small size, it is versatile almost everywhere.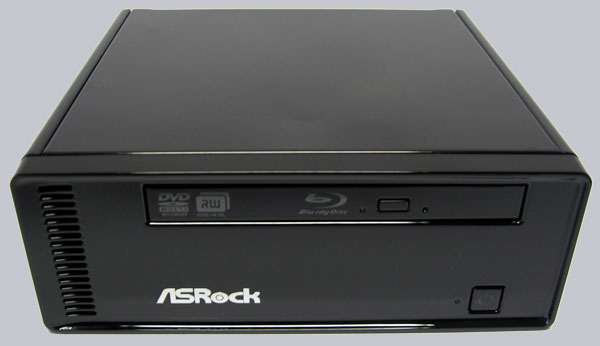 The ASRock ION330HT-BD HTPC can be operated both vertically and horizontally. This is made possible on the one hand by the slim Blu Ray/DVD Combo drive with CD/DVD/BD media holder and on the other hand because there aren't rubber feet on any side of the case. In the last A.C. Ryan ACR-PV72100 Playon! DVR review it was criticized, but ASRock found a good solution also, without rubber feet. ASRock puts a anti-slip rubber mat to the ION330HT-BD equipment (even if it looks nearly like a mousepad, a mouse would break off its teeth at such a soft rubber mat …). Simply put the mat under the PC to avoid scratches and vibrations.
To open the ASRock ION330HT-BD chassis one has to remove only two screws on the rear side and then push the cover to the rear.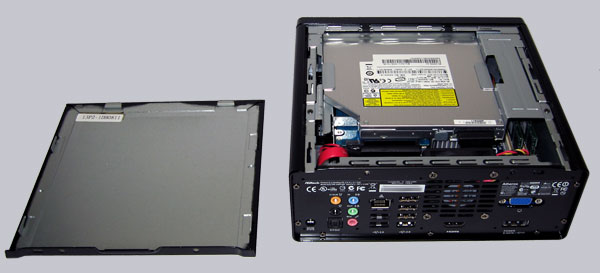 Now one can take off the cables, remove two additional screws of the drive mounting plate, and take out the complete drive cage of the ION 330 HT case. The mounting plate holds the Blu Ray slim drive and the small 2.5 inch SATA disk drive, whereby one can mount another 2.5″ HDD.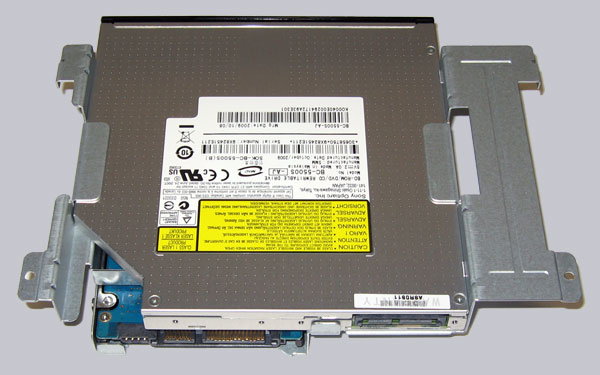 As soon as the mounting plate is removed, one can get access to the ASRock AMCP7AION-HT mini ITX board. Beginning on the top left one can see the WiFi b/g/n module, and Intel Atom 330 dual core processor with CPU fan. In the center is the chipset with passive heatsink, and down from there are the rear connections and the case fan. On the right are the two memory sockets with SODIMMs. To enlarge the picture one can click simply on it.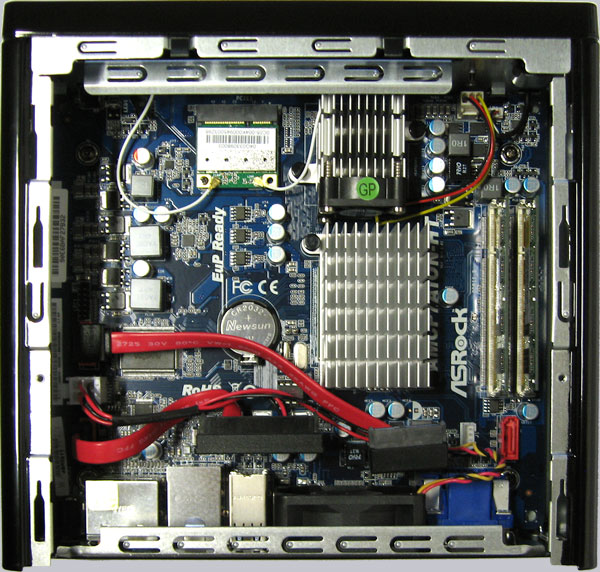 Here is a picture of the two DDR2 SO-DIMM modules with each 1GB RAM. In the meantime ASRock also offers a Mini-ITX motherboard for conventional 240-pin DDR3 memory modules (see ASRock A330ION DDR3 Mini ITX mainboard news), but in this current system SO-DIMMs are integrated.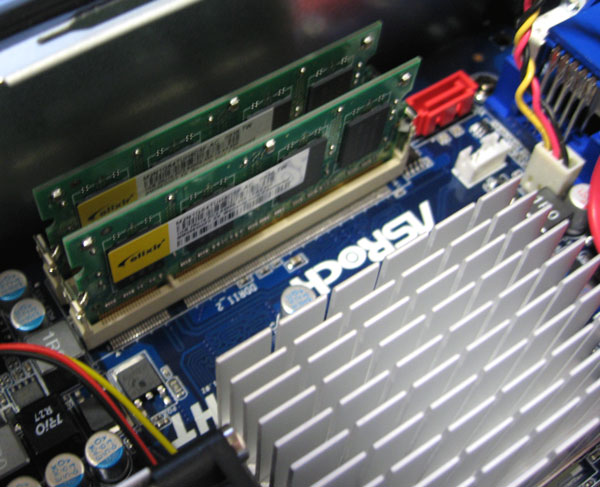 Here is the 50mm YS-Tech case fan, which is agreeably calm in spite of its small measures. Time to mention that this ASRock HTPC is very quiet in idle mode, because of the temperature controlled fan. As soon as one runs more CPU-intensive applications, the fan speed increase and the volume level rises. However, also in more silent film scenes, the fan at its loudest is still fairly quiet.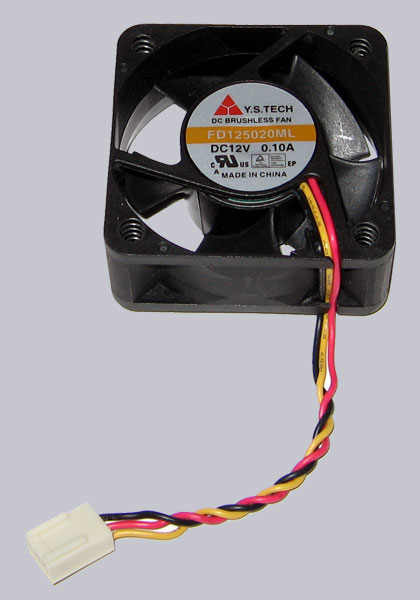 Connection of the ASRock ION330HT Blu Ray HTPC …