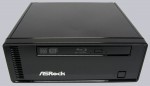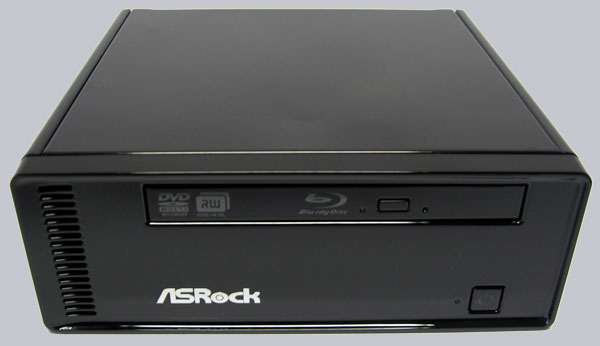 Although the ASRock ION330HT-BD was delivered without an operating system, the performance is very important on a system with integrated CPU and GPU.
To measure the performance, a Microsoft Windows 7 with all current drivers was installed within a few minutes and for benchmark, the Futuremark 3DMark Vantage software was installed to the Windows 7 Ultimate.
The Entry test of 3D Mark Vantage reached a score of E2443 3DMarks with 2898 GPU and 1661 CPU.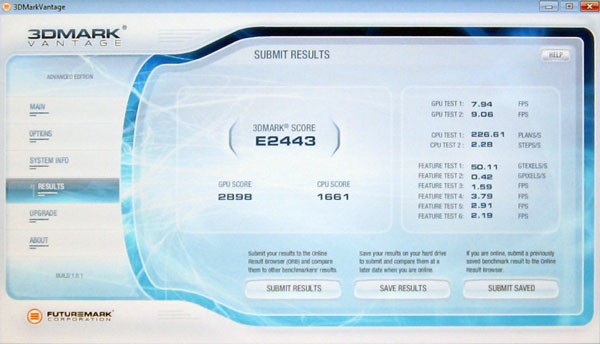 That is amazingly high, because a AMD Phenom II 710 system with AMD 785G chipset and AMD HD4200 GPU of a M3A785GXH/128M board offers a benchmark result of about E2344 (2344 GPU and 6699 CPU). The AMD Phenom II 710 CPU value is, of course, much higher than the Intel Atom 330 result, but the integrated graphics unit of the ION chipset is able to hold a candle to AMD 785G or 790GX chipsets.
The performance index of Windows 7 was, by the way, 3.3 points in the total evaluation. The processor represented the lowest result with 3.3 points, followed by the graphics with 4.3 points, to the memory with 4.5 points and the gaming graphics performance of 5.1 points. Altogether the performance of this Intel Atom 330 system is thus fast enough for a Windows 7 PC and also the aero surface is no problem with this high graphics performance of the 450MHz clocked GPU. With GPU and CPU overclocking, of course much higher results are possible.
The current consumption of the system was very low, in spite of the high performance. In the power off condition approx. 0-1 Watts were necessary, because the system comes without power switch. For the standby mode approx. 1-3 Watts were necessary. In Idle the system used approx. 17 Watts. During full load in the test a maximum of 28 Watts were used and that is clearly below an AMD 7xx PC system with a current Phenom II CPU.
Result and general impression of the ASRock ION330HT Blu Ray media player …