Result and general impression …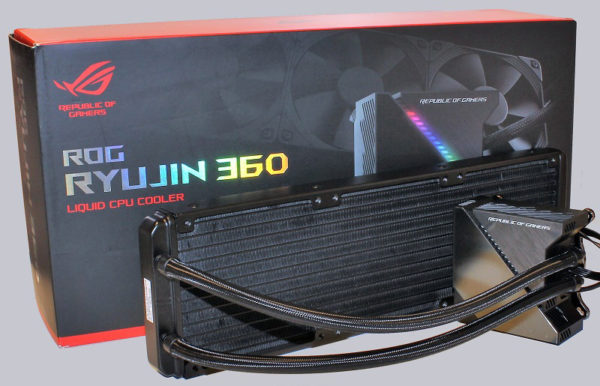 The Asus ROG Ryujin 360 is indeed an exceptional AIO water cooling system. With the OLED display, Asus has succeeded in creating an absolutely unique selling proposition that allows a new level of individualization to be achieved.
The 60mm VRM fan was less convincing. Admittedly, it had no easy task. But one wonders whether it is sensibly designed if one prefers not to regulate it over 55%. Sure, better than need, but like this?
Apart from that we had a lot of fun building our own loop with the Asus Ryujin 360. The cooling capacity doesn't need to hide behind individual water coolers in a custom loop. Optically, we could realize a two-color water cooling system, which also stands out with the great OLED display and the aRGB lighting.
Tip: In the interactive Fit for Fan guide you can virtually fit coolers onto different motherboards and listen to many – the Asus ROG Ryuo 240 will be included in the next update.
For a comparison with other coolers, take a look at our CPU cooler chart 2018 on the Intel Core i5 PC and the CPU cooler chart 2018, tested on an AMD AM4 PC system. Here is also the CPU cooler chart 2016 on the Intel Core i5 PC and the CPU-cooler comparison 2016, tested on an Intel Core i7 PC. And here is the previous CPU cooler chart with CPU cooler before 2016. A direct comparison to our previously tested coolers is however not possible here, since the test system has changed fundamentally in the meantime.
Discuss in our forum and share experiences about the Asus ROG Ryujin 360 …
Here you can order the Asus ROG Ryujin 360 water cooling.
Read on in the hardware test area with several hardware reviews …