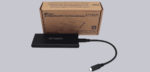 Practical testing …
We tested the Icy Dock ICYNano MB861U31-1M2B case with a Crucial P1 1TB M.2 NVMe SSD on various systems, among others, …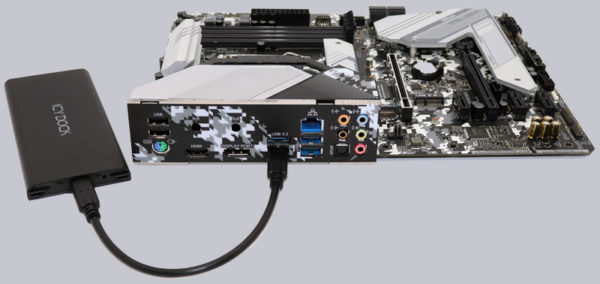 … most recently here on the ASRock X299 Creator Intel LGA2066 DDR4 ATX motherboard, which we then also used to run the benchmarks.
After the uncomplicated assembly, we now check whether the MB861U31-1M2B performs better or worse than with other USB 3.2 Gen2 USB enclosures. But first, we again inserted the SSD directly into the motherboard's M.2 slot. Then we chose AS SSD Benchmark (download), first directly in the M.2 slot on the motherboard and then in the PCIe M.2 SSD enclosure on the USB USB 3.2 Gen2 port.
The following PC setup was used as the test system:
Here are the measurements of the NMVe SSD directly in the M.2 slot of the motherboard …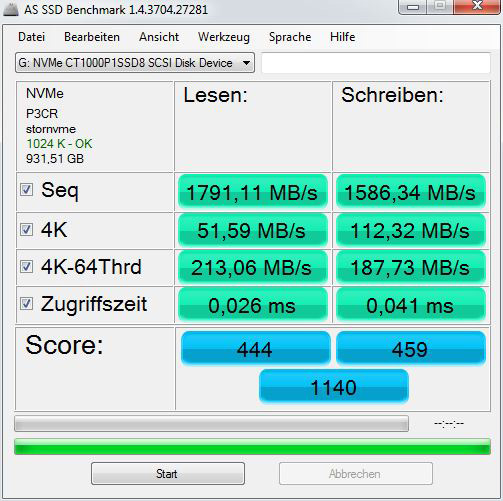 Next, we inserted the NVMe SSD into the Icy Dock ICYNano MB861U31-1M2B PCIe enclosure and measured it again. Since the USB 3.2 Gen2 port achieves a maximum of 10 Gb/s, the result is of course significantly lower.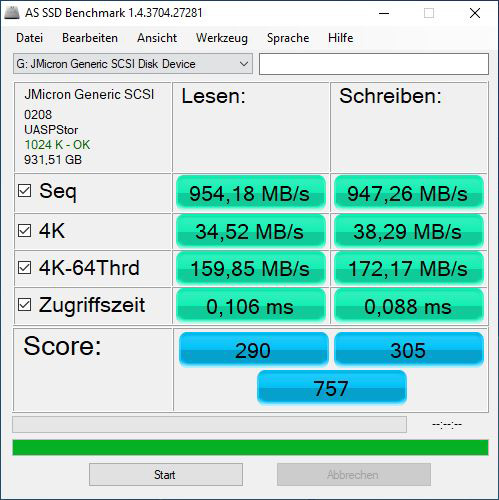 To get a comparison, we have now reviewed the Crucial P1 1TB M.2 PCIe SSD in an Orico PCM2-C3-GY USB 3.1 enclosure on the same system and found almost identical values within the measurement tolerance. This is not surprising, since the JMS583 controller is also installed in the Orico case.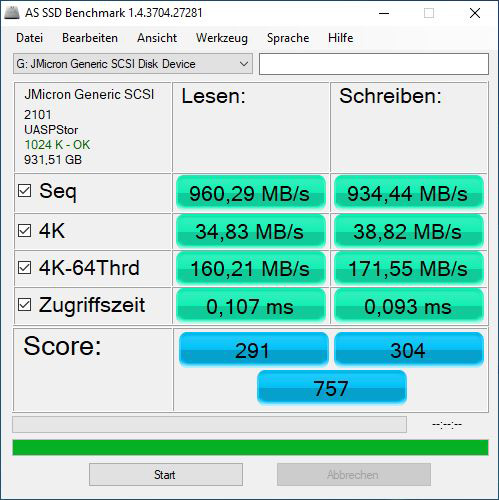 But wait! Why can the USB 3.1 case be as fast as the USB 3.2 case? Quite simply, because the performance of both USB standards is on par, each at 10Gbps, so about 800 MByte/s, as you can see very nicely in the following table.
USB speeds comparison …
Note: If you are wondering about the different descriptions of the USB ports, we would like to explain again the differences between USB 3.0, USB 3.1 Gen1, USB 3.1 Gen2, USB 3.2 Gen1 and USB 3.2 Gen2. Regarding the USB power for charging devices, USB 2.0 officially offers 5V with 0.5A, which means 2.5W, and USB 3.0/3.1/3.2 officially offers 5V with 0.9A, which means 4.5W, or at ASRock with Type-A port up to 1.5A and at USB Type-C port 5V with 3A, which means 15W of power (1A in sleep state). Furthermore, the transfer rates of the USB ports differ. USB 3.1 Gen1 used to be called USB 3.0 and is thus identical, they both deliver up to 5 GBit/s. USB 3.1 Gen2 and USB 3.2 Gen2 both deliver up to 10 GBit/s. In addition, there is USB 3.2 Gen2x2, which enables a doubling up to 20 GBit/s. There is also a special feature for the Intel Thunderbolt 3 protocol, which even enables up to 40 GBit/s. Here you can see the possible transfer rates again in the table.
USB interface comparison
Transfer rate
Interface
theoretical
practical
USB 2.0
480 MBit/s
30 MByte/s
USB 3.0
5 GBit/s
450 MByte/s
USB 3.1 Gen1
5 GBit/s
450 MByte/s
USB 3.1 Gen2
10 GBit/s
800 MByte/s
USB 3.2 Gen1
5 GBit/s
450 MByte/s
USB 3.2 Gen2
10 GBit/s
800 MByte/s
USB 3.2 Gen2x2
2×10 GBit/s
1600 MByte/s
USB 3.2 Gen2 in practice …
At this point we would like to give a few tips and hints for USB 3.2 Gen2 SSD installation.
An USB 3.2 Gen2 SSD needs a high bandwidth for the fast 10 Gbps performance. If the Icy Dock ICYNano MB861U31-1M2B with the Crucial P1 SSD or another M.2 PCIe SSD is too slow despite USB 3.2 Gen 2 support, it may be due to incorrect settings in the BIOS or UEFI. If you use other than the included extremely short USB cables, the quality or length of the USB cables could also be unsuitable. Maybe the drivers in Windows are not installed correctly or not up to date.
USB 3.2 Gen2 support in Windows 7 …
We had some difficulties with the Windows 7 drivers with the new ASMedia chipset, because unfortunately the full performance could not be achieved with our X299 test system under Windows 7. Since Windows 7 is obsolete anyway, we agree with the manufacturer's recommendations to use Windows 10!
USB 3.2 Gen2 support in Windows 10 …
In Windows 10, with the ASMedia USB 3.1 eXtensible Host Controller or now ASMedia USB 3.2 eXtensible Host Controller, the "USB xHCI Compatible Host Controller Driver" worked better than the ASMedia USB 3.2 eXtensible Host Controller driver that came with the device. But which USB driver is the fastest, everyone should measure for themselves and then choose the best driver.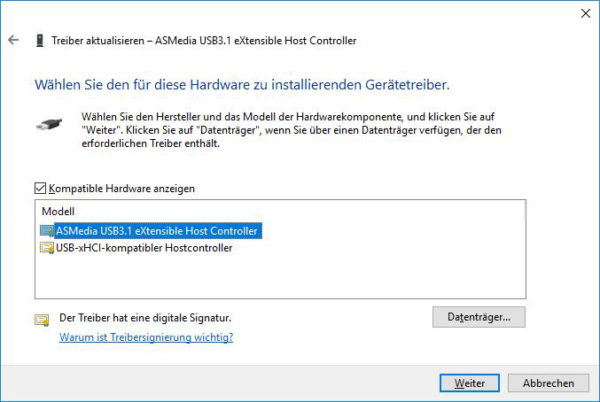 If the USB 3.2 port does not work at all after the ASMedia driver installation, you can remove the USB hub belonging to the USB host controller once in the device manager (right click or press Del. key, but do not uninstall the drivers!) and reinstall it with Update. If you accidentally got the wrong USB hub and the USB keyboard and USB mouse don't work anymore, you can shut down the PC with a short press on the power button. The next time you turn on the PC, the USB hub driver will be installed automatically and you can use the PC again.
If you still have a too slow USB 3.2 speed, or if USB 3.2 is not recognized at all, we are happy to help you in our English Hardware Forum. Just create a new post and write which motherboard is used and which USB 3.2 device is connected. If you haven't purchased an external SSD yet, our community will also be happy to provide you with a corresponding SSD buying guide.
Icy Dock ICYNano MB861U31-1M2B Result and general impression …