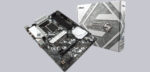 Quickly to the right hardware equipment …
ASRock B660 Steel Legend Layout, design and features
ASRock B660 Steel Legend Voltage Regulator and Heat Sink
ASRock B660 Steel Legend Equipment and other features
ASRock B660 Steel Legend Expansion cards
ASRock B660 Steel Legend Memory
ASRock B660 Steel Legend Hard disk drive connectors
ASRock B660 Steel Legend USB and Thunderbolt
ASRock B660 Steel Legend Network
ASRock B660 Steel Legend Sound
ASRock B660 Steel Legend ATX back panel connectors
ASRock B660 Steel Legend Test System
ASRock B660 Steel Legend RGB lighting
Layout, design and features …
Let's take a look at the B660 Steel Legend in detail. The 2oz PCB of the B660 Steel Legend from ASRock is visually quite simple in black and white camouflage. Since Intel has removed the overclocking option from the B660 chipset, only a 9 phase VRM power supply is used here. Compared to many Z690 motherboards, this doesn't sound like much at first, but it is easily enough to supply all processors up to the Intel Core i9 with a stable voltage. It also has the advantage that the board can be cooled completely passively.

On the back of the motherboard, we can see that the manufacturing is clean and reasonable. The B660 Steel Legend does not have an illuminated backplate, but that is acceptable in this price range.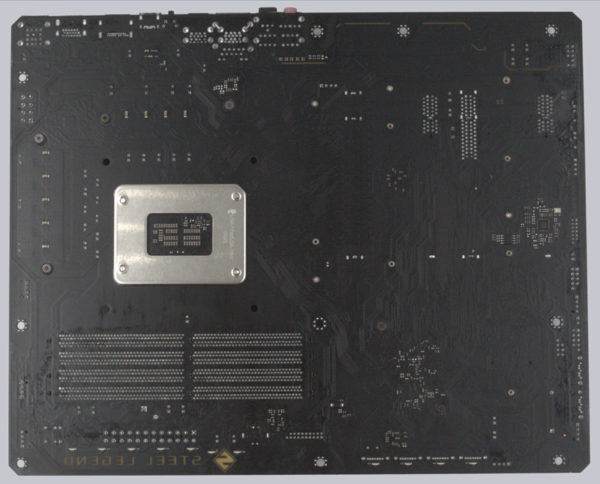 Voltage Regulator and Heat Sink …
Now let's take a look at the motherboard's heatsinks and voltage converters. As already mentioned, there is no possibility to overclock the processor with the B660 chipset. Accordingly, the power supply is of course somewhat smaller with 50A. Despite this, ASRock has specified high-quality Nichicon capacitors with a lifespan of 12,000 hours at 105°C for the motherboard. By the way, these are also used in the Z690 Taichi.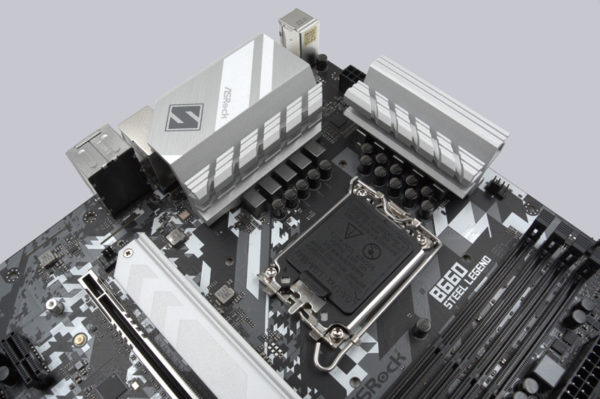 The B660 Steel Legend also makes do with a 6-pin power connector. Accordingly, the aluminum heatsinks are rather functional. Nevertheless, ASRock can score visually here, because the partial coating definitely makes the small heatsinks look more valuable. As far as the manufacturing is concerned, there is basically nothing to complain about, the edges are rounded and the material thickness is also okay. Nevertheless, a small scratch crept in during production.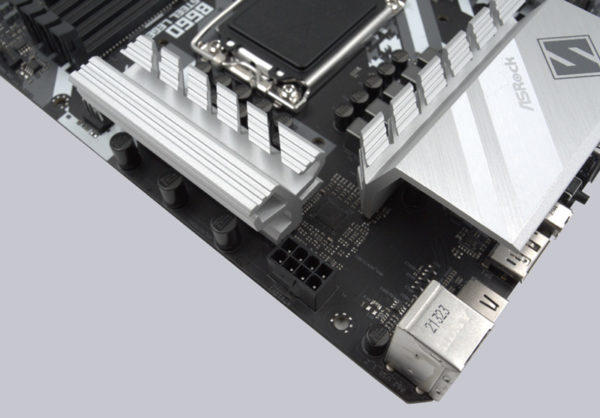 The 9-phase VRM voltage regulation is controlled by ASRock's DR.MOS Smart Power Stage (SPS) in 50A version. According to the manufacturer, the temperature and current for each individual phase is optimized and the processor is thus supplied with power much more evenly, which is especially important for the current Intel processors with different core types.
Equipment and other features …
ASRock provides the B660 with a lot of features, including ASRock Full Spike Protection (for all USB, audio and LAN interfaces) and 2.5G LAN (Dragon RTL8125BG). Also on board is a metal reinforced PCIe slot, a heatsink for the primary M.2 interface, an M.2 key interface for Wifi, ASRock POST Status Checker as well as the well-known ASRock Live Update App, ASRock Instant & Internet Flash, ASRock EZ Mode and support for ASRock Polychrome RGB.
Expansion cards …
In terms of plug-in cards, the B660 Steel Legend is equipped in line with the times. The motherboard has two PCIe x16 slots. One of them is reinforced with steel and supports PCIe 5.0, the other still PCIe 4.0. Thus, there is more than enough bandwidth for all current and future graphics cards. If you want to install more additional cards besides graphics cards, you won't be disappointed either, because the motherboard offers two PCIe 3.0 1x slots. By the way, these are open at the back, so that you can also install x16 cards. The distance between the two x16 slots is generous, which means that the motherboard can also be equipped with two graphics cards, each with 3 slots width.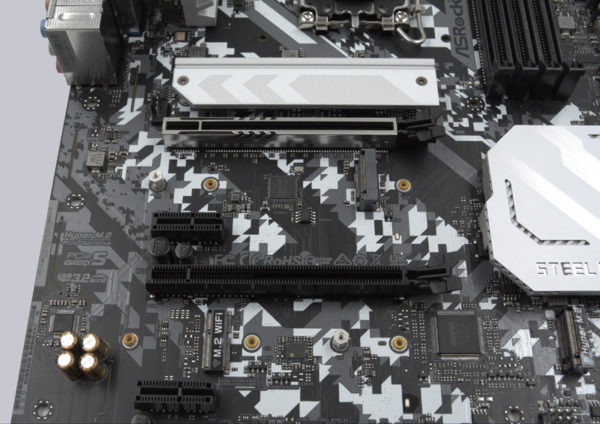 Memory …
Intel's new socket supports DDR4 or DDR5 working memory. ASRock has opted for DDR4 in the B660 Steel Legend. A total of four slots are available with dual-channel support. The motherboard supports a maximum of 128 GB UDIMM memory, up to a clock of 5333MHz (or more). Of course, XMP 2.0 is also supported here, so that nothing stands in the way of easy overclocking of the RAM. The connections are equipped with 15µ gold contacts.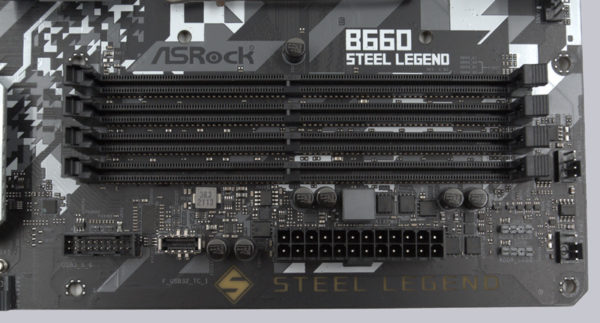 Of course, it's still a good idea to check ASRock's official memory support list before you blindly buy memory and then can't get it to run at the speed you want. The RAM list can be found here.
HDD/SSD Connection …
Let's start with the SATA connections. The B660 Steel Legend offers a total of six SATA3 connections. Two of them are realized via an ASMedia ASM1061 controller, which is due to Intel's red pencil on the B660 chipset. This also has the small disadvantage that the supported RAID levels 0, 1, 5 and 10 are only available on four of the six SATA connections.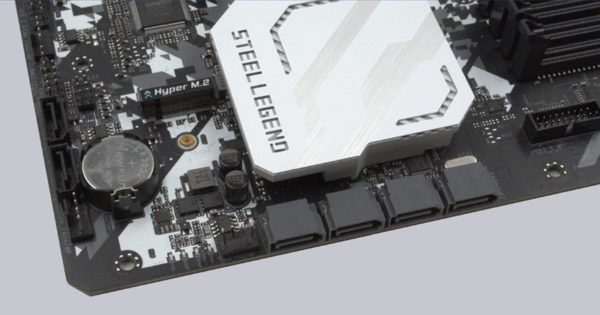 In terms of M.2 interfaces, the motherboard provides us with a total of 3 slots. All three support the typical formats 2260 & 2280 (Key M), the very bottom M.2 port can even accommodate SSDs up to 110 mm (22110). The motherboard does not have to hide in terms of speed either, two M.2 interfaces support 64 Gbit/s and the third still 16 Gbit/s.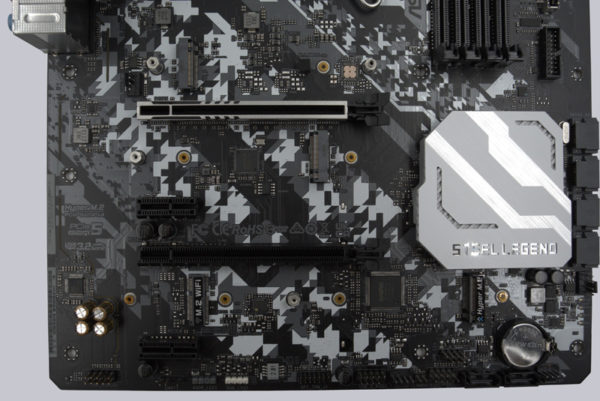 The cooling equipment for the M.2 SSDs is a bit limited, since a heat sink is only available in the top M.2 slot. At least a second one would have been nice. Otherwise, the heatsink is made of solid aluminum and equipped with a heat conduction pad ex-works. Unfortunately, RAID is not available for the M.2 interfaces due to the chipset restrictions. We also recommend only using PCIe SSDs here, since a SATA port is disabled when using a SATA M.2 SSD.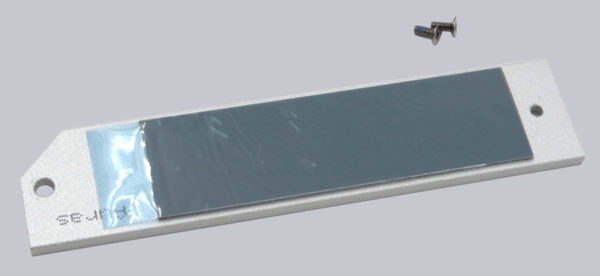 USB and Thunderbolt …
The B660 Steel Legend provides enough connections directly on the board for current cases. A USB 2.0 header (yellow), a USB 3.2 Gen1 header (green) and a USB Type-C Gen2x2 header are included. Unfortunately, Thunderbolt is not supported.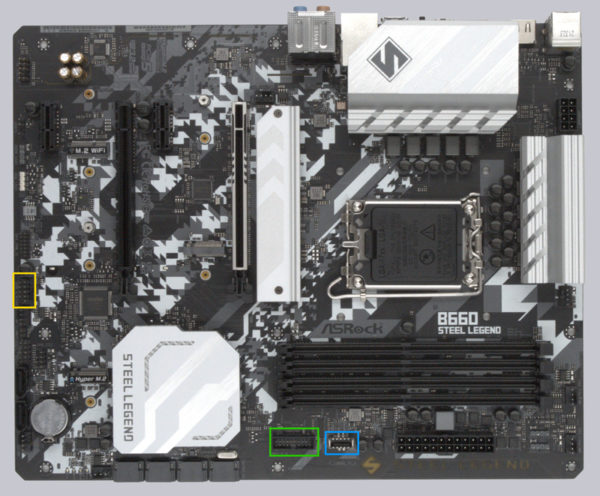 All connections have ESD protection, which means that they are protected against electrostatic discharge or charging.
Note: If you are wondering about the different descriptions of the USB ports, we would like to explain the differences between USB 3.0, USB 3.1 Gen1, USB 3.1 Gen2, USB 3.2 Gen1 and USB 3.2 Gen2. Regarding the USB power for charging devices, USB 2.0 officially provides 5V with 0.5A, which means 2.5W, and USB 3.0/3.1/3.2 officially provides 5V with 0.9A, which means 4.5W, or ASRock with Type-A port up to 1.5A and USB Type-C port 5V with 3A, which means 15W of power (1A in sleep state). Furthermore, the transfer rates of the USB ports differ. USB 3.1 Gen1 used to be called USB 3.0 and is therefore identical, they both deliver up to 5 GBit/s. USB 3.1 Gen2 and USB 3.2 Gen2 both deliver up to 10 GBit/s. In addition, there is USB 3.2 Gen2x2, which enables a doubling up to 20 GBit/s. There is also a special feature for the Intel JHL7540 Thunderbolt 3 protocol, which even enables up to 40 GBit/s. USB 4.0 is also new here, which supports up to 40 GBit/s and is fully Thunderbolt compatible. Here you can see the possible transfer rates again in a table.
USB interface comparison
Transferrate
Interface
theoretical
practical
USB 2.0
480 MBit/s
30 MByte/s
USB 3.0
5 GBit/s
450 MByte/s
USB 3.1 Gen1
5 GBit/s
450 MByte/s
USB 3.1 Gen2
10 GBit/s
800 MByte/s
USB 3.2 Gen1
5 GBit/s
450 MByte/s
USB 3.2 Gen2
10 GBit/s
800 MByte/s
USB 3.2 Gen2x2
2×10 GBit/s
1600 MByte/s
USB 4.0
40 GBit/s
4000 MByte/s
Network …
In terms of network connectivity, the B660 Steel Legend offers a 2.5 Gigabit network card with Dragon RTL8125BG chipset.


Installing the appropriate Dragon 2.5G LAN software gives access to advanced features of the network card, such as Quality of Service or network statistics.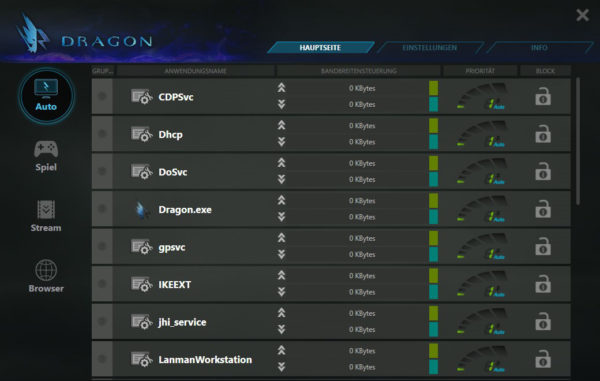 If that is not enough, you also have the option of retrofitting a Wi-Fi module. The corresponding M.2 E-Key interface is already available.


Sound …
ASRock has chosen Realtek's ALC897 for the B660 Steel Legend, which offers five audio jacks in 15µ gold design as well as an SPDIF output. Even though the chip is only entry to mid-range, it delivers a clean sound without a lot of bells and whistles. Directly below is also the audio header to connect the front audio connector. The connections are also gold-plated.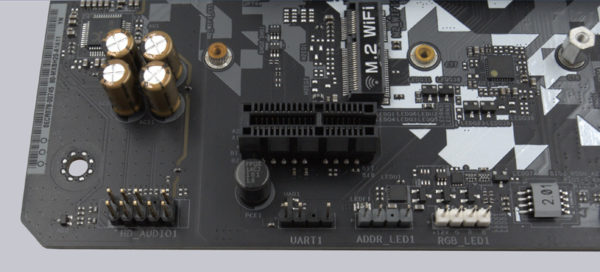 The only optional feature is Nahimic Audio, which can be used to optimize the sound output for corresponding content.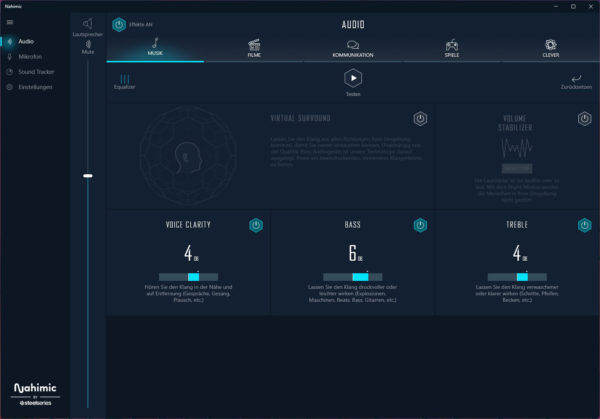 This can also be used to tune the headset a bit if you have problems with the microphone. Especially the noise cancellation can be very helpful, as long as it is not already integrated into the microphone ex-factory.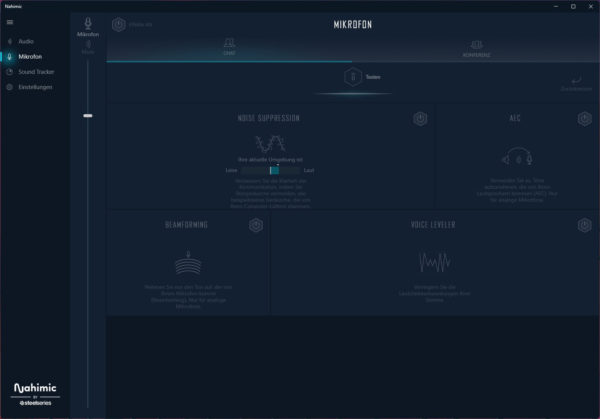 Optionally, the software can also visually track an opponent in a supported game. This is certainly a nice feature for one or the other gamer.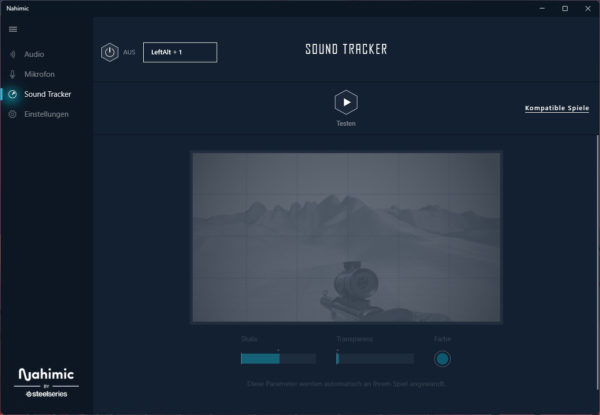 ATX back panel connectors …
From left to right you can see 2 x USB 2.0 Port, 1 x PS/2 Port, 1 x HDMI Port, 1 x DisplayPort 1.4, 1 x USB 3.2 Gen2 Type-C Port, 1 x BIOS Flashback Button, 4 x USB 3.2 Gen1 Port, 1 x RJ-45 LAN Port, 1x Optical SPDIF Out Port and HD Audio jacks (Rear / Central / Bass / Line in / Front / Microphone).


Test System …
In order for the motherboard to show what it's made of despite OC lock, we opted for an Intel Core i7-12700K as well as 32 GBCrucial Ballistix Max DDR4-4400 of RAM.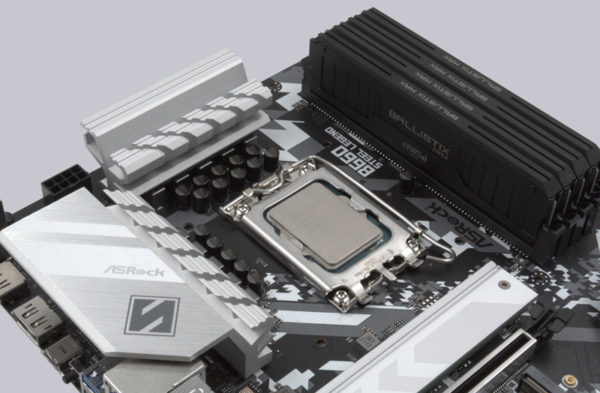 As already mentioned, the two PCIe x16 slots are generously placed from each other, so there is still room for a second graphics card despite the 3 slots width of our AMD RX 6750XT.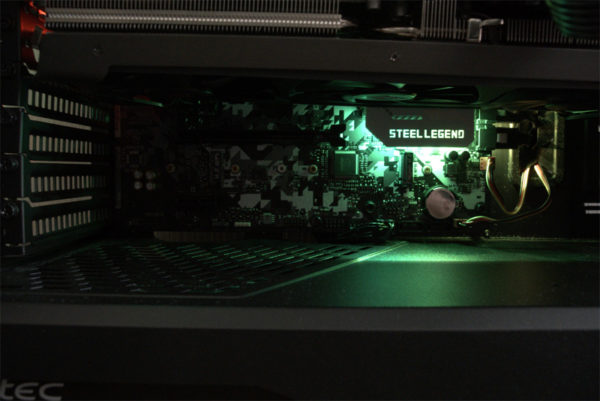 After we have installed the board in the case, here is a final picture of our test system …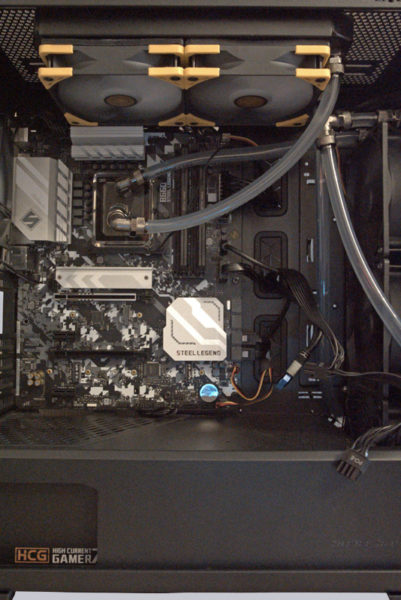 ASRock B660 Steel Legend RGB lighting …
Before we get to the conclusion, you can take a look at the integrated lighting of the motherboard.

In addition, we have created a ASRock B660 Steel Legend video on our OCinside YouTube channel with a short summary. And in the ASRock Polychrome RGB Software Video we explain the included ASRock RGB software.
Note: Please allow our cookies first to see this external content!
ASRock B660 Steel Legend UEFI and the overclocking options …