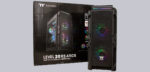 Layout, design and features interior …
Inside the Level 20 RS case there is a lot to see. From the small Mini-ITX motherboard up to the full-grown ATX board, the big Midi Tower takes everything. The rather rare E-ATX boards are not supported. On the lower left side a power supply cover is placed. Actually it is rather a support for vertical graphic card mounting and another mounting place for a 2.5″ drive. If you own a power supply with integrated display, like for example the ASUS ROG Thor 1200W Platinum power supply, you will be pleased about the large viewing window in the front of the power supply cover. On the other hand, it will give you a clear view of the cables. However, the cover can be easily removed, as well as the drive cage located to the right. If required, the HDD cage can accommodate two 2.5″ or 3.5″ drives each via the two slots. On top of that, another 2.5″ hard disk or SSD can be added.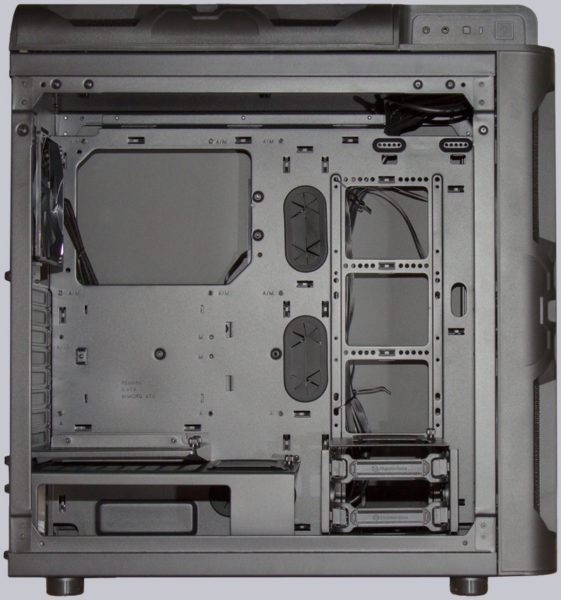 The drive cage can also be mounted higher up in the case as desired. In general, there are countless hard disk and fan mounting locations. To the right of the mainboard, hard disks, fans or a radiator can be mounted directly on the metal plate. On the bottom, fans, an expansion tank including a pump for cooling water or the hard disk cage can be placed. In the following picture the hard disk slides and the bracket for vertical graphic card mounting are removed.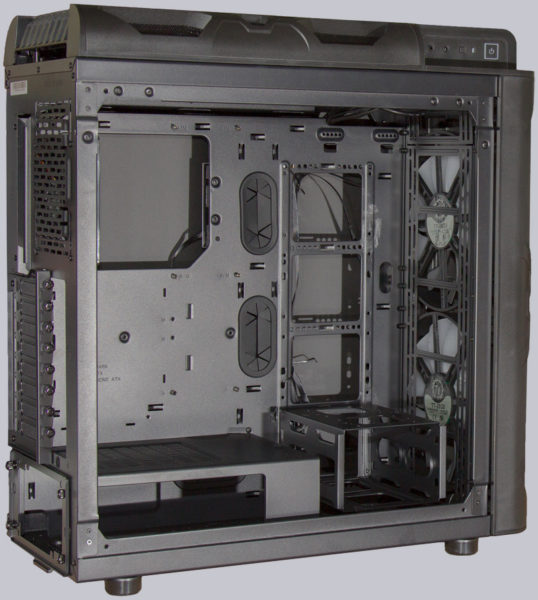 One 3.5″ or two 2.5″ drives can be mounted on another bracket behind the motherboard. This is possible due to the generous space on the rear side, which otherwise only very few cases have to offer. This is of course also an advantage for a clean cable routing. You should also pay attention to this with this case, because the side panel behind the mainboard is also made of glass. In any case there are enough fixing points for cable ties.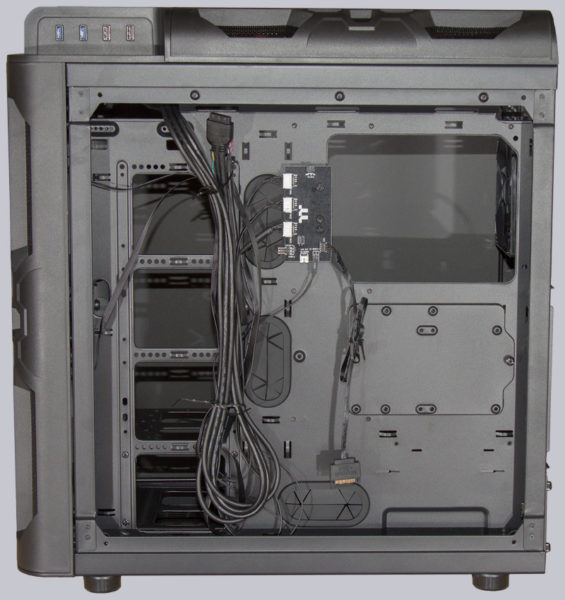 The supplied combi-controller for the front fans and RGB lighting is already pre-mounted. Except for a single free 3-pin fan connector and the 2-pin RGB mode header, all other connections are proprietary. As mentioned before, the RGB mode selector button could also be used as reset button when using the RGB controller of the motherboard. Provided you have a motherboard with aRGB header. Now you can connect the RGB mode selector button to the motherboard reset connector. By the way, the rear, unlit 120mm DC case fan (3-pin) is not connected to the controller by default. The controller is powered by a standard SATA power connector.
Let us now see how the case performs in practice.
Thermaltake Level 20 RS ARGB Practical testing …