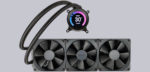 Result and general impression …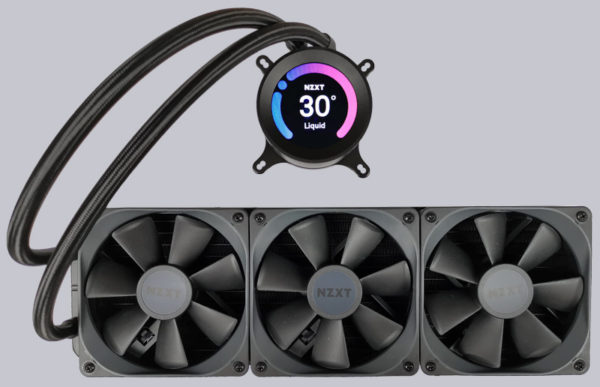 The NZXT Kraken Z73 is certainly one of the best All in One watercoolers we have tested on OCinside.de so far!
The interaction of pump, fan and radiator is just perfect, high speeds are almost not necessary to achieve excellent cooling. Moreover, the NZXT Kraken Z73's fan speed of up to 60% cannot be heard from a closed case.
With the extensively configurable NZXT CAM software, you can easily create individual fan curves and then we have the very nice display, which can be used in many ways and even your own logo can be displayed as a GIF, which is a great goodie for case windows!
The RRP of the NZXT Kraken Z73 is at quite a high 279 Euros at today's launch, but the market price will certainly still vary. Only a tube of heat-conducting paste and a slightly longer, internal micro-USB cable would be desirable, otherwise we'll still have wet eyes now – for happiness, of course!
All in all, the NZXT Kraken Z73 is a first-class all-in-one water cooling system that we can absolutely recommend! With this strong overall performance, the NZXT Kraken Z73 receives our OCinside.de Overclocking Dream Award.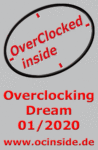 Tip: In the interactive Fit for Fan guide you can virtually fit coolers onto different motherboards and listen to many – the NZXT Kraken Z73 will be included in the next update.
For a comparison with other coolers, take a look at our CPU cooler chart 2018 on the Intel Core i5 PC and the CPU cooler chart 2018, tested on an AMD AM4 PC system. Here is also the CPU cooler chart 2016 on the Intel Core i5 PC and the CPU-cooler comparison 2016, tested on an Intel Core i7 PC. And here is the previous CPU cooler chart with CPU cooler before 2016. A direct comparison to our previously tested coolers is however not possible here, since the test system has changed fundamentally in the meantime.
Discuss in our forum and share experiences about the NZXT Kraken Z73 …
Here you can order the NZXT Kraken Z73 at a reasonable price.
Read on in the hardware test area with several hardware reviews …