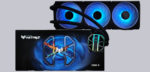 Result and general impression …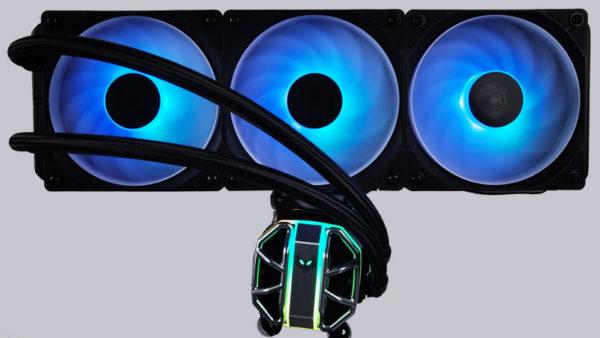 The Sapphire Nitro+ S360-A is certainly one of the best AIO water cooling and thus already plays in the upper league.
The interaction of radiator, pump and fan form a good unit and even the noise remains quite acceptable with powerful processors, because up to 50% fan speed the Nitro+ S360-A is an absolutely silent solution, from 75% the AIO is already clearly perceptible and only at 100% it is no longer silent.
As you can see in the test, the high speeds beyond 75% are only necessary under extreme conditions with a powerful or heavily overclocked CPU under full load. The 7th pump generation from Asetek also does a good job.
The control of the aRGB effects is done via the motherboard, so no additional RGB software from Sapphire needs to be installed.
The Spider design is something new that we also liked very much.
As a point of criticism, we only notice the pre-applied thermal paste. Here we would wish a small tube of thermal paste, so that the cooler can be mounted several times and the correct thermal paste amount can be applied for each CPU. Also, the quite short connection cables on the pump, which run downwards, are not chosen quite happily, since one can find a shorter way behind the motherboard in the upper area. Alternatively, it would be desirable if one could turn the cover with "spider".
All in all, the Sapphire Nitro+ S360-A is a very successful debut from Sapphire in the world of all-in-one water cooling solutions and we look forward to more!
With this powerful overall performance, the Sapphire Nitro+ S360-A water cooling receives our OCinside.de Overclocking Dream Award 12/2021.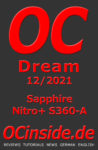 Tip: In the interactive Fit for Fan guide, you can virtually try on the CPU coolers on the motherboard and even listen to most of them – the Sapphire Nitro+ S360-A will be added with the next update.
For a comparison on the different coolers, it's worth taking a look at our CPU cooler comparison 2021, tested on AMD AM4 and Intel LGA1200 systems, the CPU cooler chart 2018 on an Intel Core i5 PC and the CPU cooler comparison 2018, tested on an AMD AM4 PC system. Here's still the CPU cooler chart 2016 on Intel Core i5 PC and the CPU cooler comparison 2016, tested on an Intel Core i7 PC system. And there is also the CPU cooler chart with CPU coolers before 2016. However, a direct comparison to our previously tested coolers is not possible since the test system has changed fundamentally in the meantime.
Discuss in our forum and share experiences about the Sapphire Nitro+ S360-A …
Here you can order the Sapphire Nitro+ S360-A AIO at a reasonable price.
Read on in the hardware test area with several hardware reviews …