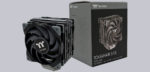 Result and general impression …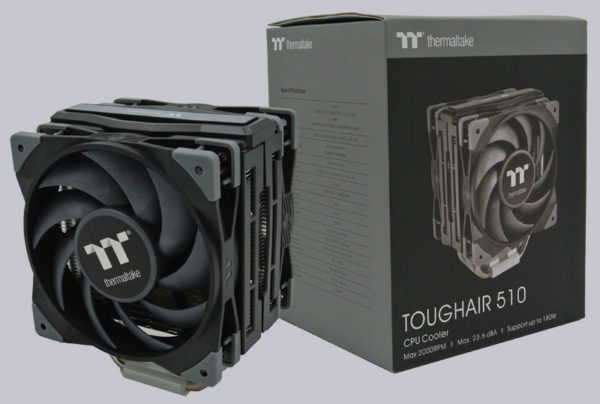 Thermaltake offers the Thermaltake Toughair 510, a quite small performance cooler for little money. This one does without a colorful LED lighting, but scores with a cool inconspicuous design and quiet 12 cm fans.
If you are looking for an inexpensive and more powerful cooler than AMD's Boxed, you will be well served here. The installation is very simple and can be done without major problems, and you can also change the orientation at will and thus optimally integrate the cooler into your case in terms of airflow.
Only when it comes to overclocking, you have to make concessions here. At least if you want to push a current 8-core CPU to its limits. For smaller 4-6 core CPUs, air is definitely available for light to moderate overclocking. Basically, you won't go wrong with the Toughair 510.
Tip: In the interactive Fit for Fan guide, you can virtually try on the CPU coolers on the motherboard and even listen to most of them – the Thermaltake Toughair 510 will be included in the next update.
For a comparison on the different coolers, it's worth taking a look at our CPU cooler comparison 2021, tested on AMD AM4 and Intel LGA1200 systems, the CPU cooler chart 2018 on an Intel Core i5 PC and the CPU cooler comparison 2018, tested on an AMD AM4 PC system. Here's still the CPU cooler chart 2016 on Intel Core i5 PC and the CPU cooler comparison 2016, tested on an Intel Core i7 PC system. And there is also the CPU cooler chart with CPU coolers before 2016. However, a direct comparison to our previously tested coolers is not possible since the test system has changed fundamentally in the meantime.
Discuss in our forum and share experiences about the den Thermaltake Toughair 510 …
Here you can order the Thermaltake Toughair 510 at a reasonable price.
Read on in the hardware test area with several hardware reviews …