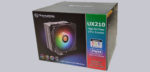 Result and general impression …
The Thermaltake UX210 High Air Flow CPU Cooler can come up with some good features and characteristics.
Due to the compact and slim design, the CPU cooler also fits into smaller cases and still leaves enough space for somewhat higher RAM modules.
The illumination is also convincing due to the bright and evenly illuminated LEDs.
The compact cooler can naturally only generate its good cooling performance through a high airflow, and its name makes no secret of that. This inevitably means relatively high speeds for the fan used.
The UX210 ARGB currently costs a bit over 50 Euro and thus offers a convincing performance at a good price overall.
Tip: In the interactive Fit for Fan guide, you can virtually try on the CPU coolers on the motherboard and even listen to most of them – the Thermaltake UX210 ARGB will be included in the next update.
For a comparison on the different coolers, it's worth taking a look at our CPU cooler comparison 2021, tested on AMD AM4 and Intel LGA1200 systems, the CPU cooler chart 2018 on an Intel Core i5 PC and the CPU cooler comparison 2018, tested on an AMD AM4 PC system. Here's still the CPU cooler chart 2016 on Intel Core i5 PC and the CPU cooler comparison 2016, tested on an Intel Core i7 PC system. And there is also the CPU cooler chart with CPU coolers before 2016. However, a direct comparison to our previously tested coolers is not possible since the test system has changed fundamentally in the meantime.
Discuss in our forum and share experiences about the Thermaltake UX210 …
Here you can order the Thermaltake UX210 ARGB at a reasonable price.
Read on in the hardware test area with several hardware reviews …