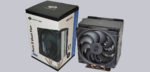 Result and general impression …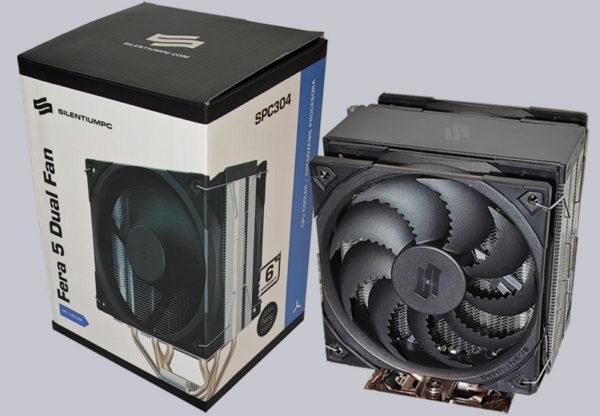 The SilentiumPC Fera 5 Dual Fan is an exceptionally powerful but quiet tower cooler. Even with two fans, it is reasonably compact and fits into a case that holds a CPU cooler with a height of 155mm.
The good cooling performance, universal mounting and quiet fans at a very reasonable price stand out positively.
The Fera 5 Dual Fan does not offer RGB in this version and presents itself in a very discreet, almost plain design, but convinces with the good cooling performance and high-quality workmanship.
If you don't value extravagant RGB lighting or even specifically avoid it, you should definitely take a closer look at the Fera 5 Dual Fan.
With a price of about 36 Euro, the air cooler is also extremely inexpensive and thus receives our OCinside.de Price Tip Award 06/2022!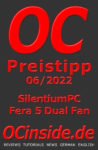 Tip: In the interactive Fit for Fan guide you can virtually try on the CPU coolers on the motherboard and listen to most of them – the cooler will be included shortly. For example, this is how the SilentiumPC Fera 3 RGB looks on the MSI MPG Z590 Gaming Force motherboard from this review.
For a comparison on the different coolers, it's worth taking a look at our CPU cooler comparison, tested on AMD AM4 and Intel LGA1200 systems, the CPU cooler chart 2018 on an Intel Core i5 PC and the CPU cooler comparison 2018, tested on an AMD AM4 PC system. Here's still the CPU cooler chart 2016 on Intel Core i5 PC and the CPU cooler comparison 2016, tested on an Intel Core i7 PC system. And there is also the CPU cooler chart with CPU coolers before 2016. However, a direct comparison to our previously tested coolers is not possible since the test system has changed fundamentally in the meantime.
Discuss in our forum and share experiences about SilentiumPC Fera 5 Dual Fan …
Here you can buy the SilentiumPC Fera 5 at a reasonable price.
Read on in the hardware test area with several hardware reviews …