+++ The ASRock ALiveNF6G-DVI motherboard has a price of approx. 60 Euro (03/2007)
and is thus in the lower price segment of the Socket AM2 motherboards.
This Review will clarify if the ASRock ALiveNF6G-DVI MicroATX motherboard with the
onBoard GeForce 6100 graphics solution and the provided DVI-D card can convince
in a normal course of HTPC life, and if it is high overclockable.
The first look to the equipment already shows ASRock's main focus of this inexpensive
mATX motherboard ...
The ALiveNF6G-DVI offers only one 16x PCIe slot, one PCIe 1x slot and two PCI slots for
conventional expansion cards. BTW, the ATX power connector is very close to the PCIe 16x slot.
And this board offers unfortunately only one IDE connector for up to 2x conventional ATA 133
hard drives.
But it looks clearly better with serial ATA ports, because it provides 4x SATA II (3 Gb/s) ports,
which can operate also in RAID 0/1/5.
Included with delivery is a bootable CDROM and a short guidance for the correct installation
of the Serial ATA II ports. The manual also includes all of the information you need to manage
a new Microsoft Windows XP or Windows Vista installation with a primary S-ATA HDD.
The ASRock ALiveNF6G-DVI can be equipped with up to 4x DDRII memory modules and
is expandable depending upon the operating system used to maximally 8 GB.
The allocation for the DUAL Channel memory support is specified in the manual and
should be followed absolutely.
In addition there're 4x USB 2.0 ports at the ATX panel, three internal USB 2.0 plugs for up to
6 optional USB ports and an onboard Gigabit LAN with WoL support (Wake on Lan).
ASRock uses the new onBoard RealTek ALC-888 sound chip, which offers full 7.1 surround sound
and several digital output features.
This is very favourable regarding the Microsoft Windows Vista operating system, because it's
possible to get the Vista Premium and Vista Basic Logo to ensure the full OS support.
In addition, it offers a HDMI SPDIF audio output, which is necessary for the internal audio
connection to a HDMI capable video card, to combine the sound and picture signal to
HDMI equipments like e.g. a flat screen / LCD TV or Beamer.
Another special characteristics of this board is the onBoard GeForce 6100 graphics support.
However, it's more applicable for Office applications or some Multimedia applications,
because the performance isn't sufficient for current 3D games.
The direct comparison of the 6600 GT PCIe video card to the onBoard solution is listed above
in the point "performance", where you see an 8 times faster value for the PCIe card compared
to the onBoard solution.
But there's an additional DVI-D extension card for the PCIe slot delivered in package,
which makes the onBoard graphics solution much more interesting.
Because the card works independently of the analog 15-pole Sub-D connector and makes it possible
to use both outputs simultaneously. In a small HTPC (Home theatre PC) or Office PC are some
interesting options with a DUAL VGA output.
Here is a picture of the provided DVI-D card for the PCIe slot ...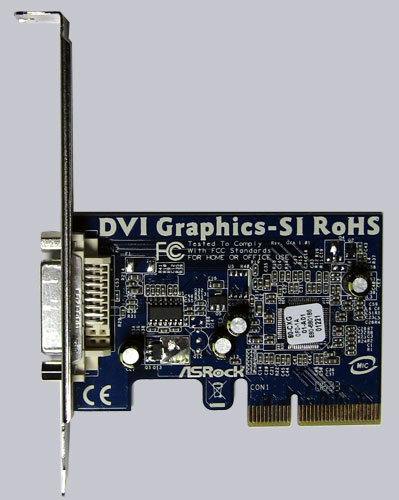 Let us start with the BIOS options and the BIOS overclocking features.
By pressing the "F2" key, you get access to the AMI BIOS.
The BIOS supports options to change the memory frequency from 200 MHz over 266 MHz
and 333 MHz up to 400 MHz (DDR2 400/533/667/800), the host clock is adjustable from
150 Mhz up to 400 MHz and the HT (hypertransport) frequency from 1x to 5x (200-1000 MHz).
The optional synchronous or asynchronous setting of the CPU/PCIe Bus is another helpful feature
for good overclocking results.
It was possible to overclock the reference clock up to 280 MHz by asynchronous clocking.
This results in a frequency of approx. 2500 MHz for the AMD Athlon64 3000+ Socket AM2 CPU
with the locked 9x multiplier.
But you should watch the chipset temperature above 250 MHz and an active chipset cooling
or a very good case cooling is recommended for these high frequencies.
The BIOS setup offers memory voltage (VCCM) settings and the CPU voltage (VCore) settings
and thanks to the ASRock AM2 Boost option it is possible to increase the memory performance.
So it is also possible to overclock with this MicroATX standardized motherboard.
Result:
The ASRock ALiveNF6G-DVI Socket AM2 PCIe MicroATX motherboard offers a good
basic equipment, good extension options and some overclocking features for little money.
It offers a GF6100 onBoard graphics solution with PCIe DVI-D card,
7.1 surround sound with six connectors and internal HDMI SPDIF output, Gigabit LAN,
a 16x PCI express video card slot, four DDR2 slots and four S-ATA II connectors.
There are just two PCI slots and one ATA133 connector for two conventional hard disks,
but in view of the additional PCIe slot and the abundance of S-ATA II connectors one can
get over these older extensions.
It is a very interesting solution for an inexpensive Office PC, or living room PC.
And with a fast PCIe video card, the ALive NF6G-DVI Socket AM2 board can be used
also for inexpensive gaming PCs.
Special thanks to ASRock for their support.